The last piece of our new admin app is complete and in place! And we're excited to unveil this feature to OnSIP account admins.
Recapping this months-long project: We've been building the account administration features and settings of the legacy admin portal into our web app, app.onsip.com. Administrators can start logging into the web app to set up users, configure features, and manage their OnSIP accounts.
Admin App New Features
PBX Dashboard
When you log into the web app and click on the Administrators tab, you'll see the newest feature there—your PBX Dashboard. This dashboard gives you a data-rich overview of call metrics and calling trends in your account.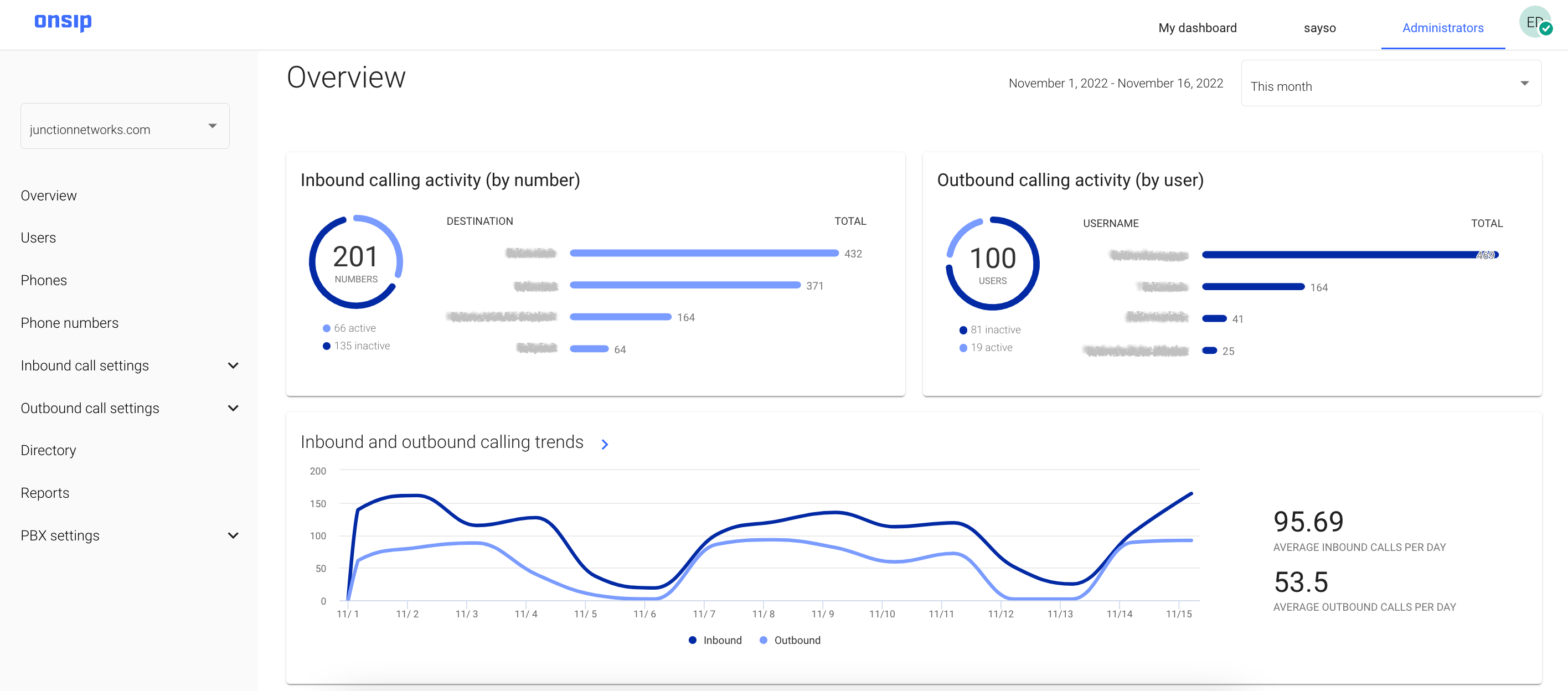 In the upper left card, you're presented with the total amount of phone numbers in your account, as well as the four numbers that have the most inbound calls made to them during the selected time period.
The top right card displays the total number of users on your account. It also displays the top four users who've made the most outbound calls during the selected time period.
The bottom card gives you a fascinating look into your account's call trends over the same timeframe. Data such as Average inbound calls per day and Average outbound calls per day is prominently displayed. And if you hover your mouse over the inbound and outbound call lines on the graph, you can see the number of calls for that specific day. Use this data to improve your business operations and make informed decisions about staffing and scheduling.
To change the time period of the PBX Dashboard, simply select a new date range from the dropdown at the top.
If you have multiple PBXes on your account, you can access dashboards for each PBX. Once you select the PBX you wish to review from the dropdown in the left navigation, the dashboard will update to show you calling data for that particular PBX.
Admin App Existing Feature Updates
To review the fixes to existing admin features in the app, look at the release notes of this app update. Some of the more noteworthy updates are:
Admins can reuse a deleted extension in the same session without having to log into the app again
Admins can now use leading zeros for a voice mailbox's PIN
Admins can now correctly save an escape mailbox for ACD queues