The Information Technology Disaster Resource Center (ITDRC) is a nonprofit organization that mobilizes in the wake of disasters to provide technical assistance and communications equipment to affected areas. Thanks to partner organizations like Amazon Web Services (AWS), Google, and Cisco, as well as volunteers with backgrounds in professional, medical, and technical spheres, the ITDRC is able to make a huge impact in any community—no matter how small or remote.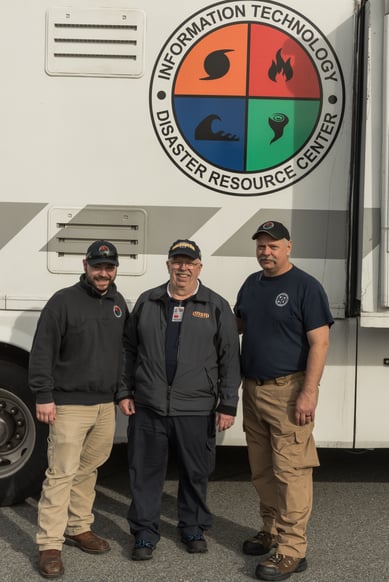 From February 25th through the 28th, 2019, the ITDRC's Tech Task Force held a four-day conference in San Francisco to train volunteers in the disaster life cycle and to teach them about community needs in the aftermath, as well as the available equipment used in deployment procedures. OnSIP's Larry Browne, a remote member of the ITDRC since 2015, relished the chance to meet the leadership team and other members who have responded to recently impacted areas like Puerto Rico and California.
The primary goal of the workshop was to instruct volunteers on how to work swiftly and efficiently while getting communities back on their feet. Beyond that, the ITDRC wanted to tighten relationships and cross-collaboration among the organization, volunteers, and partner response teams.
"The experience was very rewarding. As a volunteer firefighter, I've seen the immediate aftermath of smaller disasters, mostly at a residential or individual business level. Working with the ITDRC and participating with the partner volunteers has given me a strong respect for anyone that goes into a large-scale disaster to help communities."
–Larry Browne, OnSIP Customer Support
Partner Companies and Hardware
Volunteers from ITDRC partner organizations gathered in San Francisco with the equipment they deploy in disaster areas—from routers to comms trucks. Primarily in attendance were ITDRC members from Google, AWS, Cisco, and Facebook. Crisis comms teams from both Cisco and Sprint attended with their vehicles built for post-disaster deployment. As Larry puts it, "It was a chance for some volunteers who have deployed to Puerto Rico, Florida, California, and North Carolina to work with new volunteers and educate them about disaster deployments and the equipment available."