The Information Technology Disaster Resource Center (ITDRC) is a nonprofit organization that mobilizes in the wake of disasters to provide technical assistance and communications equipment to affected areas. Thanks to partner organizations like Amazon Web Services (AWS), Google, and Cisco, as well as volunteers with backgrounds in professional, medical, and technical spheres, the ITDRC is able to make a huge impact in any community—no matter how small or remote.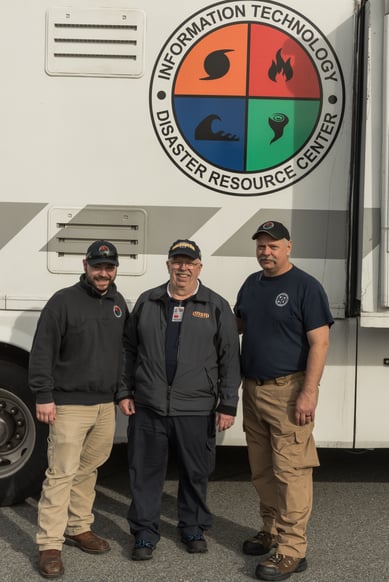 From February 25th through the 28th, 2019, the ITDRC's Tech Task Force held a four-day conference in San Francisco to train volunteers in the disaster life cycle and to teach them about community needs in the aftermath, as well as the available equipment used in deployment procedures. OnSIP's Larry Browne, a remote member of the ITDRC since 2015, relished the chance to meet the leadership team and other members who have responded to recently impacted areas like Puerto Rico and California.
The primary goal of the workshop was to instruct volunteers on how to work swiftly and efficiently while getting communities back on their feet. Beyond that, the ITDRC wanted to tighten relationships and cross-collaboration among the organization, volunteers, and partner response teams.
"The experience was very rewarding. As a volunteer firefighter, I've seen the immediate aftermath of smaller disasters, mostly at a residential or individual business level. Working with the ITDRC and participating with the partner volunteers has given me a strong respect for anyone that goes into a large-scale disaster to help communities."
–Larry Browne, OnSIP Customer Support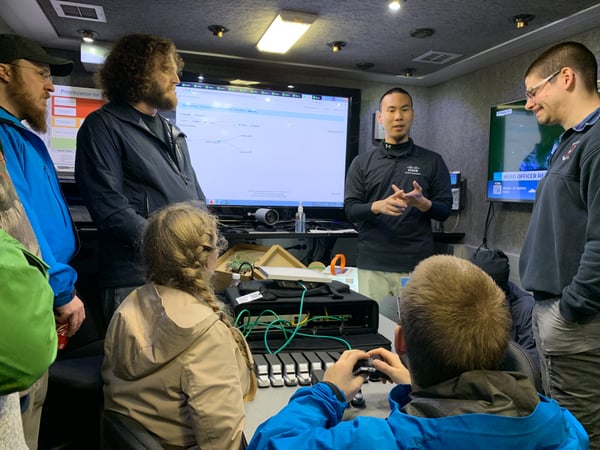 Partner Companies and Hardware
Volunteers from ITDRC partner organizations gathered in San Francisco with the equipment they deploy in disaster areas—from routers to comms trucks. Primarily in attendance were ITDRC members from Google, AWS, Cisco, and Facebook. Crisis comms teams from both Cisco and Sprint attended with their vehicles built for post-disaster deployment. As Larry puts it, "It was a chance for some volunteers who have deployed to Puerto Rico, Florida, California, and North Carolina to work with new volunteers and educate them about disaster deployments and the equipment available."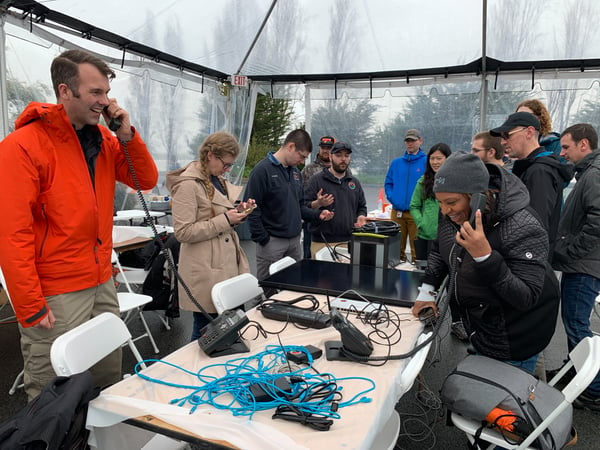 Partners like these are invaluable, especially as climate change makes disastrous storms the new normal. The ITDRC's workload increases in tandem with climate change and the organization's growing identity in the non-governmental response community. Cofounders Joe and Chris Hillis, together with the "Disaster Mom" Debbie Hillis, constantly crisscross the country to lend assistance to communities that need to rebuild their networks and communications after disasters sweep through.
Disaster Tech Education: Communication Skills and Hands-On Training
Google hosted the first two days of training at its downtown San Francisco offices, and Epicenter Media's team, led by CEO Christopher Tarantino, facilitated. The sessions focused on disaster area communications skills, which included demonstrations and explanations of the various technologies that can be leveraged in these situations, as well as firsthand accounts from volunteers kind enough to share their experiences in the field. It's always easier to learn through hands-on experience, so attendees were able to interact with comms and network hardware to familiarize themselves with the tech.
One exercise involved teams splitting in two, with one half building a structure from blocks and using only a radio to describe it to the other half in the hopes that through communication, each team could build an identical structure. Everyone was successful.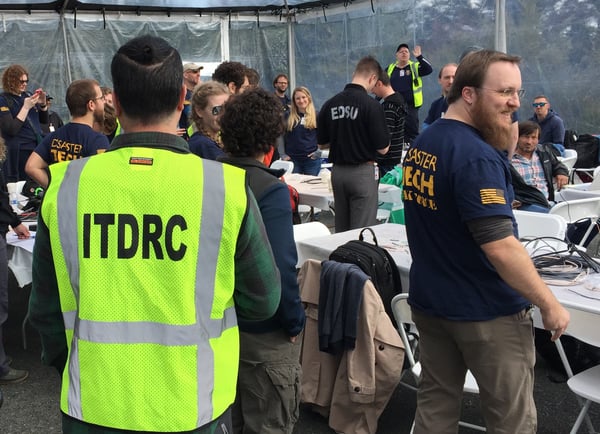 The last day of the conference was a scenario exercise at the Brisbane Marina, for which Larry was the Incident Commander. Volunteers were given a disaster scenario and informed of the immediate needs of the community. They had to create and execute a command plan with the hardware and tech they'd spent the previous few days learning about. "Everyone worked together for a common goal regardless of the size of the company they came from. It was wonderful to see everyone coalesce into a team so quickly," says Larry. "Working with a group of so many diverse technical backgrounds, most without emergency response experience, I was able to share my knowledge of both SIP telephony and emergency incident command procedures to complete the exercise tasks."
ITDRC cofounder Chris Hillis echoed Larry's sentiments:
"It's incredible to watch the technology community come together to help those affected by disasters. Whether you're from a large company or a small one, a tech giant or a startup, there is always an opportunity for those who want to give their time to connect communities in crisis."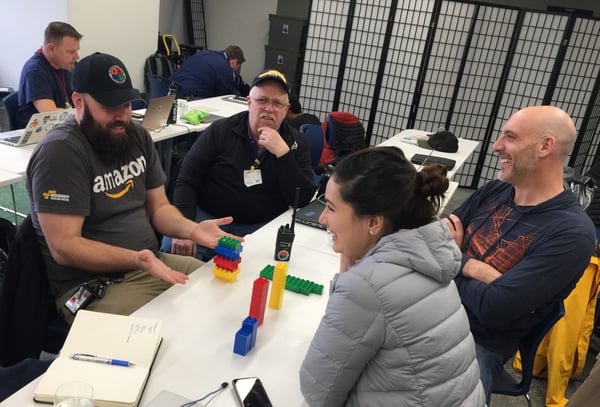 When disasters strike, the concept of volunteering aid usually gives rise to images of emergency shelters, bottled water, and food lines while professionals work on getting power back. In the age of mobile devices and cloud technology, it's easy to forget that when a disaster knocks out the power, that means communications are down, too. Power and data are two of the most important community needs in the aftermath of a disaster.