Business phone systems have come a long way from the old days of the Nortel Meridian.
Technology-savvy customers are now expecting their company's phone system to handle more than just telephone calls. Whether it's voicemail-to-email capability, chat or presence functionality to keep in touch with colleagues, or integrations with today's most popular CRM platforms, decision makers want a phone system that provides their staff with the tools to work more efficiently.
We decided to use Google Trends to compare the monthly search volume for a few VoIP CRM integrations and uncover the trends that are occurring over time. Check out what we found:
CRM Integrations
Observations
There are two main trends we can see. One is that the search for "Outlook integration" is in a steady decline. Perhaps this is due to the rise of Apple in the computer marketplace, as well as the diversification of other email, calendar, and communications clients.
The second trend is the clear increase of the search for "Salesforce integration." This graph certainly shows us that Salesforce is the dominant player in the CRM space, with other platforms such as Zendesk and SugarCRM trailing behind. Most of the VoIP providers on the market reflect this fact by offering custom built Salesforce integrations with their services.
As a side note, take a look at what my colleague discovered when reviewing business VoIP features' search volume.
Author's Note
It would be remiss of us not to mention that keyword terms such as "Salesforce integration" are general. Taking a look at the Salesforce AppExchange page shows you that there are integrations with hundreds of apps, including: VoIP platforms, email clients, and finance and administration products.
However, we think this study is a useful glimpse into which CRM integrations are heavily searched for. That data will show you the popularity of these platforms as well as important trends over time.
Also, when you consider that VoIP providers have site pages dedicated to these CRM integrations, you'll know that they are trying to rank for these search terms and get a piece of the search traffic funneled to their sites.
What Can We Conclude?
There has been an explosion of business apps in the workplace. These apps - Slack for real-time chat, Join.me for desktop sharing, Salesforce for sales and support tracking (just to name a few) - certainly provide important ways to increase productivity at work.
But people are now clearly wanting the apps that they have come to rely on during the day to work together seamlessly, including with their phone system.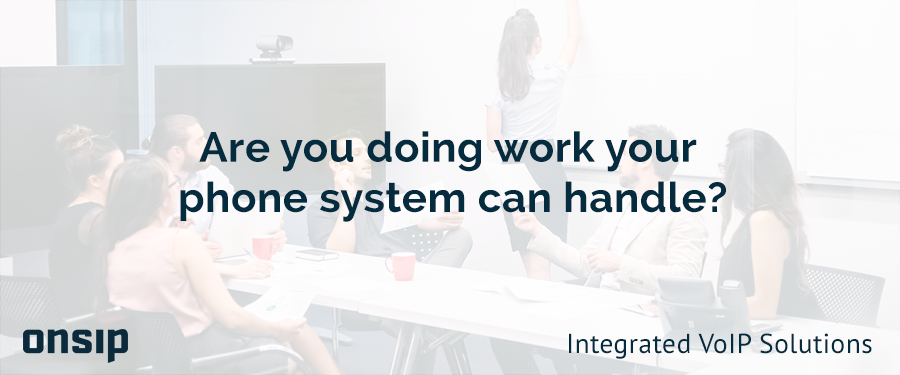 The OnSIP team has built many integrations with popular business apps and CRM platforms. These business VoIP CRM integrations help to unleash the potential of the OnSIP business phone system by providing actionable information in real-time. For instance, our Salesforce integration provides incoming caller data and the associated Salesforce record in a popup before you even answer the call. Armed with that information, you'll have a smoother and more productive call with your client.
OnSIP wants to meet you where and how you currently work. We hope that our integrations do just that.