Last week, OnSIP was named by The Silicon Review as one of the 50 Fastest Growing Companies of the Year 2017. We are honored to have been recognized for our innovations in web-based business communications.
Celebrating Technology and Innovation
The Silicon Review is a publication for business and technology professionals that shares innovative enterprise solutions developed by established providers and up-and-coming enterprises. It publishes articles and lists ranging across nine technology and vertical communities to provide IT decision makers with the latest products.
In addition to in-depth online articles, The Silicon Review prints quarterly and monthly magazines for the U.S., India, and Asia. This June, it released a special U.S. issue that announced the 50 Fastest Growing Companies of 2017, which includes companies such as GSI Health, Iconixx, and Thetaray.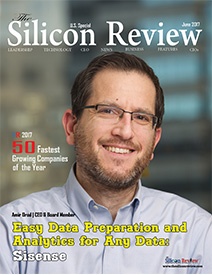 "We are so proud and humbled to be recognized by The Silicon Review on their 50 Fastest Growing Companies of the Year 2017 list," says OnSIP Cofounder and CEO Michael Oeth. "OnSIP has been committed to innovation from day one, creating solutions that give businesses invaluable ways to enrich employee collaboration and customer outreach. We are excited to have recently welcomed our 80,000th customer account."
An Innovator in Web-Based Business Communications
Mike was also featured in an article in the recent June issue that spoke to our customer-centric approach and commitment to our Unified Communications as a Service (UCaaS) platform.
He explains how the company's dedication to meeting the needs of modern organizations has led to innovative features like InstaCall and the OnSIP app. "We're paying acute attention to the growing usage of the OnSIP app— a voice, video, and messaging web application that requires no downloads or plug-ins." OnSIP also offers a free plan for businesses and the freedom to select their phones.

Here's an excerpt from the article:
"I'm really proud to say we don't just have customers; we have fans— in large part thanks to our unmatched level of customer care….Our Customer Success team cares so much about people (and alleviating their problems) that our department head is a volunteer firefighter….In return, our customers provide valuable insight, both explicitly in conversation and implicitly in usage patterns, that helps us fine-tune our offerings." - Mike Oeth
We're honored to have been featured in The Silicon Review's list of the 50 Fastest Growing Companies of The Year, and we look forward to serving more businesses in the future!