After recently becoming a Salesforce AppExchange Program Partner, OnSIP is happy to announce a new application: InstaPhone in Salesforce is a time-saving, video-capable web phone that runs right in Salesforce— no downloads required!
Unprecedented abilities in CRM management
InstaPhone (the OnSIP app), of course, is our browser-based web phone that leverages WebRTC to bring the full functionality of a desk phone and video calling right into an Internet browser. We launched it earlier this year as a feature for our business VoIP customers. And now we've integrated its powers with Salesforce.com's leading global CRM platform.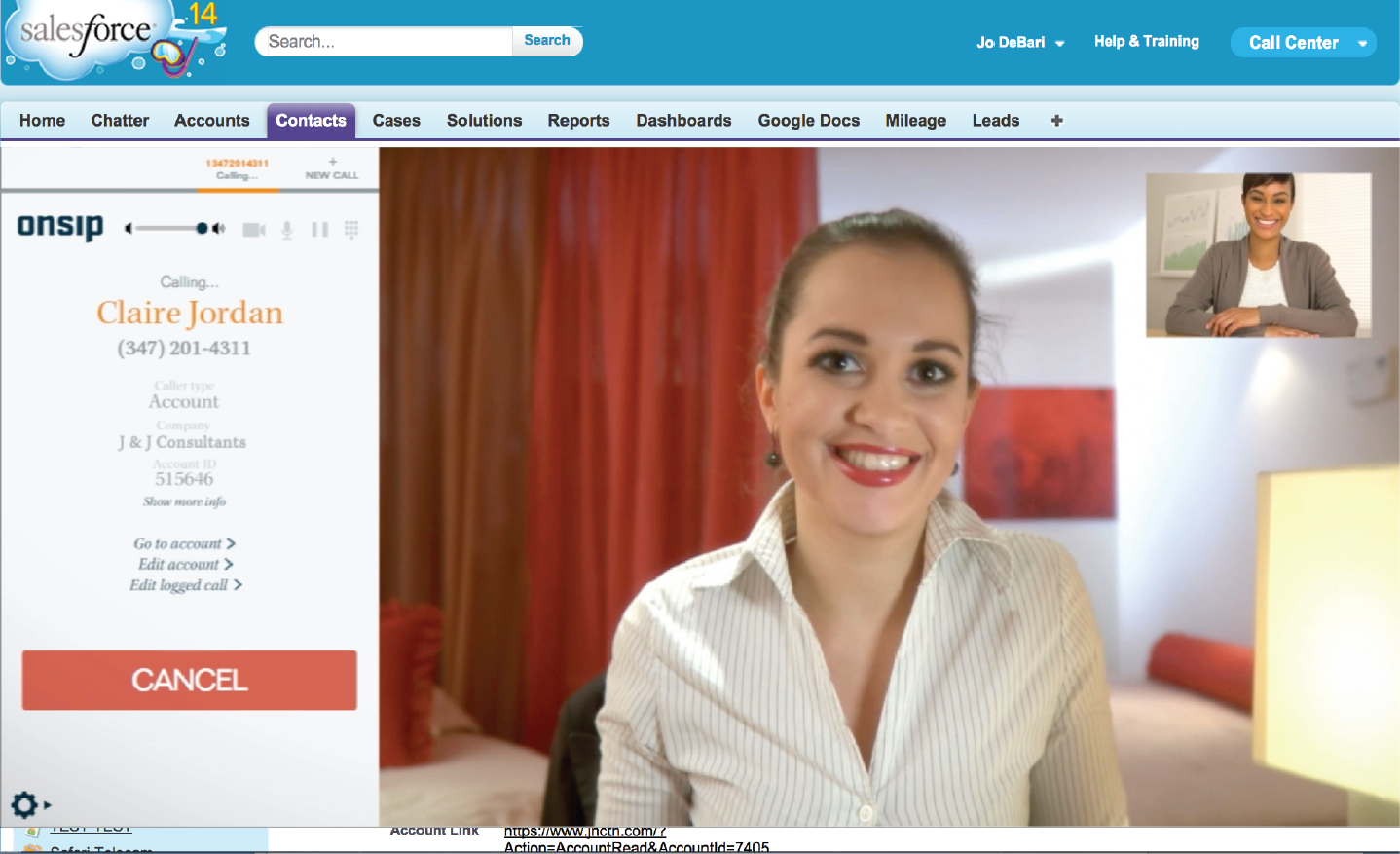 "InstaPhone in Salesforce gives users unprecedented abilities in CRM management," said OnSIP Director of Sales Tim Cleves. "The prospect of an instant video call, anchored by automatic CRM lookup, allows users to connect with customers in a more personal way. It's a great tool to build one-on-one relationships and enable trust between a business and its customers."
Using InstaPhone right in their Salesforce dashboards, agents can receive voice and video-capable calls that originate from the Public Switched Telephone Network or directly from their website. InstaPhone automatically identifies and displays links to Salesforce leads, opportunities, and accounts as an agent receives an incoming call. For first time callers, the application can create a new Salesforce record. Saving valuable time, InstaPhone also logs calls in the Activity History of any contact, account, or lead.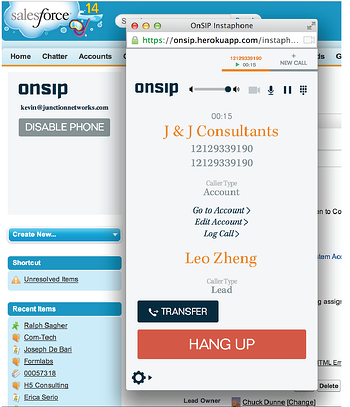 Pair with InstaCall buttons for VIDEO CRM and deep caller insight
To enable one-click video sales and support from their websites, OnSIP customers can generate free InstaCall button scripts (e.g. "Call Support Now!") within the OnSIP admin portal and place them on the webpages of their choosing. InstaPhone is capable of receiving not only video InstaCalls directly from a business website, but also real-time, contextual caller data along with the call. This contextual data, such as what webpage or product the caller was browsing when s/he clicked to call, can equip agents with the information they need to close the deal and deliver efficient customer service .
"Once again, OnSIP is on the forefront of innovation with our WebRTC-based InstaPhone in Salesforce," said OnSIP CEO Mike Oeth. "By providing a voice and video phone within the browser and fully integrated with Salesforce CRM, OnSIP leads the way to providing contextual real-time communications to businesses."
A business phone alternative, great for remote employees
In addition to time saving record look ups and call logging, the OnSIP app is a fully-functional business phone, handy for both remote workers and office employees. Using the OnSIP app, agents can extension dial their coworkers and make outbound calls to any phone number. The OnSIP app also supports HD voice, multiple call management, transfer, and other business phone functions.
"As an OnSIP agent, we are excited to introduce InstaPhone in Salesforce to our clients," said Marketing Manager Kim Germain of Safari Telecom. "Not only is OnSIP InstaPhone an integration with the leading CRM platform in the world, the application offers groundbreaking video calling capabilities that help businesses sell and support with a personal touch. We are happy to add this advanced solution to our portfolio."
InstaPhone in Salesforce gives your employees the ability to connect with customers via instant video and advanced CRM to build substantive relationships that matter. It is now available in the Salesforce App Exchange.
Topics: SMB Leadership, Business Technology