OnSIP's Chrome Plugin: Click-to-Call with Highrise integration is a time-saver. If you have yet to try it, now is the time. With our recent facelift, our Chrome Click-to-Call plugin is looking better than ever.
What is it?
The OnSIP Chrome Plugin locates phone numbers on a webpage and converts them into clickable links. When you click on a phone number link, a phone call is placed to your phone. Pick up your ringing phone, and voilà - you'll be connected just like that. Incredible, right?
It get's better…
Highrise is a popular web-based CRM tool from 37signals, and does an excellent job of helping manage contacts, communications, and relationships with customers.
If you already have a Highrise account, welcome to a whole new level of awesomeness. With Highrise integration, all of your calls placed to any of your Highrise contacts using your OnSIP phone are logged automatically in your Highrise account. After your calls finish, you can add notes to each call so you'll always remember what you talked about.
How do I get this?
In order to use this plugin, you must first be an OnSIP customer. If you aren't already, try us out in with a 30 Day Free Trial.
Next, follow these steps:
Step 1:
Go to the Chrome Web Store to download the OnSIP Chrome Plugin.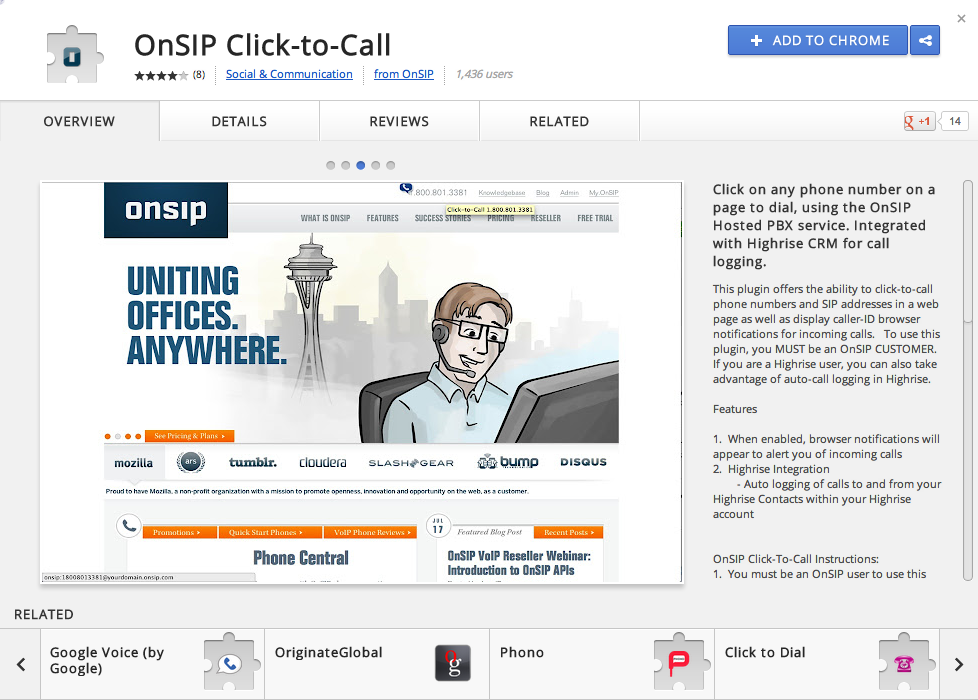 Step 2:
Click ADD TO CHROME.

Step 3:
When asked, 'Add "OnSIP Click-to-Call"?' click Add!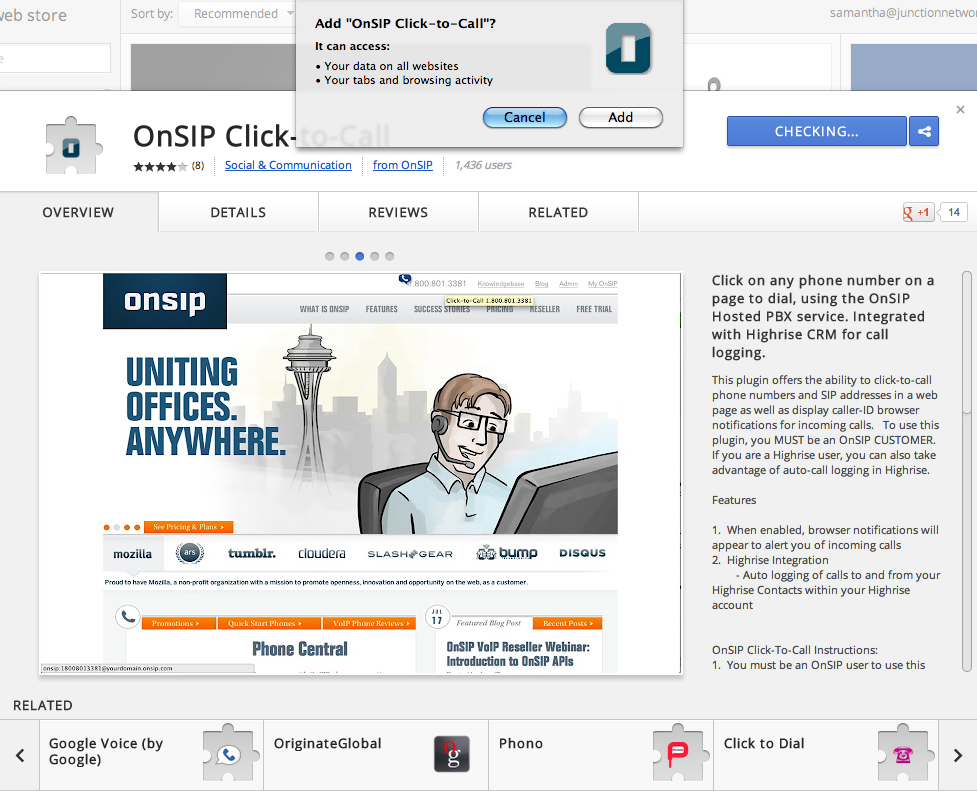 Step 4:
Congrats! OnSIP Click-to-Call has been added to your Chrome browser!
Now right-click the OnSIP icon located on your browser window, and select Options.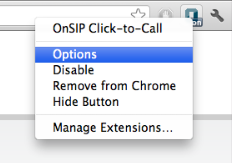 Step 5:
Fill out your settings.
Enter your SIP address and password; this is the same address and password you use to log in at my.onsip.com.
If you also have a Highrise account, fill out your Highrise url and account token. If you experience trouble locating either of these, watch our Highrise tutorial.
Select a timezone.
Step 6:
Hit Save.
At this point, you are ready to start making calls. Go to a webpage, locate the the phone number and click away.
Troubleshooting
If you encounter any problems when downloading OnSIP's Chrome Plugin please visit our knowledgebase page or contact the OnSIP Support Team.
For more information about the Highrise functionality and the download link, visit our Highrise page. Be sure to regularly check our extras section for new integrations. If you're a developer, we encourage your to check out our developer APIs to build integrations of your own.