Pets walking across your keyboard...kids barging in on important video conferences…and the occasional video call filter mishap turning callers into cats (and even potatoes!). Working from home brings a new set of challenges, so it's important to equip yourself with business software applications that keep you productive and on track.
A SIP softphone can be one of these apps that help you get more done throughout your workday no matter where you find yourself working.
What Is a SIP Softphone?
A softphone is easy to understand when you think of it as a "software telephone." It's a software program that has all of the features and functionality of a telephone: It displays a keypad on your monitor for you to dial phone numbers with your mouse, it offers you mute, hold, transfer, and volume buttons, and it even has voicemail management controls, among many other features.
A softphone becomes a "SIP softphone" when it utilizes the SIP standard. Session Initiation Protocol (SIP) is a signaling protocol that is used to set up and terminate real-time communication sessions. It excels when used in a business VoIP service because it can locate a user—and therefore deliver calls to/from him—no matter where he is working, what phone device he is using, or what Internet connection he is on. Because of this capability, it's heavily used by VoIP providers, including OnSIP. (Yes, it's even in our name!)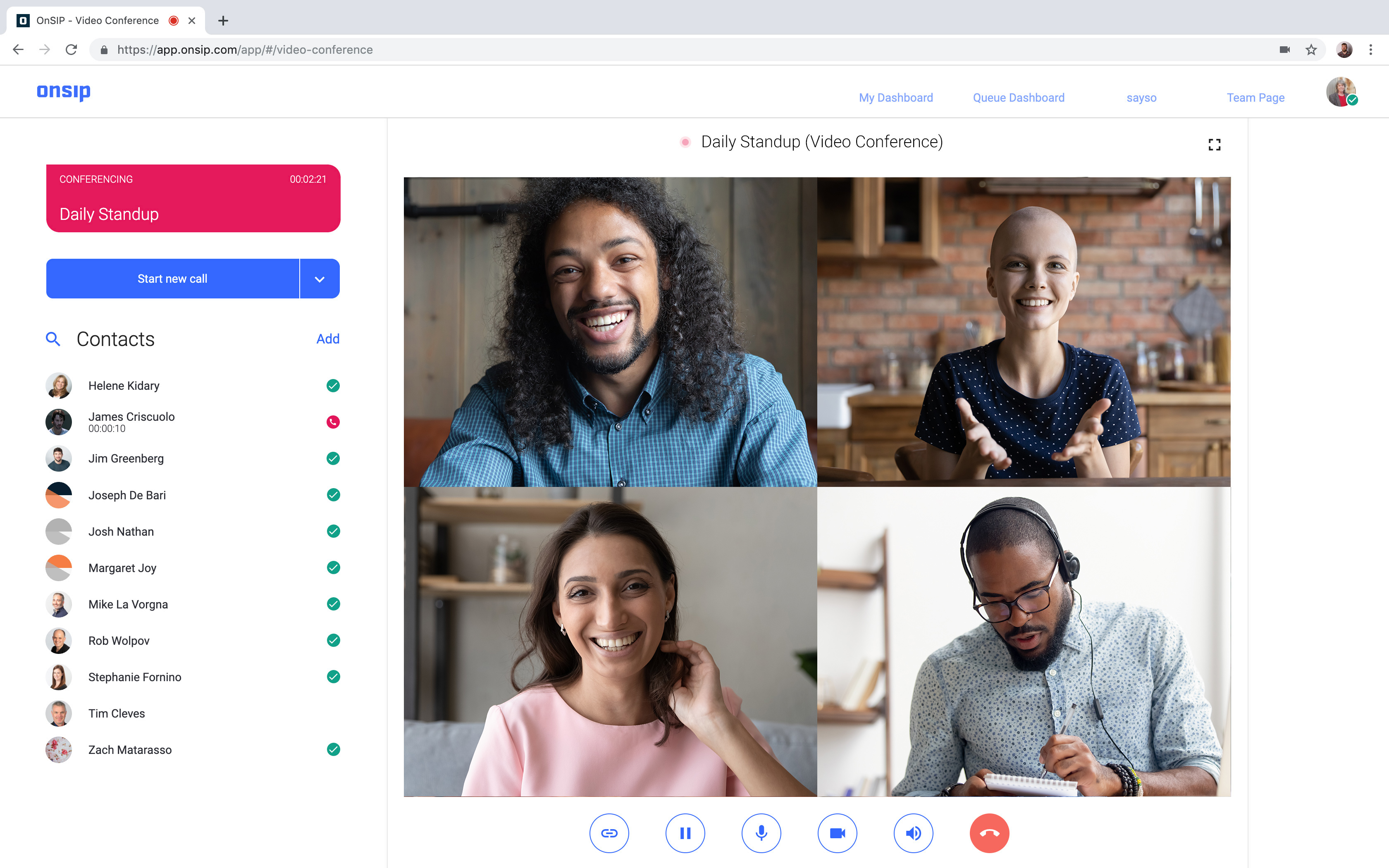 Softphones provided by VoIP services are available in many formats. They can be downloaded to your computer or laptop as a desktop application, downloaded to your iPhone or Android as a mobile app, and even accessed in a web browser window. OnSIP's softphone, the OnSIP app, is available in all three versions. Our customers are free to use the version(s) that best fits their working needs.
Use a SIP Softphone to Boost Your Productivity When Working From Home
A SIP softphone will help your work from home day be just as productive as a regular day at the office. How?
1. Put a Business Phone on Your Smartphone With a Mobile Softphone App
When using a desk phone at your home workstation, you are forced to stay near it if you don't want to miss an important call. Instead, be reachable on the go with a softphone app on your mobile device. The app registers with your company's VoIP service just like a physical desk phone does. When a call comes to your extension, the app rings and you can answer the call on your mobile device—whether you're in your home or running errands during your lunch break.
2. Integrate With Other Business Apps to Complete Tasks Faster
Many softphones have built-in integrations with leading business productivity apps and CRM software. These integrations automatically complete simple tasks like finding and displaying a caller's contact record on your screen or populating a support ticket with caller details. Make sure that you're not doing tasks that a softphone can handle!
The OnSIP HubSpot Integration
The OnSIP app's HubSpot integration helps you and your staff provide efficient support to customers. When a call rings your app, the integration attempts to find the caller's HubSpot record. If one is found, it displays a condensed version of the record in the app alongside a link to the complete record. Presented with this info, you know who is calling, as well as the caller's recent activity logged in HubSpot, even before you answer the call.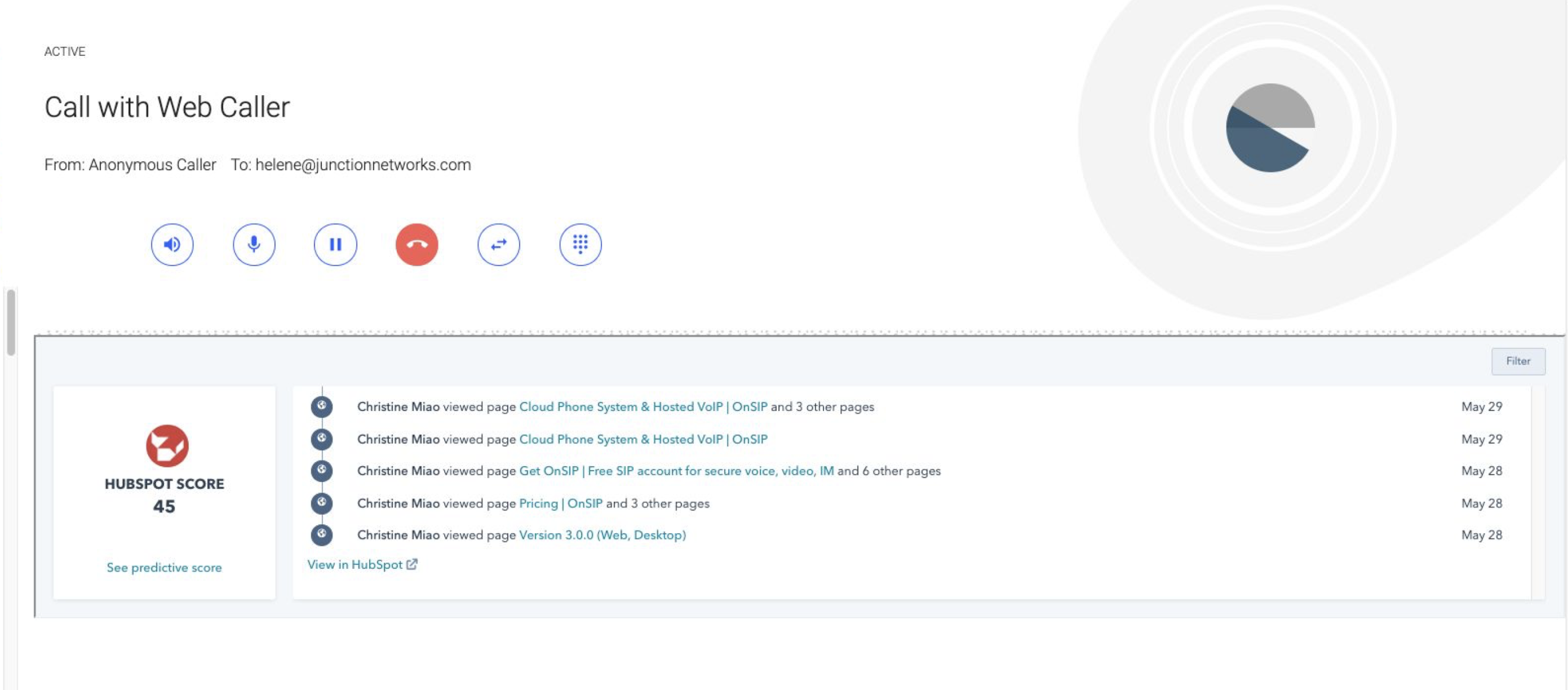 The OnSIP Zendesk Integration
OnSIP's Zendesk integration is also a valuable assistant for your sales and support staff. When an agent answers a call in the app, a new Zendesk ticket is instantly created in her Zendesk interface. The ticket is given a unique ID number and assigned to the agent who answered the call. It is also time stamped with the date and time of the call, and it includes the caller's callback number. With these details automatically gathered, the agent can immediately focus on the caller's issue at hand.
3. Use Video Conferencing to Connect and Collaborate With Remote Coworkers
Working from home doesn't mean that you can't engage in group brainstorming sessions or department meetings. Softphones also provide video conferencing capabilities, so take advantage of it to keep those meetings going when staff members are dispersed.
You can start a group video conference in the OnSIP app. Coworkers can join your call using their own OnSIP apps, making for a seamless connection while everyone is working remotely. And when you need to invite an external participant, email him your conference call's unique webpage link. When he opens that link in a web browser window, he can video call in using the controls found on that page.
4. Click to Call Coworkers—No Extensions Needed
Need to call a coworker? Don't worry about trying to remember her extension. A softphone displays all of your coworkers in a "contacts list" in the interface. Simply scroll to locate the colleague that you wish to call and click on a button to start a call with her in the softphone itself.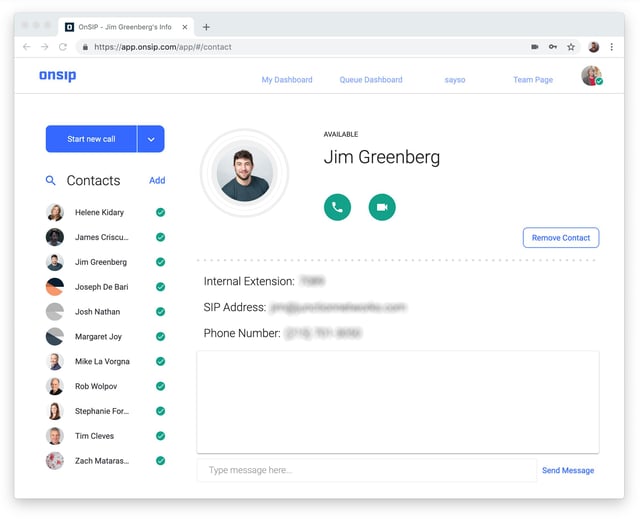 When you click on a coworker's name in the OnSIP app's Contacts list, her contact info page is displayed. Voice and video call buttons presented there give you the option to video call her if your device has a camera. Click to call your colleagues quickly, and get on with your workday.
5. Manage Your Voicemail Box With Simple Play and Delete Buttons
Forget about dialing extensions and PIN numbers to review your voicemail messages, too. Softphone apps have voicemail management controls built right into the dashboard. You can play your voicemails, delete them, and configure other settings there without wasting time dialing into a voicemail manager and navigating menu prompts.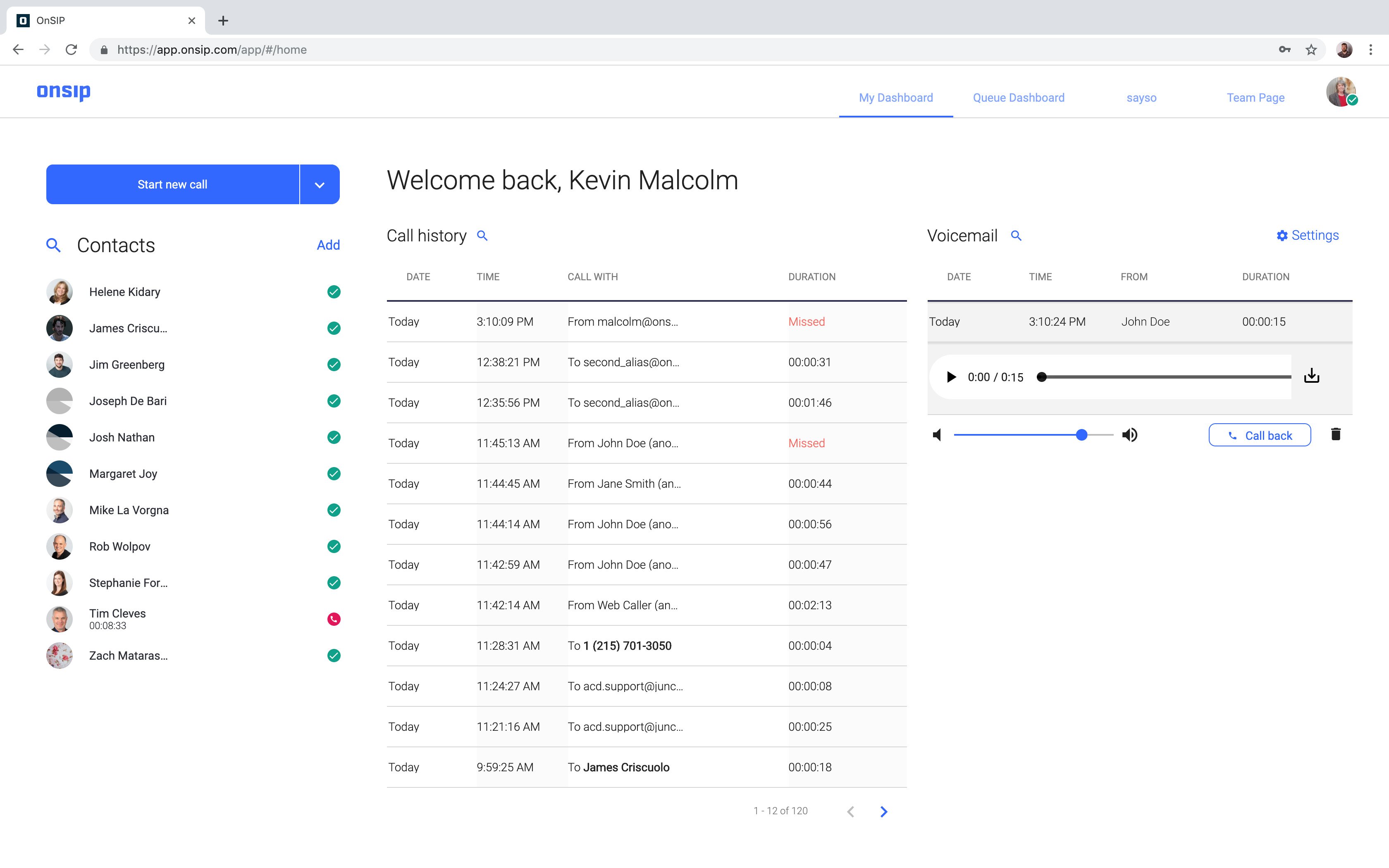 A SIP Softphone Can Meet Your Remote Work Needs
A SIP softphone app can be a valuable business tool to keep you completing work tasks when you need to work from home. Learn about the other ways that you can use the OnSIP app to collaborate with remote working teammates in our related blog post.