Move over, telecommuting, there's a new business buzzword on the block!
If you don't know what a workcation is, then this blog's for you. Learn about this timely trend and why it may be a great option for you and your staff members, especially if your business uses a hosted VoIP phone system.
What Is a Workcation, Exactly?
Working remotely + Vacation = Workcation
It's as simple as that!
You may be asking: How could you possibly work AND take a vacation at the same time? But it's entirely possible to do so, recently proven by the fact that much (if not most) of the business world has been successfully working from home for the past year now.
In a workcation, you travel to a location that you want to visit but still put in a typical workday. After a full day of participating in meetings, replying to emails and voicemails, and making calls to clients, you have the freedom to go watch a sunset over the ocean, enjoy a breezy seaside dinner, or attend a nighttime concert of your favorite singer. Sounds amazing, doesn't it?
You can even take daytime trips, with a bit of advance planning. Just make sure to get your boss's approval for working different hours. For example, if you work a couple of hours in the early morning and then a few more in the late afternoon, you can take the middle part of the day to immerse yourself in your new surroundings.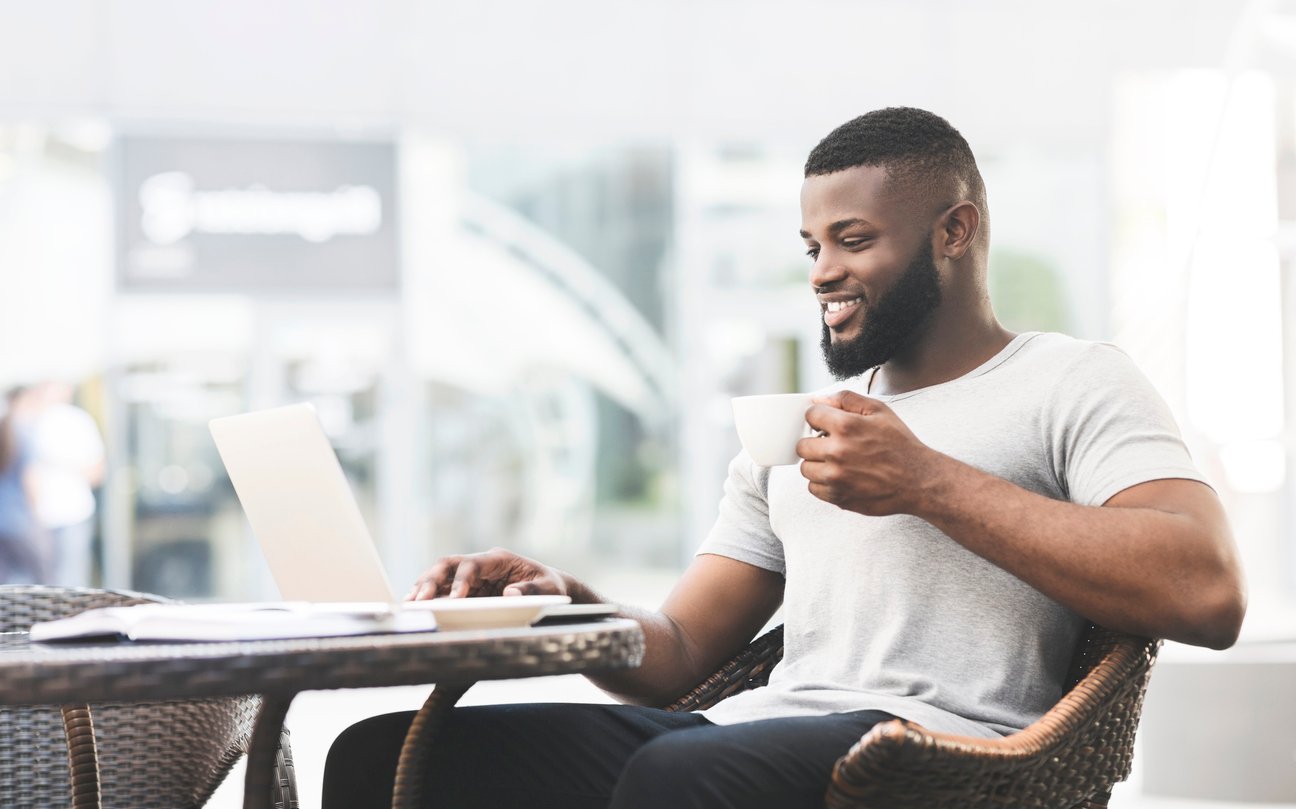 Why Take a Workcation Instead of a Vacation?
Taking a workcation can be very appealing for many reasons.
For one thing, you don't have to use vacation days when going on a workcation. You're putting in a full day of work—you're just in a new, scenic location. Save your actual vacation days for those trips of a lifetime that you want to experience.
Another benefit is that you don't have to delay any important projects or assignments that are on your plate. You can press forward on those tasks and make sure that deadlines are met during the workdays from your vacation destination.
And perhaps the most convincing reason for taking a workcation is: You don't come back to the neverending email inbox from hell! By responding to emails and voicemails during your workcation, you won't have to spend your first full day back clearing your inbox and writing reply after reply after reply...
How a Business VoIP Phone System Factors Into a Productive Remote Work Vacation
One of the best ways to set your business up for a workcation policy—and for remote working in general—is to use a hosted VoIP platform.
VoIP and Your Internet Connection
VoIP utilizes your Internet connection to transmit phone calls, video calls, and other forms of real-time data to and from your staff. And to be clear, you can use ANY Internet connection. It's what makes VoIP so ideal for remote working: Staff members can work from their homes and still connect to your company's VoIP service through their own residential Internet connections.
Softphones Connect You to Your Teammates While You're Away
What's more, employees don't need a physical desk phone at their homes to connect to the VoIP service. They can use a softphone application (almost always provided by the VoIP service itself) instead. The softphone, downloaded to their computers or laptops, is the telephone interface they use to connect and collaborate with colleagues, whether they're working from home or while on workcation.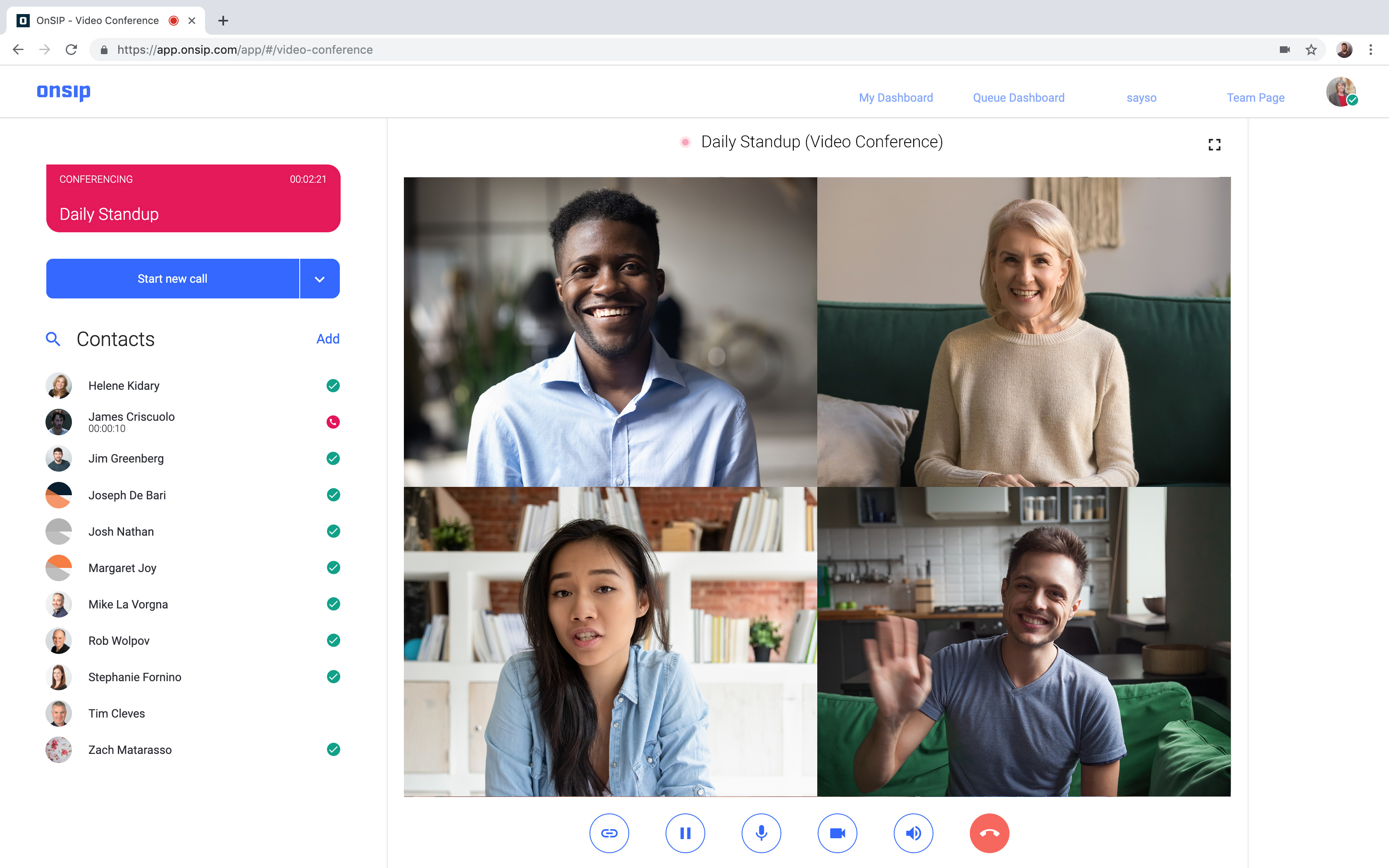 Calling: When an employee logs into the softphone over her remote work vacation, she can make and receive calls directly from her laptop just as if she were using a desk phone in the office. A physical phone isn't needed, and the calls are transmitted over her local Internet connection.
Video conferencing: By using a VoIP softphone, any team meetings or project updates that she has scheduled during her workcation can go on as video conference calls. For example, she can use the OnSIP app (OnSIP's softphone) on her laptop to start a video meeting that she's chairing or call into one that she needs to attend.
Presence: Softphones display the Presence statuses of all staff members who are using the softphone app. These statuses visually show if employees are available for calls, if they're already busy on calls, or if they're marked "away" from the app. The workcationing employee can see which coworkers are free and which are busy with just a quick glance. And her colleagues can tell if she's available by checking her Presence status in their softphone apps as well.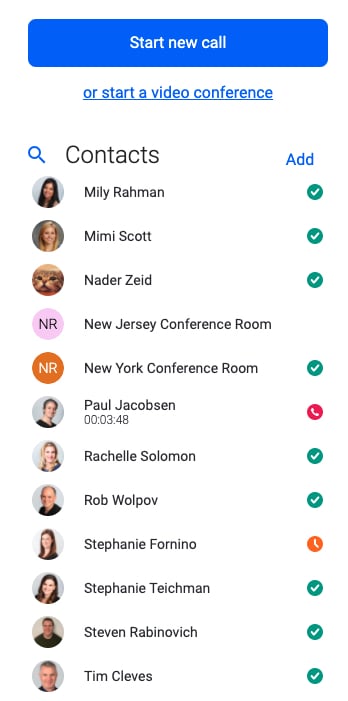 Voicemail: Voicemail management controls are built into softphone app dashboards. Any new voicemails that she receives are prominently displayed, and she can play and delete these messages using the review buttons found there. Even though she's on a working vacation, she can still promptly respond to any voicemails that are left for her.
Chat: Finally, some softphones have in-app chat functionality. In lieu of a phone call, she can send chat messages to coworkers for quick answers to questions or for providing updates on her availability during the upcoming day. The chat option is another great form of communication that keeps her connected to her teammates while she's away.
Tips to Take a Successful Workcation
If you think workcations are in order for you, your staff, or your company, there are a few tips you should follow to make them as stress-free as taking a nap in a hammock.
1. Get the Required Approvals Ahead of Time
This certainly goes without saying, but make sure that you approve your plans with your boss in advance. From getting the okay to work remotely while you're on a personal trip to agreeing upon the hours that you'll be working, it's imperative that you keep your boss fully informed so she knows where you are, when you are available, and how to get in touch with you.
2. Choose a Connected Location
Going off the grid isn't exactly the best idea for a workcation. Ensure that the destination you're staying at has a reliable (and even high-speed) Internet connection and cell phone service so you can be reachable during your set hours. You have to get your work done during the workcation, so save the safari adventure for your actual vacation days.
3. Bring Any and All Work Tech You Need
Make a list of the tech and accessories you need to power your productivity while working from a new place. It's essential that you pack items like your work laptop, work phone, charging cables, VoIP phone headset, any external hard drives or thumb drives that you may need, etc., so you remain as productive as normal.
4. Think Security, First, Foremost, and Always
With all of this work-sensitive hardware that you'll have on hand, you must take precautions to secure it. Set up password protection on all of your devices, enable two-factor authentication when available, make use of the hotel room safe, bring padlocks in case you need them, and follow any other cybersecurity protocols that your company has mandated.
5. Communicate Your Schedule to Your Teammates
Once you've received approval on the hours that you will work, inform your teammates of your workcation schedule. Whether it's in an email, marking the hours on your shared work calendar, or posting your availability each morning in your team's messaging app, it's important that your colleagues know when they can contact you. Remember, the key to making a workcation work is to be open and honest about when and how you can be reached.
Workcations: Enjoying Time Away From the Office While Still Getting Your Work Done
Workcations can allow you the time and space to recharge, unwind, and explore a new setting without causing the disruption to your work assignments that a regular vacation would. And besides, combing through your email inbox on a Monday morning can be made *so* much better when you're sitting on your hotel room balcony, watching the waves gently lap onto the nearby beach...