Larry Browne, a member of OnSIP's Support Team, recently attended the SoMeBizLife conference in Doylestown, PA. SoMeBizLife stands for Social Media, Business and Life. It is a "full-day conference to help professionals and business owners learn how to use social media and business practices." Larry was asked to to speak at this conference and share his knowledge of social media with others.
If there is someone you want to talk to about social media, Larry is your guy. Larry has worked both sides of the media table, creating and maintaining websites since the mid-90s, as well as spending a decade as a full-time photojournalist. Recently named a Top 100 Patch Blogger, Larry currently manages all of the social media for Pennsylvania's Doylestown fire company, wherein he has been a volunteer firefighter for over 13 years.
In the blog written below, Larry discusses his experience at SoMeBizLife and how social media is changing the world.
SoMeBizLife: a Growing Phenomenon
Only in its second year, SoMeBizLife is a growing phenomenon. It started with a local audience and is growing into a regional event. Over 300 people attended this year; many of them learned of the event through word-of-mouth (or social media) from last year's conference attendees.
Chuck Hall is the genius behind SoMeBizLife. Doylestown born and bred, Chuck is a genuinely nice guy who never turns down a question about marketing or social media from people looking to get started or improve.
When asked to be a panelist as part of the non-profit track at SoMeBizLife, I was deeply honored. This isn't your average, dull conference; social media use in business is a hot a topic right now. Social media is the new way of communicating with people. It removes the barriers to access to mass communication by removing the middleman and production costs/time associated with traditional news and print.
The whole day was based on relationships made and strengthened through social media. I participated in a three-person panel, discussing non-profit user of all types of social media: Facebook, Twitter, Pinterest and lots of other platforms. The panel consisted of Beth Baker of Deserving Decor, Jamie Haddon, CEO of United Way of Bucks County, and myself. We were the first break-out session after the morning keynote speaker.
We were all happy to see that the 30-something attendees were deeply engaged. The audience asked thoughtful questions and even took notes. When you're teaching or presenting to adults, note taking and questions are a great indication that you've reached your audience. (There's nothing worse for confidence then a room full of Sphinxes.)
My Daily Brushes with Social Media
At Doylestown's Fire Company, we maintain two Facebook pages, a Twitter feed, a website, and regular contributions to Doylestown Patch. I tweet daily from @firepix1979. This has allowed us to get much more news out to our local audience faster and with more detail than via the local newspapers. The newspapers have to ration the amount of local news based on demand and coverage area, which includes many more non-profits competing for space.
At OnSIP, we utilize social media to the best of our ability— this blog is a form of social media. We have Twitter feeds, Facebook pages, and use email to communicate. We also use web-based apps such as Salesforce and Zendesk as a way to communicate with our customers. And, of course, we use our OnSIP phones for communicating with the world. At our core, we're a communications company; we provide our customers with the systems needed to connect phones to other phones.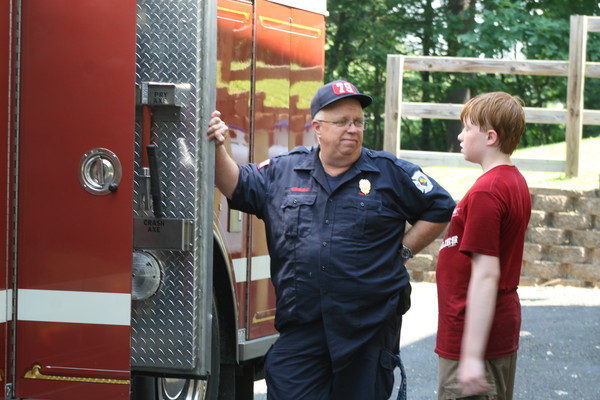 It's ALL About Communication. That's What it all Really Comes Down to.
There is a tremendous amount of information on the Internet now. Companies need to understand what their audience (customers) want more than what the medium wants, which is what has happened with traditional print and broadcast media relationships. Traditional media's realization is such that they need to be more reactive to social media campaigns that gather buzz on their own to prevent being left far behind. It is a very interesting dynamic. Newspapers will retweet news with a specific hashtag, and broadcast news trolls Twitter feeds for stories and reads viewer tweets on-air.
Social media builds communities of people and organizations in a new way—Communities that have no walls, no geographic boundaries, and no restrictions on the amount of information can be mined and shared. My advice is to just have fun with it. Write stories instead of releases, and realize that they are the arbiters of what's good and what's not for their organizations.