If your team uses Slack for instant messaging and group collaboration, you may have noticed a new icon at the top of your conversations. Earlier this week, the service began rolling out voice chat capabilities to its users.
Teams enrolled in the Beta can click the phone icon at the top of a conversation to initiate a voice chat with the corresponding Slack contact. A new window will pop up, featuring some call controls and the other user's profile picture, as you wait for him or her to answer.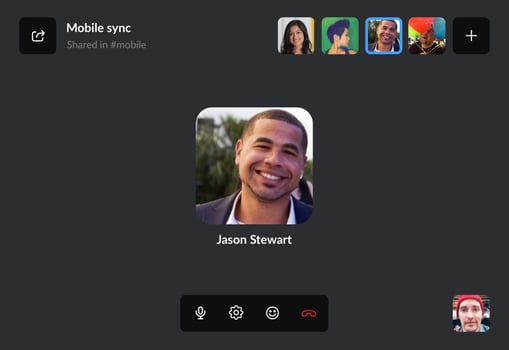 Teams that pay for the Standard plan or higher can also conduct Slack voice calls for groups of up to 15 users. You can invite users to join an ongoing one-to-one call by choosing them from a list or pasting a link, or you can initiate a call with an entire channel.

What does this mean?
With the introduction of voice chat and the promise of Slack video chat and screen-sharing in the future, the Slack team is positioning itself to become a more all-encompassing collaboration tool. Rather than using one service for text, a different app for video and a third for screen-sharing, their plan is to make Slack an appealing option for all three.
It's a smart goal in terms of unified communications, but there's usually a risk of becoming a "jack of all trades, master of none." As Slack users here at OnSIP, we hope they're able to balance it well, and our understanding of the underlying technology leads us to believe they should be able to.
How Slack Voice Calling works
To my knowledge, Slack has not publicly described their methods for getting voice chat going, so this is more of an informed guess. We suspected that Slack was using WebRTC, an open source peer-to-peer API, to stream data between the users. Opening Slack in Chrome and checking out chrome://webrtc-internals for a few minutes seemed to confirm this.
WebRTC was our first guess because it's something our development team has become very familiar with. It's what powers the OnSIP app for Chrome and Firefox, a video-enabled VoIP phone that can be used from an internet browser. We had to make some significant changes to allow our app to connect with external and PSTN callers, but for Slack's closed system environment, WebRTC seemed like a great fit.
Moving forward with Slack Voice Chat
We're excited to see both the development of Slack as a service and the growing adoption of WebRTC as a technology. We'll be sure to keep an eye on this Beta, as well as the progress of Slack's video chat and screen-sharing features.
If you'd like to integrate video calling into your current Slack setup, check out our suggestions for how to do that.