Welcome to the second installment of our ongoing series, Women in Technology You Should Know. Women are integral to STEM, yet too few of us know them as well as we know the top men in the field. We want to help change that! In our first post we featured:
Dr. Marian Croak, the VoIP pioneer recently inducted into the Inventors Hall of Fame.
Limor Fried, who launched her open-source electronics company from her MIT dorm and channels its success into educating and inspiring future engineers.
Kimberly Bryant, founder of Black Girls Code which swiftly went global.
Read on for three more brilliant women of STEM whose names we should know and celebrate.
Dr. Mae Jemison
Did you know that an *actual* astronaut appeared on Star Trek: The Next Generation? Even better, did you know that particular astronaut was the first woman of color in space? If you didn't know, now you know! Meet Dr. Mae Jemison, medical doctor, engineer, dancer, innovator, and children's author. If you're exhausted just from reading that last sentence, we are too! And we love it.
Before launching into the final frontier, Dr. Jemison traversed Earth's continents, working everywhere from refugee camps to the Peace Corps. And then she became the first Black woman accepted to NASA's astronaut training program. Her eight days in space didn't diminish her commitment to social work at home, either. After touching down on our Pale Blue Dot she acknowledged how society ought to recognize the vast contributions by women and other minorities—if they are just given the chance, like she was.
Since her six years at NASA, Dr. Jemison's cultural contributions go far beyond a cameo on the best Star Trek show ever made.* She established the Jemison Group, Inc., a consulting firm focused on technology's sociocultural impact from the design stage. Part of that includes her medical tech company, BioSentient. Next, she created the Dorothy Jemison Foundation for Excellence, named for her mother. The non-profit organization runs an international space camp for young teenagers and even won the grant to spearhead the 100 Year Starship project.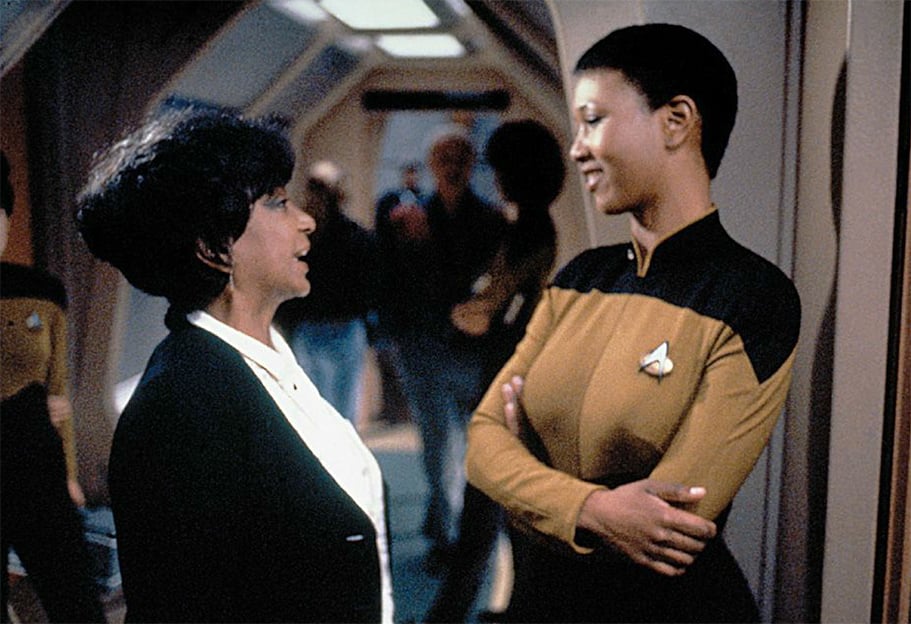 Dr. Jemison has nine (9!) honorary degrees spanning subjects from science to the humanities. She was inducted into the National Women's Hall of Fame. And we'd need a separate blog to list every honor, award, or board seat she's held since her 1992 space flight. Suffice it to say that Dr. Jemison is looking to our future in space while staying exceptionally grounded—if you'll excuse the pun—on necessary work here on our home planet.
In the spirit of this article, we recommend reading Dr. Jemison's NYT Op-Ed describing how she, despite knowing all her life that she would end up in space, didn't know the other influential women of color—particularly Black women—who preceded her in aviation and engineering.
*Please note that this is your author's opinion and while it is incontrovertible, particularly as someone who used to work for Star Trek, she also didn't dare run this line by her engineers.)
Anubha Maneshwar
When Anubha Maneshwar started her foray into technology, women were—and still are—egregiously underrepresented. This is particularly true in Maneshwar's home, India, where she beat both industry and cultural stigma to become a successful engineer.
As amazing an accomplishment as that is, Maneshwar clearly had no intention of remaining a demographic outlier! She's changing the status quo with her nonprofit, GirlScript.
It provides space for India's future engineers to get their feet wet in technology and computer programming. The community has chapters in dozens of Indian cities and "aims to become the world's biggest tech community for learning technical skills and getting opportunities around the globe." Now a global community, GirlScript continues its dedication to diversity: at least half of its seats at all events are reserved for women and LGBTQ+ participants.
In the years since founding GirlScript, Maneshwar has been featured in Forbes 30 Under 30, won multiple Indian leadership awards, is a TEDx speaker, and holds mentorships at several major tech programs like Mozilla Open Leaders.
Beth Anne Katz
Yes, Katz is a technical program manager at Microsoft and that's seriously impressive. Even more so? She scored a Goldman Sachs technical internship her first year of college with practically no experience. For Pete's sake, she's interned everywhere from Disney to Google and landed scholarships from the likes of Boeing and NASA. But let's take this up another notch to truly blow your socks off. None of this compares to her real impact in the tech world. She became a leading voice for mental health advocacy, working to destigmatize the shrouded yet wildly common spectrum of mental health issues—which are particularly commonplace in the high-pressure tech industry.
Katz discovered that content creation is a particularly powerful tool for managing mental health, and she started to open up. First, through a YouTube video to help her stay accountable when she first honestly acknowledged her illness and started medication. Later, Microsoft featured her in an internal article discussing her history and how working there impacted her mindset. It was so popular, with dozens of colleagues reaching out to her with their stories, that Katz agreed Microsoft should share it publicly. Not long after, she started Katzbe Fights Depression, an organization utilizing content creation's power to combat mental health stigma.
On top of her day job as a Microsoft engineer, she's a lead on the company's global neurodiversity program as well as her local California Disability employee resource group. In 2020 she combined the two major sides of her life into How to Program Manage Your Mental Health, a presentation that couldn't have arrived at a more pivotal cultural moment. The National Alliance on Mental Illness named her a community champion in 2018—before she even launched Katzbe Fights Depression! The accolades continue to roll in, including a 2020 feature by the Society of Women Engineers and, most recently, was named as one of the 100 Most Influential Women in Silicon Valley.
If you haven't clicked already, we highly recommend reading that internal Microsoft article mentioned above. The more we learn about and normalize mental health, the better we all are.