An important benefit of hosted VoIP is the flexibility that it offers to businesses. A hosted VoIP system won't tie you down to one physical location, and you can use it to unite different offices/locations under the same phone system.
When you're setting up a VoIP phone system, consider how to utilize it at you and your staff members' home offices too. 2020 has shown that working from home is essential to continuing business operations during an unexpected crisis.
Get Your Own Business Phone Tree Template
No matter which hosted VoIP system you choose for your business, download OnSIP's free business phone tree template! This document helps you plan out how calls to your business will flow on your new VoIP platform. By thinking about this beforehand, you'll identify which phone system features that you need. Use it to write down a script for your auto attendant menu, list menu options and destinations, organize your ring groups and group members, and more.
Familiarize Yourself With Your VoIP Admin Portal
Hosted VoIP systems provide you with an admin portal, accessed in a web browser window, that you'll use to create calling features, purchase phone numbers, add users, and manage your business's call routing options. The admin portal gives you full control over your VoIP service, even when you're working from home. Just log in to make moves, adds, and changes to features at any time—those updates will take effect immediately.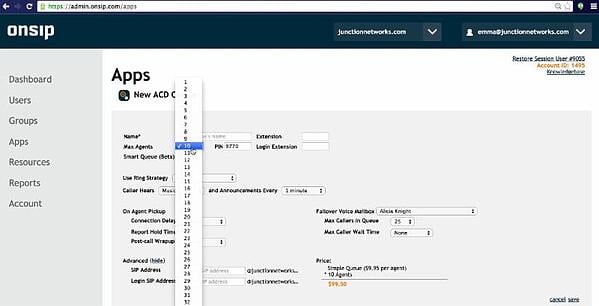 Add Users and Extensions
Add all of your employees into the admin portal as "users" of the VoIP service. You'll enter in contact information like the person's name and work email, as well as assign him a unique extension. That way, other staff members just have to dial this extension in order to call him.
OnSIP Pro Tip: When creating extensions, it's best to define and follow an organized pattern. For example, have all of your employees' extensions be four digits long. It's also best to avoid extensions that start off with "911x," "411x," or similar numbers—you'd risk your employees accidentally calling the local emergency 911 call center or information directory. Consult our Knowledgebase article on Best Practices for Extensions for more suggestions.
Equip Each User With a Voicemail Box
Set up each employee with a voicemail box so that if she's unable to answer a call, the caller can leave a message. You can assign mailbox and secure PIN numbers for each box directly in the admin portal.
OnSIP Pro Tip: Enable the voicemail-to-email feature to help your employees keep on top of their messages while they are working from home. This feature automatically sends new messages to an employee's email address. Instead of having to call into her voicemail, she can play the message right from her email inbox.
Create Ring Groups to Efficiently Answer Sales and Support Calls
Ring groups (also known as hunt groups) distribute incoming calls among a group of employees. Create a ring group in the admin portal for your sales team, and then add each rep into the group. Repeat the process to create separate groups for your customer support team and any other departments you have. As calls arrive in the group, group members' phones will ring, so they'll still be able to answer business calls from their home office phones.
Greet Your Callers With an Easy-to-Use Auto Attendant
An auto attendant answers inbound calls with a pre-recorded greeting and provides callers with a self-service menu of options: "Press 1 for sales, press 2 for support, press 3 for company hours and directions," etc. Configure an auto attendant menu (again done in the admin portal) and callers will be able to guide themselves to the department or person they need. Callers won't even know that your staff members are answering their calls from home.
OnSIP Pro Tip: For tips and suggestions on how to make your auto attendant greeting professional and easy to navigate, read our blog post on auto attendant greeting scripts.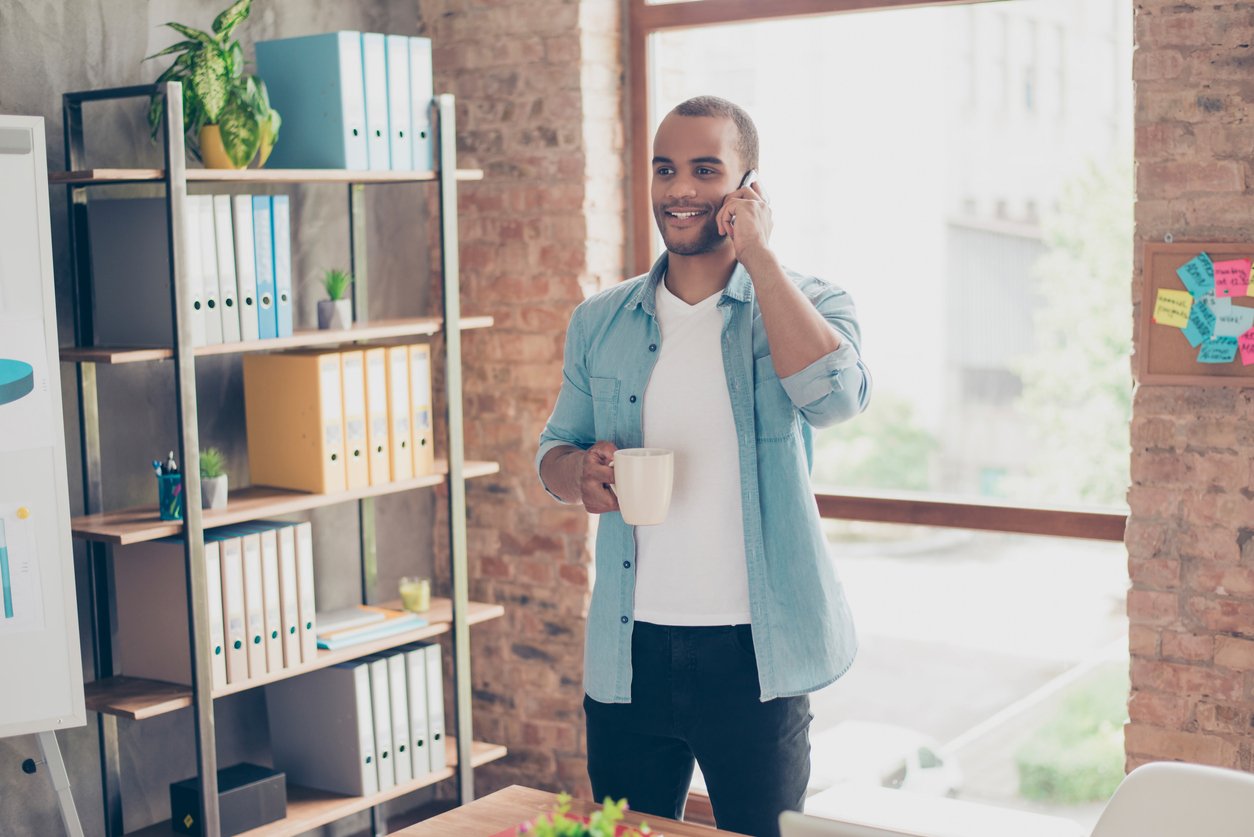 Define Business Hour Rules to Control Your Calls
Enter your business hours into your new VoIP phone account with the business hour rules (BHR) feature. Once BHR is enabled, it automatically sends your business's inbound calls to different destinations based on your company's "open" and "closed" hours. For example, calls that arrive during "open" hours can be sent to your main auto attendant menu, while calls during "closed" hours can be sent to a general voicemail box or to a ring group of on-call employees who work a later shift.
Purchase a Phone Number or Port Your Existing Number
If you don't have a phone number for your business, you can purchase one from your new VoIP provider. If you already have an established phone number for your business, you can port it over to your new provider. The Local Number Portability (LNP) process can take anywhere from a few days to a few weeks, and there may be certain, unusual instances where your provider can't port the number to their service. Check with your specific VoIP provider to confirm that they can port your phone number.
OnSIP Pro Tip: OnSIP publishes a list of local and toll-free phone numbers (sorted by area code) that are available for our customers to purchase. Once bought, the number is automatically assigned to your account and ready for immediate use.
Download and Use Your VoIP Provider's Softphone and Mobile Apps
Equip yourself and your staff with your VoIP provider's softphone apps. Softphones are software-based telephones that are available in a web browser window, as a downloadable application, and as a mobile app for your smartphone. They let you make, receive, and transfer calls—and much more—from your computer, laptop, or smartphone.
Softphones have an array of built-in features that will help you communicate and collaborate with your remote team just as if you were all working in the same office.
Presence status icons next to your coworkers' names show you who's available, who's away, and who's busy on a call with a quick glance at your app's dashboard.
Click-to-call ability lets you call coworkers in the app by just clicking on a button there. You don't need a desk phone, and you don't even need to know what their extensions are!
Text (in-app) chat enables you to carry on a conversation with coworkers right in the app by sending and receiving messages from them.
OnSIP Pro Tip: Use OnSIP's web app or desktop app and you'll find that you won't need a desk phone at your home office. In addition to the above collaboration features, our web/desktop apps empower you to add custom contacts into your contacts list, video call coworkers, and even hold group video conference calls with work teammates as well as external callers.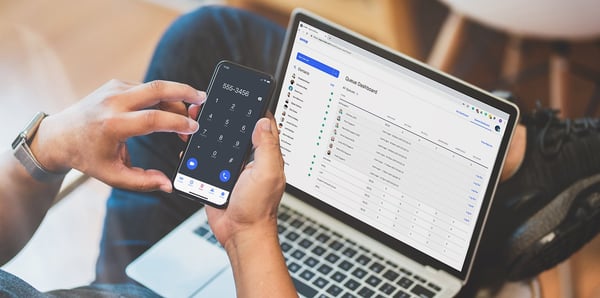 Gain an Interactive Dashboard, Powerful Monitoring Features, and Reports With ACD Queues
Instead of ring groups, consider using ACD Queues. Queues also distribute calls among a group of employees, but unlike groups, they hold callers in line when all reps are busy, and they also provide informative monitoring and reporting features.
OnSIP Pro Tip: OnSIP's Enhanced Queues provide you with a dashboard in our web and desktop apps where you can:
Monitor live calls and barge into them to assist the call agent and caller
Review performance reports that present key queue statistics
Take action when queue alerts notify you (through email notifications and browser popups) to events that require immediate attention
In the Enhanced Queue dashboard, you can also see which call agents are logged in/out and which are currently on calls, giving you visibility into your agents even when they are out of your sight working at home.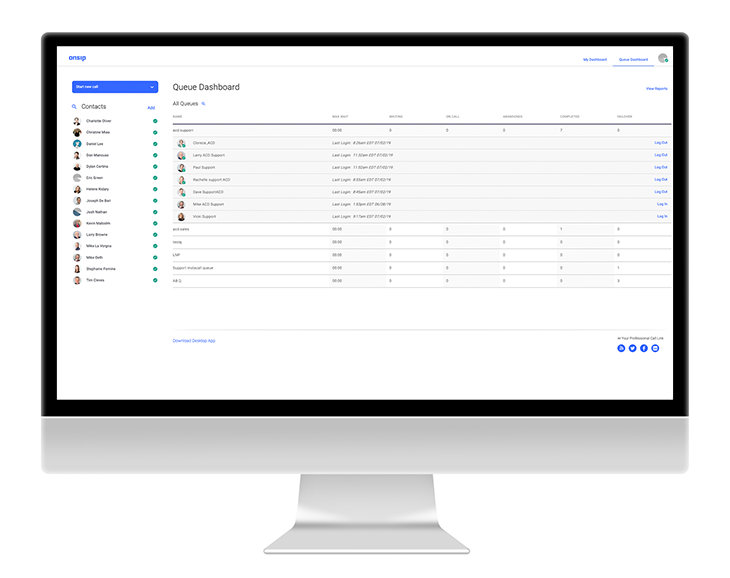 Use Hosted VoIP to Extend Your Office Phone System to Your Home Office!
With these hosted VoIP phone system features deployed at your business, you'll be able to switch between working from the office and working from home without missing a beat. And for other items in your home office that will help you while working there, like productivity apps and hardware (routers, headsets, etc.), check out our related blog post, Working From Home: Essential Tools for the Home Office Setup.