What's a project manager's secret weapon? Why, software-based project management tools, of course! These tools let managers keep track of tasks assigned to team members while also helping them move projects forward to completion.
If you haven't been introduced to it yet, Microsoft Teams is a versatile tool that can assist you with team coordination and ongoing project tasks. Here are five reasons why you should be using Microsoft Teams for project management.
Microsoft Teams Overview
Microsoft Teams is business collaboration software that provides a variety of communication options within one user interface. From video conferencing to chat functionality to even phone calling, users can utilize a single interface to stay connected to their teammates.
Microsoft Teams is available within your web browser window, but you can also download it as a desktop app to your computer or laptop and as a mobile app to your cell phone. Your staff members can use the version of Teams that best suits how they like to work.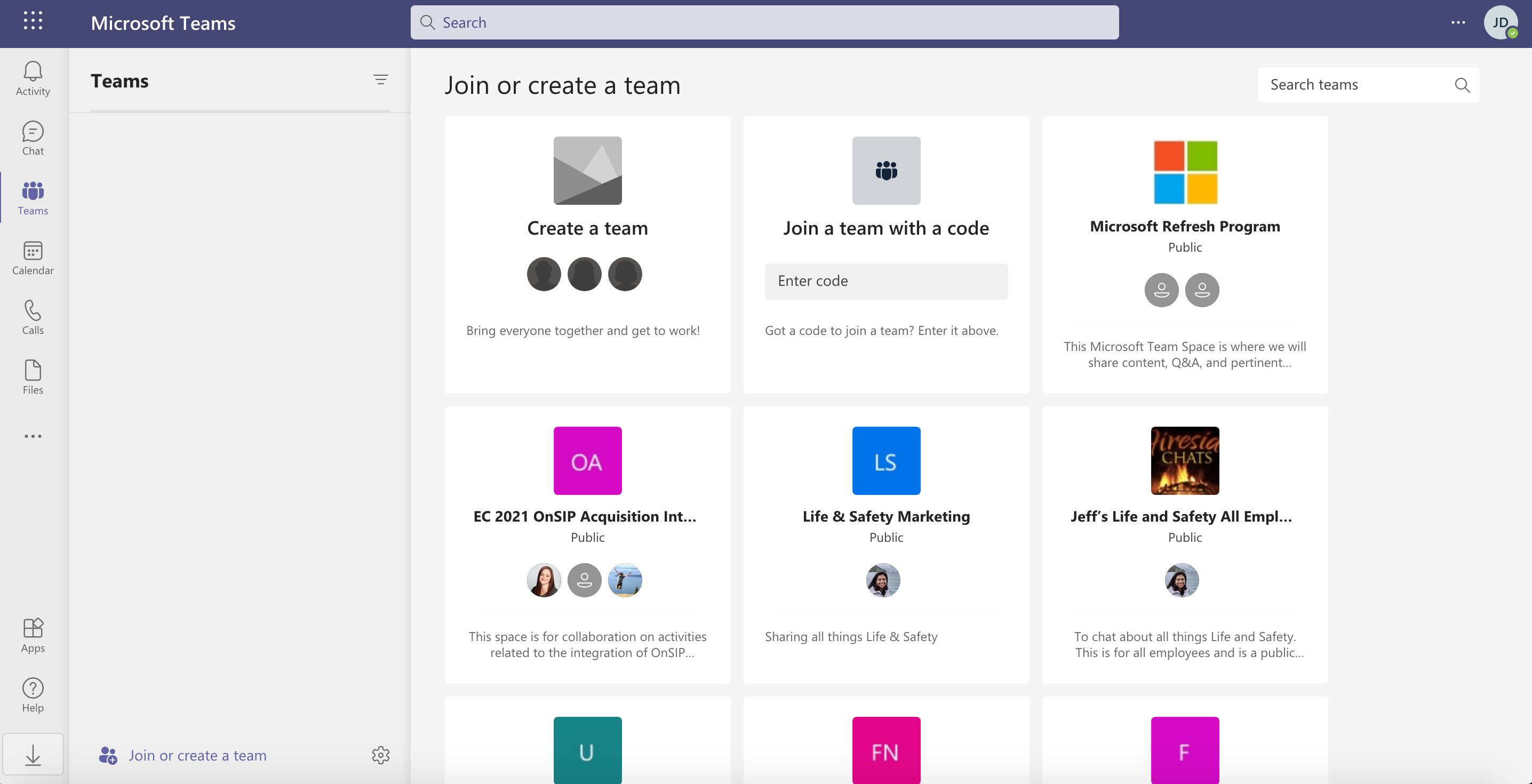 Teams has a few different pricing options. A free version is feature-packed but has limitations on things like maximum meeting duration time and per user file upload sizes. The other paid pricing plans raise those limitation numbers and provide more features like call recording and access to Microsoft Office apps.
5 Useful Abilities for Project Management in Microsoft Teams
Teams' main appeal to the project management space is its versatility to meet managers' and teammates' communication needs.
While video conference calling is arguably Teams' most well-known use, project managers can also easily set up chat ("Team") spaces for their ongoing projects (for example, Your Business's Product Development Team or New App Features Team, etc.). Five great abilities for project management in Microsoft Teams are:
1. Microsoft Teams Virtual Meeting
The virtual meeting capabilities in Microsoft Teams are perfectly suited to keep a remote meeting on track when some (or all) of the staff members are working from home. Video conference calls here can host hundreds of participants, and options such as screen sharing and call recording are available to make these virtual meetings as in depth, productive, and collaborative as in-person meetings would be.
Teams also offers 1-to-1 video (or audio, if you choose) calling options, so managers can video call individual team members to have a face-to-face conversation whenever needed.
Project managers can use the Microsoft Teams virtual meeting feature to have daily team standups, task update calls, and sprint review/planning meetings (if your team follows the agile methodology of product development). The "Together Mode" option seats all call participants in a virtual conference space for more realistic and engaging meetings.
2. Microsoft Teams Private Chat and Group Chat
A second great use of Microsoft Teams for project management is in its chat options. Managers can create "Teams" (group chat spaces) and invite their staff members to join. There, staff members can engage in ongoing group chat discussions and upload documents, files, or presentations so that others can edit or comment on them. Using this chat functionality can cut down on the amount of emails sent. It also centralizes the conversation so any member of the team can review chat history to quickly brush up on where tasks or issues stand.
Team members can also have chat conversations with individual coworkers. Microsoft Teams private chat empowers an employee to open a chat space with a specific colleague when they need to work together on a to-do or get an answer to a question without the interruption that goes along with a phone call.
3. File Uploading
As previously mentioned, managers and project team members can upload files—Word documents, PowerPoint presentations, Excel spreadsheets, etc.—to Microsoft Teams for real-time collaboration among the group. Files can be accessed in the individual Team space in which they were uploaded.
The Files tab of the interface gives you a bit of a shortcut, though. There, you can also access a complete list of all files that were uploaded to all Team spaces in which you are a member. Jump to the Files tab to search for and find a specific document quickly rather than locating it in the Team space.
4. External Calling
If you don't already have a hosted VoIP phone system in place for your business, you can enable a calling plan for your business's Microsoft Teams account. Doing so lets your Teams users make phone calls from the Teams user interface to people who are outside of your organization. You can also set up basic phone system features like auto attendants and separate voicemail boxes for each team member.
Another option available to you is connecting your Teams account to a telecom carrier through Microsoft Operator Connect. A handful of carriers are part of this program as Microsoft Partners—including Intrado's, which is just one of 12 Gold-certified Operator Connect partners. Operator Connect allows you to purchase phone numbers from a carrier of your choice and make external calls to a much bigger geographic footprint than the Teams native calling plan provides.
5. Calendar View of Scheduled Meetings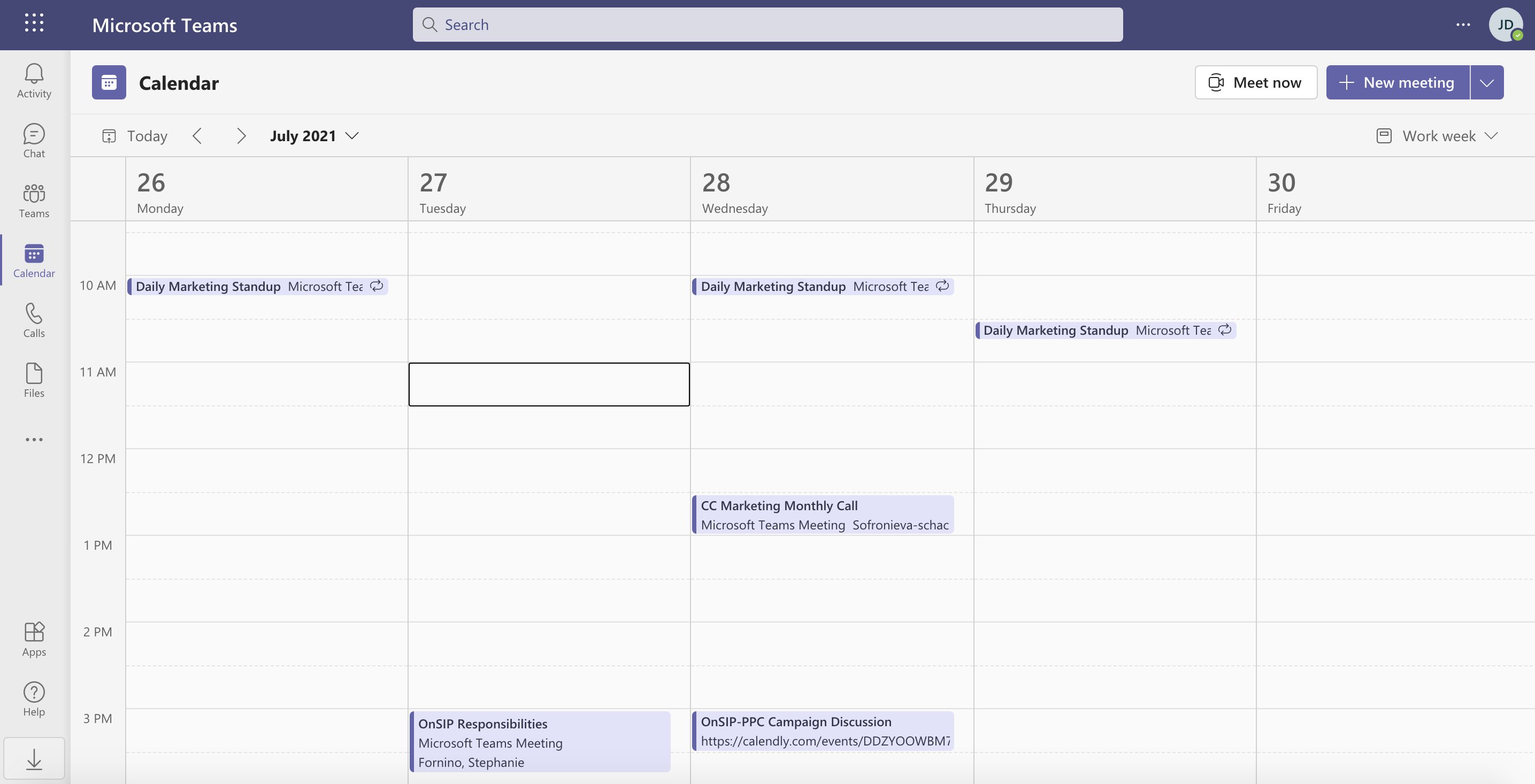 The Calendar tab in the Teams interface gives you an overview of all of your scheduled meetings. By clicking on a particular meeting entry, project managers and team members can see the call's main details, including the user's RSVP status, the meeting's link, and any key notes that the organizer wrote. You can seamlessly schedule new meetings while in your calendar, and meetings that are currently in progress display a helpful "Join" button for rapid entry into the conference call. The Calendar tab helps all team members to keep up with their important meetings that are scheduled during the workweek.
Using Microsoft Teams for Project Management: Your Multitalented Assistant
The capabilities that are available for project management in Microsoft Teams are varied and can flex to meet your specific business use case. Consider deploying it at your organization to supplement the skills of your project managers and their team members.