Virtual learning: It's one of those terms that you may not have heard before but have probably experienced firsthand at some point in your life. Think of the language-learning software Rosetta Stone or those online security/privacy/harassment training courses you may have had to complete when hired for a job—all real-life examples of virtual learning in action.
A hosted VoIP phone system can equip teachers and school administrators with numerous communication features to help make the virtual academic year a successful one. From video calling to screen share, a variety of features can be used to connect with students on an interpersonal level while they're studying in a virtual learning environment at home.
What Is Virtual Learning?
While we'll defer to education experts for a formal definition of the term "virtual learning" (for a good introduction, see Vedamo's post on What Is Virtual Learning?), here are a few key elements:
Use of the Internet or software to provide instruction on a topic. Students utilize web-based portals or software that is downloaded to their computers to learn about the topic at hand. Notably, this type of learning can be accomplished at different times than the typical school day. And if using software, students can access and review the material offline as well.
Distance learning, possibly provided by a "live" teacher in a different location than his students. Instruction of a particular subject is taught by a teacher using technologies like video streams and online chat rooms. The teacher can give a live lecture of the subject matter at an appointed time, or he can record the lecture and make the video available to his students. This aspect of virtual learning attempts to take the traditional classroom experience to an online environment.
A blended combination of the two. Students learn the subject matter through a mix of online instruction provided by a teacher and virtual software courses.
There are also critical—and unanswered—questions about virtual learning that have been brought to the forefront as the vast majority of teachers and students adjust to this environment. Solutions to these issues are being actively investigated as of this writing:
How will lack of accessibility to computers and reliable Internet access negatively impact students whose families cannot afford them? What can be done to help them gain access to these important resources?
How will virtual learning technologies ensure that students with visual or hearing impairments accurately understand the information that is presented?
With teachers instructing from a remote location, how will they be able to pick up on their students' cues if they're not understanding (or even paying attention to) the material? Will teaching software need artificial intelligence that individualizes an online course to meet each student's unique abilities and learning styles?
For an interesting dive into these current issues, check out TNW's post: Here's what the future of classrooms looks like.
What Is a VoIP Phone System and How Does It Work?
The shift to a virtual learning environment has expanded the idea of what items are needed for teachers to teach and students to study. Now, teachers and families must consider required resources such as at-home computers, stable Internet and WiFi connections, and closed captioning or transcriptions of video lectures.
While it may not seem like a relevant resource at first glance, a hosted VoIP phone system can actually help teachers connect with remote learning students and their parents.
Boiled down to its essence, Voice over Internet Protocol (VoIP) refers to phone calls being transmitted over an Internet connection. The "hosted" aspect of hosted VoIP means that the computer equipment and servers needed to support the VoIP phone system are housed at data centers and maintained by the VoIP provider themselves.
Businesses, schools, and organizations that use a hosted VoIP service, like OnSIP, connect to it over the Internet and don't need to administer any bulky telecom equipment on-site. The only necessary items are computers, an Internet connection, and IP phones.
VoIP technology has developed over the last couple of decades to the point that it now includes other forms of communication: video calling, SMS messaging, in-app chat, and integrations with popular business applications. This unification of business communications under a single provider has led to the creation of the "UCaaS" (Unified Communications as a Service) model. Many of today's leading hosted VoIP providers style themselves as UCaaS providers due to the large portfolio of communication services that they offer to their customers.
Read our post on What Is VoIP? to gain further insight into VoIP and how it works.
How a VoIP Phone System Can Be Used in a Virtual Learning Environment
Hosted VoIP communication features that are especially helpful at linking teachers and students in a virtual learning environment include:
Softphones: Connect With Other Teachers on Your Computer or Smartphone
A softphone is a software-based telephone that you access on a computer, laptop, or smartphone. The softphone provides all of the features and functionality of a regular desk phone; the only difference is that it is an application that you access on your computer or cell phone. Using a softphone, you can make and receive calls, check your work voicemail, view your colleagues' presence (availability) statuses, one-click call those colleagues, and more.
Most VoIP providers have their own softphones that customers can download and use. OnSIP's softphone, the OnSIP app, is available to our customers for free in a variety of formats: in a web browser window, through a computer desktop app, and on a smartphone mobile app.
Teachers can use the OnSIP app as a flexible and mobile communications center whether they're working from their classrooms or their homes:
Presence: A quick glance at the Contacts list in the app will show them which of their teacher colleagues are available for a call, busy on a call, or away from their computers.
One-click calling: Teachers can one-click call a colleague directly in the app without having to dial her extension or even pick up a phone. The call occurs entirely through the computer or smartphone, and call control options like mute and hang up are clearly displayed in the app's on-screen dashboard.
In-app chat: Teachers can send in-app chat messages to their colleagues when using the OnSIP web or desktop app.
Video Calling: Interact Face to Face With Students and Parents
Educators can use video calling features offered by hosted VoIP services to connect with students and parents face to face.
OnSIP provides each company staff member with her own Personal Call Page: a customizable web page that displays the staff member's photo, work title, and buttons to voice or video call her. She can find the weblink of her Personal Call Page, as well as customize the info displayed on it, in the General Settings section of the OnSIP app.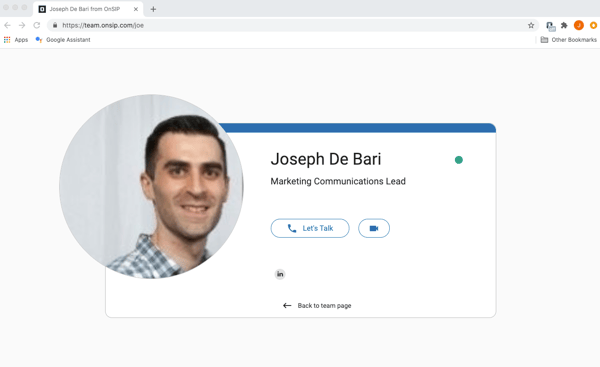 A teacher can send her Personal Call Page link to students to assist them while they are completing schoolwork at home. When the student opens the link in a web browser window, he can click on the video camera icon to contact his teacher through the browser—he won't need to download any apps or plug-ins onto his computer. And when the teacher answers the call in her OnSIP app, she can answer his questions and discuss the subject material over a video call.
The teacher can also utilize her Personal Call Page for parent–teacher conferences. By having a parent video call her straight from her Personal Call Page, she can review the student's progress and listen to the parent's concerns all while working remotely and social distancing.
Video Conferencing: Set Up Group Video Calls for Small Group Learning
For times when a group video call is needed, teachers can also rely on their VoIP service.
A teacher can easily create a group video conference call directly in the OnSIP web or desktop app. Because each video conference has its own unique webpage too, the teacher can send the link to the other callers. When a caller opens that link in a web browser window, he can then video call into the conference—no other apps or plug-ins are needed.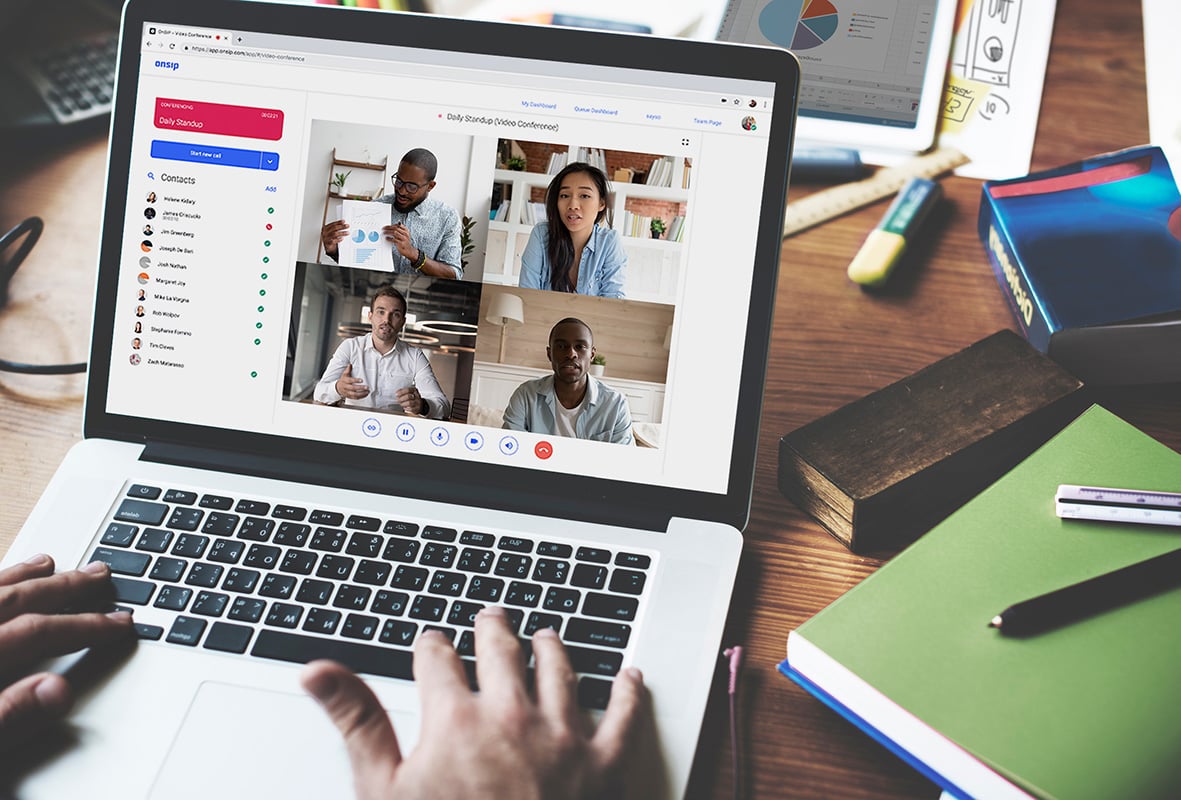 Video conference calls can be used for small group teaching and learning sessions. The teacher can invite a group of her students (up to five people can be on the video conference) to video call in and interact with other students in group learning activities.
Group video calls can also be used for parent–teacher conferences when parents are calling in from different locations themselves or when another administrator (like the principal or the teacher's assistant) also needs to be on the conference call.
Screen Share: Use Your Computer Screen as a Virtual Chalkboard
Screen sharing is an excellent way for a teacher and her student to interact while they are on a video call in a virtual learning environment. By sharing her computer screen with her student, the instructor can present a lesson over a PowerPoint presentation, guide the student through school assignments, and provide further information when answering specific questions that the student may have.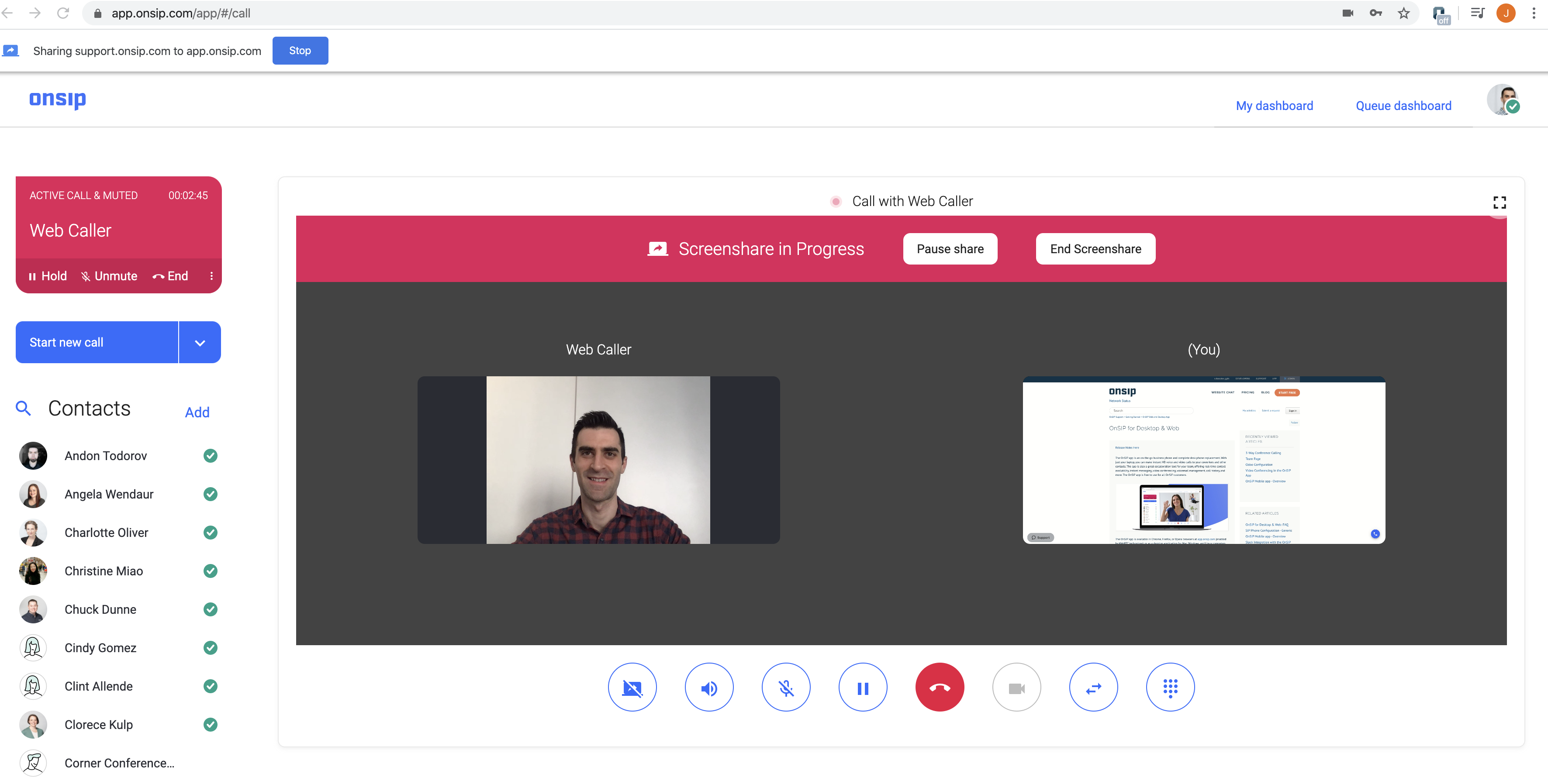 OnSIP allows a teacher to share her screen when she uses the OnSIP web or desktop app to answer a video call from her Personal Call Page. The screen share option is underneath the video call feed in the app dashboard, and the teacher can choose which screen on her computer that she wants to share: her entire desktop view or just a specific open browser tab or open application window.
VoIP Phone Systems: Valuable for Virtual Learning and In-Person Instruction, Too!
For all of the reasons listed above, a hosted VoIP service is a highly attractive communication option for schools. The specified features in this blog, while a great fit for virtual learning, can also be used when in-person instruction is back to being the norm again. Check out our related blog post, Hosted VoIP for Schools and Educational Institutions, for more information on how VoIP's low cost and flexible features can benefit your school, and download our free guide that details how your school can take full advantage of a cloud phone system!