At the end of 2015, Carl Sigmond, Operations Manager at The Woolman Semester School, began a search for a new phone system. The school— located in the remote Sierra Nevadas of California— had an on-site CudaTel VoIP server that was expensive to maintain and had various call quality issues.
Carl was introduced to OnSIP by the school's IT Administrator. After deciding to go with our service, he began setting up phones with his team to connect the various buildings and dormitories spread out over the school's expansive campus.
The Woolman Semester School is a great example of how cloud VoIP phone systems can be an invaluable tool for educational facilities. These services offer a variety of features and capabilities that are ideal for a school environment, and all for a lower price than landline telephone services.
Inquiry-Based Education, Equality, and Integrity at The Woolman Semester School
The Woolman Semester School was founded in 1963 and is named after John Woolman, an 18th century Quaker human rights activist. The school and its staff continue to promote his values of peace, social responsibility, and sustainability through an education program, workshops and retreats, and various other community-enrichment activities.
Given the school's layout with buildings scattered across the large campus, maintaining the phone system became costly. Carl decided to improve the situation by researching alternatives. Cloud VoIP is well-suited for connecting geographically-separated locations, and so he started his search there.
Learn more about Carl's search in his interview with OnSIP's CEO and Co-Founder Mike Oeth:
Finding a Cost-Efficient School Phone System
Carl and his team reviewed many big-name VoIP providers, including OnSIP. With our 30-day free trial period, he had full control to test out all aspects of our service. He was able to create features such as voice mailboxes and auto-attendants in our web-based Admin Portal, and he was able to listen to the quality of phone calls by making test calls from the OnSIP app, our on-the-go business phone and desk phone replacement.

Carl selected OnSIP to be the new phone service for The Woolman Semester School for two main reasons:
Bring Your Own Device (BYOD): OnSIP is built on open-standards technology, which means that our service will work with any IP phone that also adheres to the SIP protocol. Customers are free to choose from a wide variety of diverse phones to fit their own unique requirements. Carl already had several Polycom IP phones, and he was able to continue to use them with OnSIP— saving the school from having to purchase all new phones.
Per Minute Pricing: OnSIP's Pay-As-You-Go Plan allows customers to pay for phone calls on a per minute basis (rather than on a per device 'unlimited' minutes plan). This plan is a great fit for schools that have many idle phones located throughout their campus. The Woolman Semester School is able to keep many infrequently-used phones, such as those in the dining hall or a classroom, on this plan. "OnSIP really enabled us to keep all of those seats in a cost-effective way," notes Carl.
Beneficial Cloud Phone System Features for Schools
It's especially important for educational institutions to keep their operating costs down so they can invest their money into their students and facilities. School administrators can rely on cloud phone systems to provide an affordable communications platform while not sacrificing critical features or abilities. The Woolman Semester School utilizes these cloud VoIP features:
Staff members use voicemail-to-email to quickly review voicemails right from their email inboxes. The feature automatically sends each employee's personal voicemails directly to their email. As teachers typically move from room to room throughout the day, they can stay up-to-date with their messages instead of having to return to one particular phone to review them.
The school employs E911 so they can immediately contact help in an emergency. Carl was able to specify the address of the school so that emergency personnel can locate the source of any 911 calls made from there.
The staff also uses our free web app to make and receive calls, message coworkers, and review voicemails. Each user can simply log in to a web portal to access to a business-grade phone in-the-browser— no downloads or plugins needed.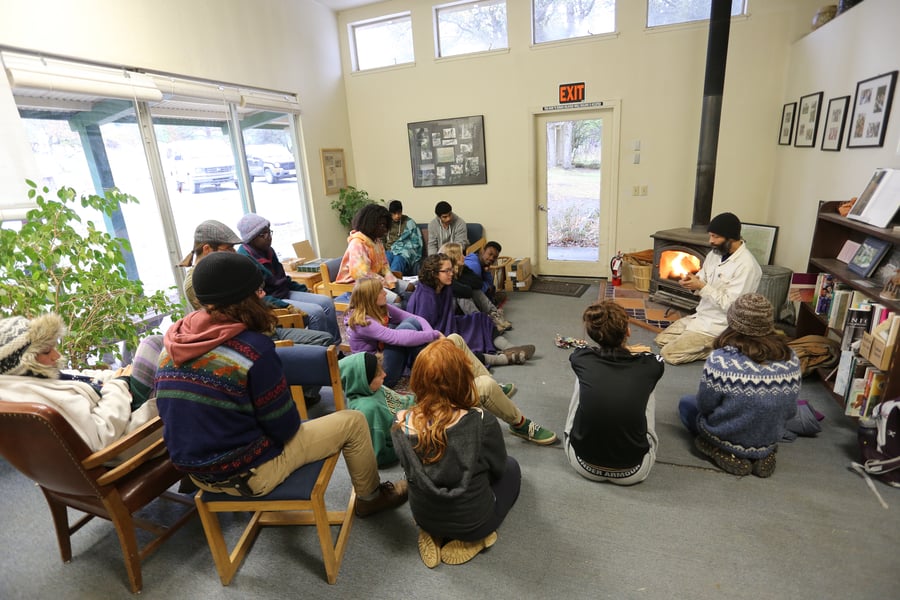 There are various other features that schools can take advantage of when using a cloud phone system:
Free in-network calling and extension-to-extension dialing will significantly reduce the operating cost of the phone system. School admins can then invest more money into programs that will benefit their students and provide the maintenance and upkeep of their facilities.
Schools can afford to keep "low usage" and classroom phones. OnSIP, unlike other providers, has billing plans that don't charge per phone. With a phone in each classroom, teachers can call other teachers and school admin officials whenever needed.
Administrators can create business hour rules (BHR) to professionally manage incoming calls. Admins define where calls get sent to based on the time of day and day of week. For instance, during regular business hours, calls can go to the school's secretary, but after-hours, calls can be sent to a third party answering service.
Admins can also make use of simultaneous phone registration, which allows for assignment of multiple phone devices to the same user. When a call arrives for the user, all registered phones will ring at the same time. A school's principal can have an office deskphone, home office phone, and softphone app on his/her smartphone actively registered in the phone system, so s/he can answer incoming calls on any of those devices.
For more details on the benefits that your school can obtain from a cloud phone system, read our related blog post, Hosted VoIP for Schools and Educational Institutions.
School Phone Systems: A "Seamless" Transition to Cloud VoIP
Carl emphasizes how "OnSIP gave us the flexibility we needed" in molding the phone system to fit the school's needs. OnSIP enables the entire staff at The Woolman Semester School to work productively, freeing up their time so they can focus on the students and community that they serve.
Have you considered a cloud phone system for your educational institution? Download our free guide on school phone systems below and discover the benefits!