Think back to the last long phone call you were on...not exactly a pleasant memory, right? You know that feeling of your arm and ear going numb from holding the phone up to your head for hours!
If you don't have one already, a phone headset is a great solution to that problem. Ideal for sales reps, customer support agents, receptionists, and others who spend much of their days on the phone, headsets provide great comfort and flexibility to those that use them.
Like business VoIP phones, headsets can be as simple or as high-tech as you want. From noise reduction capabilities to wireless models, you'll want to choose one that fits your work style and enables you to make and receive calls effectively. In this blog, you'll find a list of headset features to consider and four options to pair up with your business IP phones.
Why Use Headsets for Business VoIP Phones?
Today's VoIP phone models provide many advanced calling features: HD voice, video calling, high resolution color screens, and even connections to app stores, just to name a few. While these devices are packed with amenities, their physical quality can become burdensome if you are on the phone often. Users' hands can become tired when holding a phone receiver during hour-long calls. Neck or shoulder cramps will distract even the most focused employees.
Hands-free headsets are a practical solution to these problems. A comfortable headset will alleviate any soreness that comes from holding a phone receiver for long periods of time.
These devices will also allow your staff the freedom to move around during the workday. If they need to speak with a colleague to answer a caller's question, or grab a document in another office, they can simply walk over while continuing the conversation with the caller. The increased flexibility and mobility will make for more efficient—and happier—employees.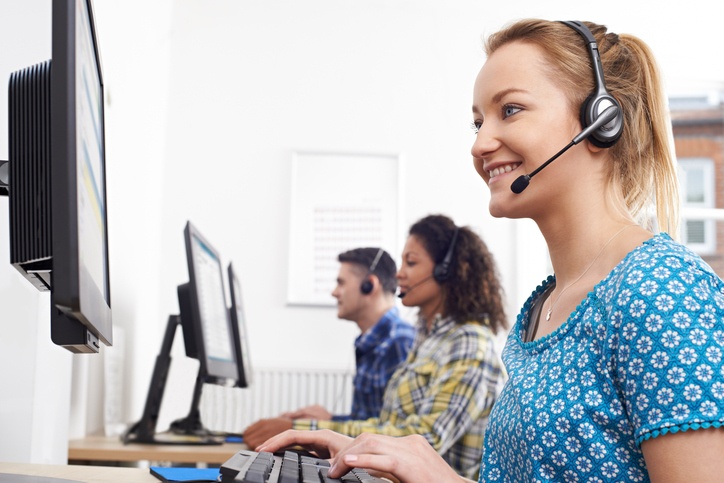 Top Considerations for Business Phone Headsets
What should you look for in a VoIP phone headset? Here are a few 'must have' features that will improve your business calling experience:
High-quality audio: HD sound quality will improve your interactions with prospects and customers, eliminating the strain of having to decipher muffled or unclear audio.
Noise cancellation abilities: A headset that reduces or eliminates external noise can help to improve customer satisfaction. Your agents will be able to focus on the caller's voice better, and reduce the chances of having to ask, "Can you please repeat that?"
Comfortable fit: Comfort is key when selecting a headset. A headset designed for all-day use will ease any pains from using the phone, not add to them.
Reliability: It's essential that a headset transmits an entire call without any choppiness, static, or lagging.
Range: Depending on how flexible you need your staff to be, you can choose from various models, including wireless, DECT, Bluetooth, or wired headsets. Each of these will have different ranges for how far you can be from the phone unit to maintain a connection and good call quality.
Finally, make sure to check that the headset is compatible with your phone or computer. You should be able to find information on supported headset jacks and other inputs in a product specifications factsheet or guide.
Four Headsets for Business VoIP Phones
There are hundreds of different headset models available on the market. If you don't know where to start, here are four great options to use with business VoIP phones and softphones.
Sennheiser OfficeRunner® Headset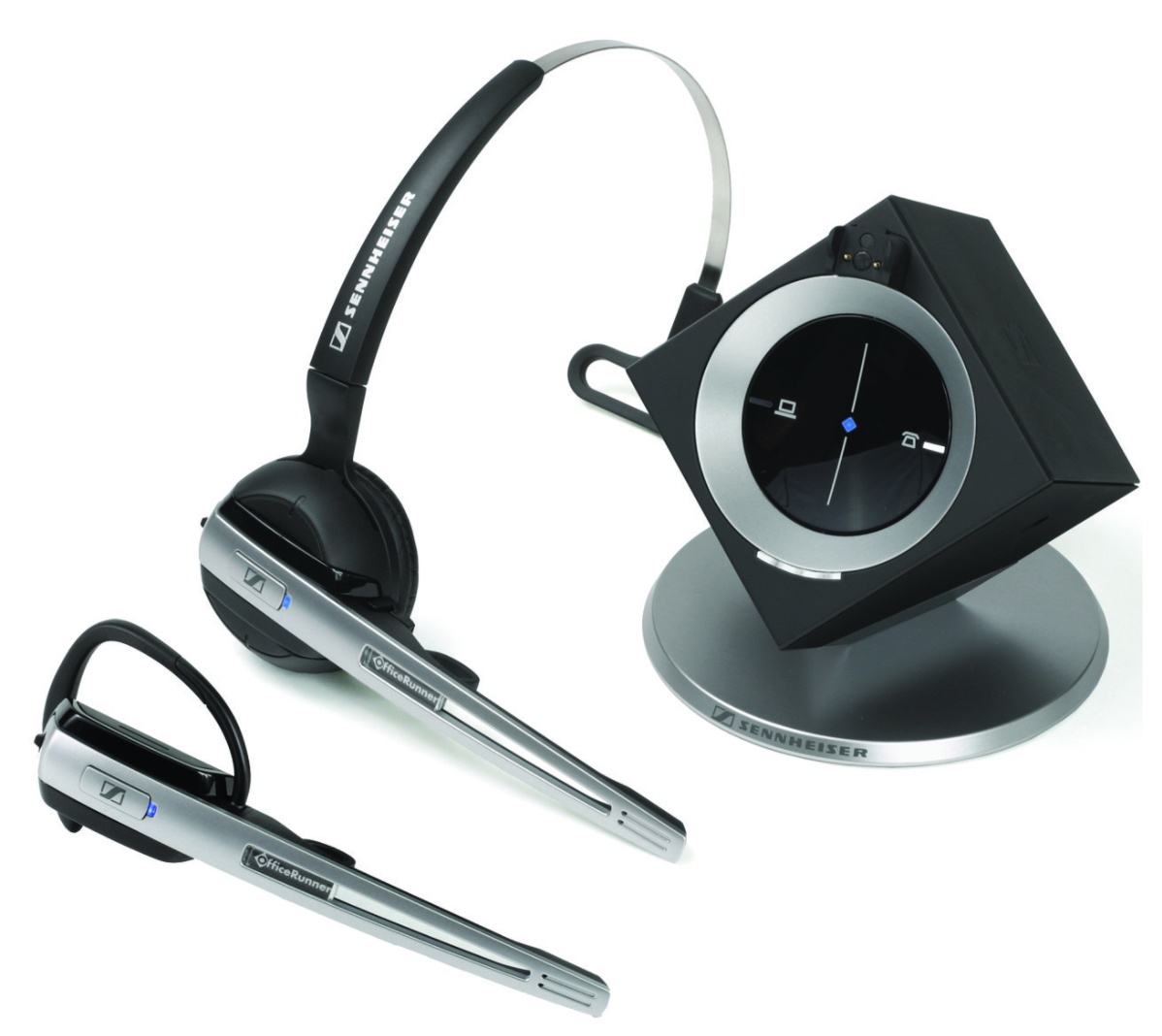 The Sennheiser OfficeRunner Headset is a wireless model that provides great flexibility. The OfficeRunner works with deskphones, VoIP phones, and even softphones on your computer. It also allows a user to easily switch between two wearable options: over-the-head (headband style) or on-the-ear. Other features include HD voice clarity, a noise canceling microphone, Sennheiser ActiveGard® technology to protect against sudden sound bursts, and fast charging ability.
The OnSIP Sales Team uses this model on a daily basis. Jon Margalit, our Director of Sales, says: "The OfficeRunner is the preferred headset model for my sales reps. Whether you consider voice clarity, range, connectivity, or comfort, this model helps us to connect better with our prospective customers while also being comfortable to use."
Sennheiser SD Pro 2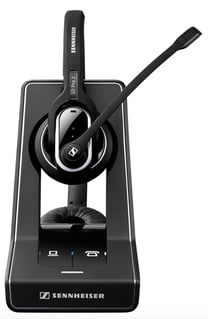 Another model from Sennheiser, the SD Pro 2 is a DECT-based, dual-sided wireless headset. It has a couple of variant models, depending on if you want it to work with a deskphone and softphone, or a deskphone and Skype for Business (specifically). It allows you to switch between communication sources via buttons on the base station. It offers HD sound and voice clarity. Other features include a noise canceling microphone and Sennheiser ActiveGard® technology to protect against sudden sound bursts.
Logitech G930 Headset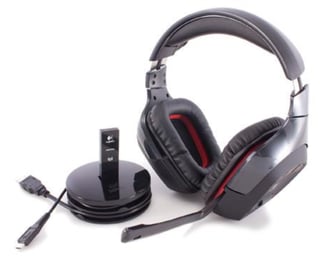 The Logitech G930 was originally designed for gaming programs, but it can also be used for phone calls. These wireless headphones provide Dolby 7.1 surround sound while the noise-canceling microphone has a red indicator light that displays when the mic is muted. The memory foam headband and cushioned ear pads reduce the pressure on your head and provides for a stable fit.
Koss SB45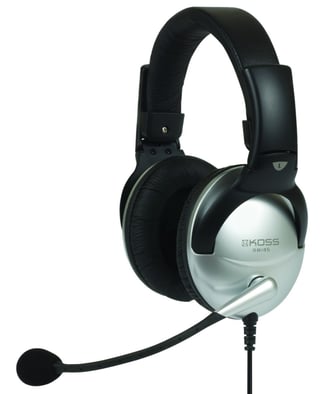 A wired model, the Koss SB45 offers Clear Voice Technology (CVT) that helps to eliminate background noise. Its large, leather, soft ear cushions also help to seal out external distractions. It comes with separate plugs for headphone and microphone connections. The headset folds up easily and comes with an 8 foot cable.
Business VoIP Phone Headsets: A Clear Advantage
Headsets make a valuable sidekick when they are paired with VoIP phones. Your staff will enjoy the comfort and flexibility they provide so they don't have to remain glued to their desks all day. Use this blog as a starting point for your research into phone headsets, and pick the one that best fits your business's needs— your neck will thank you for it!
If you have a headset recommendation, let us know by tweeting us @OnSIP!