Mobile VoIP is a common term when referring to software phone apps that you can install on smartphones. In the business world, this means you can take your professional phone on the go. Watch this video to learn more.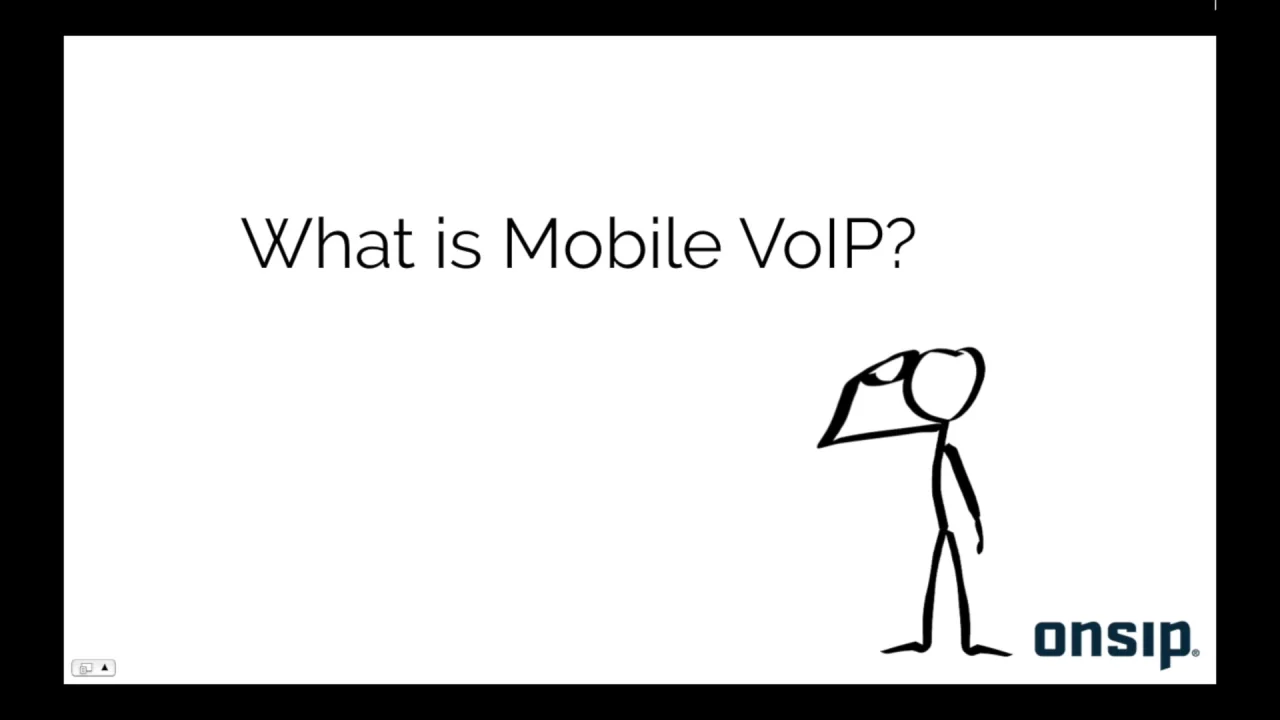 2:52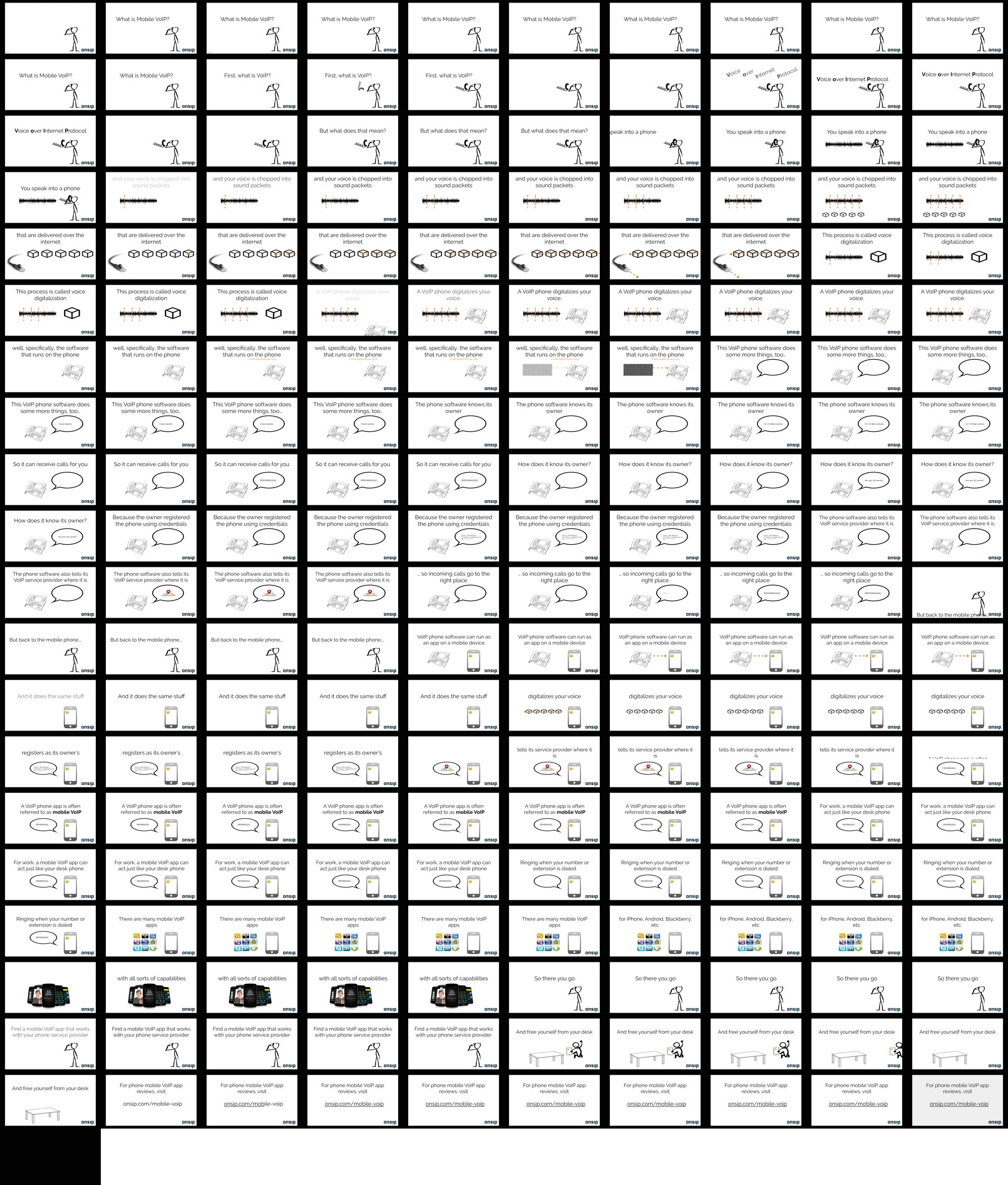 Essentially, your mobile phone becomes your office extension, displaying your company caller ID on outbound calls and allowing you to enjoy features like extension to extension dialing, and more.
Mobile VoIP Performance
While most mobile VoIP apps are great for making and receiving calls, very few, if any, can perform all the functions of a desk phone. In addition, performance is highly reliant on the mobile softphone you choose and your Wi-Fi or 4G LTE network. We do not suggest this solution as a total replacement for your deskphone.
How Can I Download OnSIP's Mobile App?
Luckily, it's incredibly easy—and free for OnSIP users. . Within minutes, you can enjoy the freedom of being able to make and receive calls as if you were sitting at your desk from almost anywhere!
Download the OnSIP app from the Apple Store (iOS) or Google Play Store (Android).
Input your OnSIP credentials.
Start making and receiving calls. That's it!
Mobile VoIP Features
OnSIP's mobile softphone offers an array of features. You can:
Make and receive HD voice and video calls
Set your favorite contacts and view if they're available, busy, and video-enabled
Add custom contacts into your directory for family members and other business associates
Listen to and manage voicemails with just a tap of your finger
Mobile VoIP Software Reviews
OnSIP is a cloud phone system provider that reviews other mobile VoIP apps as well. Because each mobile VoIP app is different, our team conducts thorough reviews to make sure you are buying and/or downloading the right one. Below are a few excerpts from our VoIP phone reviews.
iPhone VoIP Applications
Groundwire for the iOS by Acrobits, a mobile software company focused primarily on SIP clients for mobile devices, is the business version of their Acrobits Softphone. Marketed as a viable replacement for your desktop phone ("Throw away your desktop phone, Groundwire is here."), this mobile VoIP application includes many of the features you would expect to find in enterprise VoIP software or SIP hardware devices...
One SIP client that we have kept our eye on for a while now is Media5-Fone from Media5 Corporation, a provider of "Secure, Survivable MMoIP Branch Office Solutions for Service Providers". The company has released a series of updates to the Media5-Fone over the past couple of months, turning it from a basic calling application to a full-featured soft phone. Apple recently approved version 2.4.1.9 for the iPhone, iPad and iPod touch, and here are a few of our initial thoughts."
Bria iPhone Edition version 1.0.3008, has a lot of competition in the mobile VoIP app market. There are probably no less than a dozen similar apps, each of them months ahead in terms of the number of updates and upgrades. The good news is that Counterpath included pretty much everything we wanted in their first version. While other publishers started their apps with the very basics (making and receiving calls) and added additional features slowly over the weeks and months, Counterpath crammed almost everything we could possibly want in their first version...
The Acrobits Softphone is a mobile SIP application for the iPhone platform. It is one of the higher rated applications we've encountered in the App Store (4 out of 5 stars last time we checked), which is a good sign. We've been looking around for a great desk-phone-replacing mobile application for a while now; one that has all the normal calling features you'd expect from a business phone, and allows you to be reached on your mobile device when someone dials your extension...
iSIP 4.4 is a completely different mobile VoIP app than the one we tested back in 2009. The look is still mostly the same (iSIP isn't nearly as pretty as Acrobits), but a lot has changed under the hood. For one, the application now works over 3G, which is a must-have feature in our opinion. A mobile VoIP application that relies on Wi-fi is pretty pointless if you ask me. iSIP also supports call transfer and golly gee willikers, Batman!—it actually works pretty well...
Android VoIP Applications
CSIP Simple is a free SIP client for Android, great for making and receiving calls. There currently isn't much support for much else beyond that in its current build, but if you cannot remember the last time you used your transfer button or the last time you had to juggle 2 callers on your cell phone, then it might be just the SIP client for you...
First came Bria for the iPhone, then came Android. Like other Counterpath solutions, the Android Bria is an "Enterprise-Grade" VoIP solution...
There's lots of buzz about SIPDroid, a "SIP client for Android" which is under GNU General Public License v3. The project page says SIPDroid "Adds native SIP/VoIP to Android's dialer/contacts. Make and receive calls over Wifi, 3G, and EDGE with perfect voice quality and lowest delay". AWESOME! Open Source, Native SIP, Wifi, 3G, Perfect Voice Quality! Sounds good, right?...
See our President, Rob Wolpov, turn his iPad into a phone with the iSIP app.