Summary
| | |
| --- | --- |
| Overall: | |
| Configuration: | |
| OnSIP Testing: | |
| Voice Quality: | |
| Ease of Use: | |
Quick Specs
Speakerphone, Voicemail
Multiple ringtones
G711 and GSM codec, and G722 codec for iPhone 3GS and higher
Multiple SIP accounts
Dial from iPhone's address book, recent calls
Cons
No support for two simultaneous calls
UI could use more polish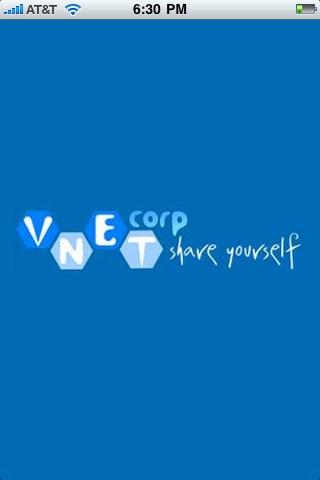 The following review was conducted in August 2009.
It has been about 8 months since we last reviewed iSIP. Back then, iSIP v2.2 had serious audio problems, few features to speak of, and didn't work over 3G. A lot has changed in the past few months.
First Impressions
iSIP v4.4 is a completely different mobile VoIP app than the one we tested back in 2009. The look is still mostly the same (iSIP isn't nearly as pretty as Acrobits), but a lot has changed under the hood. For one, the application now works over 3G, which is a must-have feature in our opinion. A mobile VoIP application that relies on Wi-Fi is pretty pointless if you ask me. iSIP also supports call transfer, and it actually works pretty well. Other features worth noting are support for call recording, multiple active SIP accounts and wideband audio.
Application Configuration
Configuring iSIP isn't too rough, but there are a few things here and there that we found pretty annoying. Here we will walk you through how to provision the application with the user 'janedoe' from our 'example' OnSIP PBX. First thing's first— have your user credentials on hand.

When you open up iSIP, you will see a dialpad with 5 options listed in a row at the bottom of your screen. Select 'Accounts'. Select 'edit' and then 'Add new SIP account'. You should see 'OnSIP' in the 'Supported SIP Provider' list. Select 'OnSIP' as your provider and you should be taken to a screen that asks for the domain, username, password, and auth username. Input these settings.
Here's where it gets kind of annoying. iSIP automatically capitalizes the first letter of each entry, which is a problem since we require that all usernames be in lowercase. If you try to turn your account on in this state, it will likely fail. You'll need to go back and edit the account to make the username lower-case. You will also see an 'Advance' option when you're editing the account. Go into 'Advance' and make sure that your Auth username is correct. When we switched the username from 'Janedoe' to 'janedoe', it somehow automatically replaced the correct auth username, 'example_janedoe' with 'janedoe'. The first picture below is what your user credentials look like when you input them. The second is what it should look like after you go back and edit, and the third is what your 'Advance' settings should look like.
Click save and switch your account to 'on' in the Account Manager. If everything is done correctly, the display name should turn lime green. In the dialing screen, the dial by 'SIP' button should have also changed from white to green.
Even though iOS supports multitasking, iSIP still uses push notifications. Please read the article The Dangers of Push Notifications in Mobile SIP Applications before you consider turning on Push Notifications. Bottom Line: don't do it.
Interoperability Test
I voiced some pretty strong opinions about the current state of mobile VoIP apps at the beginning of my review of Acrobits, which I would encourage you to read. It's been difficult for us to find a mobile SIP client that can successfully do all the things that a desk phone can, and that is certainly understandable. If you're expecting a ~$5 dollar application to come with all the features and capabilities of your ~$100-$200 IP phone, then I would say that you're being overly optimistic (and in most cases, I would be right).
Many of the test scenarios in our multi-interoperability test do not apply to the iSIP. For example, the application can only handle one call at a time. As such, there is no way to do an attended transfer (transfer one active call to another). I am not going to hold this against iSIP too much, and instead I will focus on what it does right.
iSIP is one of the first mobile VoIP applications we've tested that actually nails call transfer. The application worked fine as both the active element (the agent doing the transferring) and the passive element (the agent being transferred) in our tests. Transfer functionality is one of the key features of a business phone and we're glad to finally see someone include it in a mobile app.
We also did not run into any major issues making and receiving calls. On network calls worked fine, as did calls to and from the PSTN.
The performance and functionality of iSIP will vary over 3G depending on how strong the network is in your area. Luckily, we didn't run into any major issues that got in the way of calls completing when we tested on 3G.
Voice Quality
The audio quality you get on iSIP is comparable to that of non-HD calls on an IP desk phone. Rob once called me using iSIP, and had he not told me what client he was using, I would have had no idea he was on a mobile app (I do suspect he was calling over a Wi-Fi connection, though). Voice quality over 3G depends almost entirely on your network connection. That being said, I did not notice a large degradation in quality when switching from Wi-Fi to 3G in Manhattan, but I may have just gotten incredibly lucky.
iSIP also supports G.722. I actually did not realize this until I was testing the application with my desk phone and noticed that there was a 'HD' icon displaying on the screen of my Polycom 550. The default codec setting is 'auto', but you can actually go in and individually select the ones you prefer.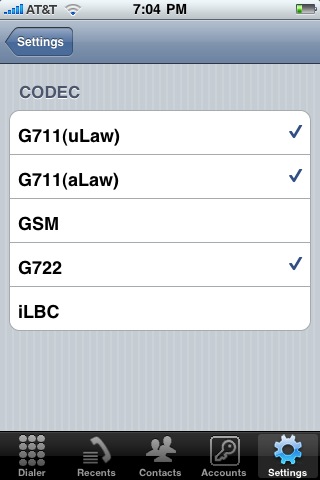 Wideband calling over Wi-Fi sounds noticeably better, but throw in 3G and things get a little messy. When trying to conduct a wideband call with Nicole in New Jersey, we got one-way audio (I could not hear her) and my client automatically hung up after a few seconds. However, when I tested wideband over 3G with my own desk phone, it worked.
I wouldn't recommend setting the preferred codec to just G.722 for 3G calling until we track the problem and find out what's happening.
Ease of Use
The user interface of iSIP could use a little bit more polish, but it's not too bad. The application comes with 5 main screens, each of which can be accessed by using the bottom navigation bar. The first screen is the dialer, which includes your standard alpha-numeric numpad. You can use the numpad to dial numbers or type in SIP addresses using the iPhone keyboard. Underneath the numpad are two buttons: 'cellular', which actually takes you out of the application to a make a regular cell phone call (Why is this in here?), and 'SIP', which allows you to use your VoIP accounts.
During calls, you have the option of accessing your keypad (to navigate attendant menus), putting the call on hold, muting, switching to speaker, recording the call, and doing a blind transfer.
The second screen is the 'recents' screen, which shows you your call history. There's nothing particularly interesting here except that for incoming calls, you can see which account they were trying to reach, and even what they dialed. For example, in the picture below, you can see two missed calls. Nicole tried to reach my example account at janedoe@example.onsip.com while jondoe tried to reach me using the extension for janedoe, 7011. This can come in handy if you have multiple SIP accounts active and you need to know which account to use when calling back.
The next menus are 'contacts', which is just your iPhone phonebook, and 'accounts', which lists the accounts that you have active. If the 'P' is dark blue beside an account, it means that push notifications are active.
Finally, you have 'Settings', where you can access the SIP protocol configurations (like which codec to use), listen to your recorded calls, set ring tones and backgrounds, etc.
Final Thoughts
The publishers behind iSIP have made some drastic improvements over the past couple of months. The app isn't quite perfect yet; we'd really like to see support for two simultaneous calls, attended transfer functionality, and less buggy wideband. The UI could also use a little more work. That being said, iSIP is the first mobile VoIP app we've tested that actually handles transfers correctly, making it the closest thing to the desk phone replacement we've been looking for… so far.
Have any success stories with iSIP? We'd love to hear your experiences.