Summary
| | |
| --- | --- |
| Overall: | |
| Configuration: | |
| OnSIP Testing: | |
| Voice Quality: | |
| Ease of Use: | |
Quick Specs
Contacts integration: LDAP, Outlook, or CSV import
Supports SIP, XMPP, and IAX
Video Codecs: VP8
Voice Codecs: a-law, U-law, GSM
Pros
Low resource consumption
Fax
Call recording
Cons
No G.722
Unreliable video calling
Zoiper 3 for Windows (Zoiper Biz 3.14.38765) is a PC softphone that supports voice and video calling, chat, and fax, among other features. The app can work with any SIP provider and PBX, which makes it very flexible. In this review, we ran v. 3.14.38765 and used a computer running Windows 10.
The softphone supports several voice codecs, including G.729, a-law, u-law, GSM, iLBC 20 and 30, and Speex Narrow. For video codecs, H264 and VP8 are available. The free version only offers basic functionality, while the paid version offers additional codecs and business functions, including call transfer and conferencing. Below, we take a closer look at Zoiper for Windows to see if it's robust enough for daily business use.
First Impressions
Like on other platforms, Zoiper for Windows has the same "tabbed" interface that groups functions into tabs. Contacts, History, Dialpad, and Calls are the tabs available from the main interface. There is also a search bar at the top that can be used for contact names, phone numbers, and SIP addresses (SIP: prefix is needed). You can also select one of four theme choices to change the appearance of the softphone.
Registering Zoiper with OnSIP was pretty straightforward, but you have to skip the auto-detection part because it will give you an error or won't register. We recommend going through manual registration for your account by going to Preferences under Settings.
There are a few ways to add contacts to Zoiper. You can manually add a contact by entering the necessary fields like name, phone number, SIP address, etc. Another way is to import contacts from an outside source like LDAP, Outlook, or CSV. Lastly, you can add contacts through the Zoiper service, which is a proprietary Zoiper module.
Zoiper claims that this softphone has a small footprint in terms of resource usage. We were able to validate this during our testing and the results were indeed great. A regular call consumes 1.2% of the CPU and during a video call it uses up to 3.6%.
Features
Call functions like mute, conference, hold, transfer, and call recording are available in Zoiper for Windows. These options are visible during a call. When you transfer a call, it will ask for your permission to move the call to another person first.
Zoiper for Windows also offers:
Custom ringtones
Echo cancellation and noise suppression
Pop-up notifications
Presence/online status
Call history
Voicemail messages and missed calls notifications
Contact integration from LDAP, Outlook, or CSV
Low resource consumption
Supports SIP, XMPP, and IAX accounts
TLS, SRTP, and ZRTP encryption
Voice Codecs: G.729 (paid), a-law, U-law, GSM, iLBC 20 and 30, Speex Narrow
Voice Codecs: H264 (paid), VP8
Codecs are easy to organize in terms of which you want to use and prioritize. Voice and video codecs are in two separate sections. Unfortunately, the G.722 (HD audio) codec is missing. Aside from basic call functions, Zoiper for Windows can also send fax, which is very rare to have in a softphone.
The premium (paid) version includes call recording, conferencing, premium contacts integration, G.729 audio, HD video (H263+, H264, VP8), click to dial, CRM integration, and unlimited number of accounts.
Voice/Sound/Video Quality
The voice sound quality on Zoiper for Windows is okay. There is no HD audio due to the fact that the G.722 codec is not supported. The video quality is not so great. At first you might think that the video is not working and it's just dark, but if you move the video window to the upper left corner of your screen, the video of the caller starts to appear. If you maximize the window of the video, you won't have any issues with the video. We also found video calls in general to be unreliable. While testing video calls with other softphones seemed to work, other times Zoiper wouldn't display the video feed at all.
OnSIP Interoperability Testing
At OnSIP, we put each of the phones we use through a multi-step interoperability test in which we apply ~30 test cases. An example of a test case would be the following:
Test phone calls phone B

B picks up

B puts test phone on hold

B calls phone C

C picks up

B transfers test phone to C
Call must be transferred correctly to C. B must be released correctly after the transfer. When C picks up, audio must work in both ways between test phone and C. When test phone is on hold, there is no audio between it and phone B.
Everything worked fine on Zoiper for Windows during our testing. Call tests and registration were all successful.
OnSIP Setup
1. Create a new account.
In the Account Wizard, enter your SIP address under "Account name." Make sure to select the checkbox "Skip auto-detection" and click "Next" to continue.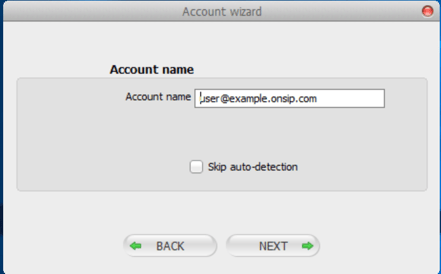 2. Select account type.
On the next page, select "SIP" as your account type. Click "Next" to continue.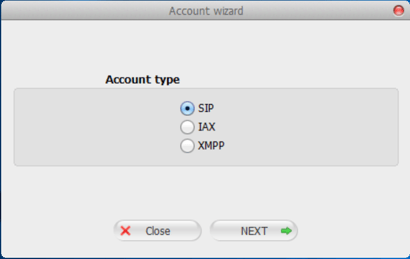 3. Save your information.
You will see a message that Zoiper is unable to connect to your PBX with the information you provided. Select "I know what I am doing, save this information" and click "Next."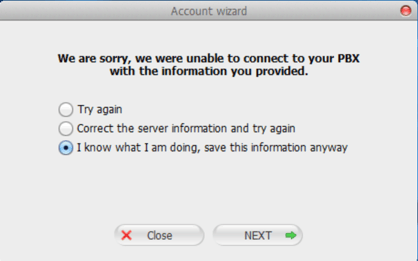 4. Edit account preferences.
This will direct you to Account Preferences. On this screen, you will need to fill out your SIP account details:
Domain: example.onsip.com
Username: username
Password: SIP password
Auth. Username: Auth Username
Outbound Proxy: sip.onsip.com
Click "OK" to finish your account setup.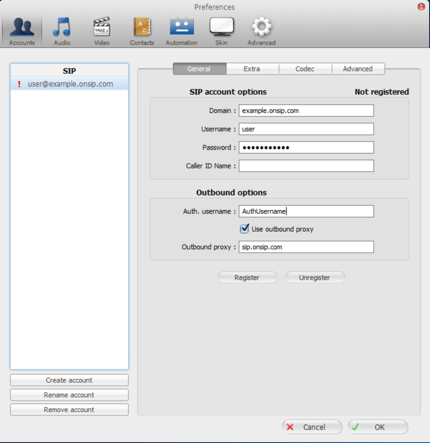 Final Thoughts
Zoiper for Windows is a satisfactory softphone client for Windows. The interface is simple and the search bar makes it easy to find contacts. The free version offers standard call handling functionality, but you will need to upgrade to a premium account for features like call recording, call transfer, and conferencing.
The two features of Zoiper for Windows that stood out the most were fax and low resource consumption. Not having the G.722 codec was a bit disappointing, but Zoiper says it will be included in the next version, Zoiper 5. While Zoiper 3 for Windows is capable of basic everyday calling, we would recommend the OnSIP app or Bria 4 for a fuller feature set for business use.