Summary
| | |
| --- | --- |
| Overall: | |
| Configuration: | |
| OnSIP Testing: | |
| Voice Quality: | |
| Ease of Use: | |
Quick Specs
Compatible with SIP, Jabber, AIM, ICQ, IRC and XMPP
Log DNS queries in packet log
Option to disable popups
Updated translations
Pros
Free to use
Good AV quality
Compatibility with multiple accounts
Cons
Poor UI in places
Minor quibbles in functionality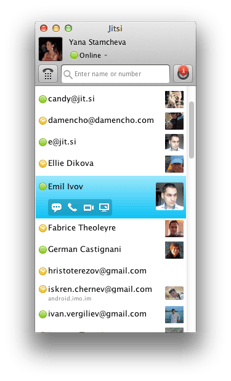 The following review was conducted in August 2017, using Jitsi Desktop for Mac version 2.10.5550. The original review, from which this review derives, predates OnSIP's desktop app, free to OnSIP users, so is not affected by bias.
Jitsi has been around since 2003. We reviewed the desktop softphone app in 2011 and recently in 2017 for Linux. While Jitsi's functionality is fairly similar across platforms, we wanted to review Jitsi for Mac again to see what's changed. As the premier open source softphone solution, Jitsi certainly deserves a fresh look.
Along with programs like Zoiper and Linphone, Jitsi is the cornerstone of the cost-saving softphones, which generally offer get-up-and-go products for placing SIP calls quickly, from install to call. Jitsi supports a wide range of protocols like Jabber, AIM, ICQ, IRC, and XMPP, but we're going to concern ourselves predominantly with Jitsi as a SIP client.
The fact that Jitsi is free makes it an appealing option, but can it keep up with other top-rated softphones in terms of functionality and quality? We evaluated Jitsi Desktop for Mac to find out.
First Impressions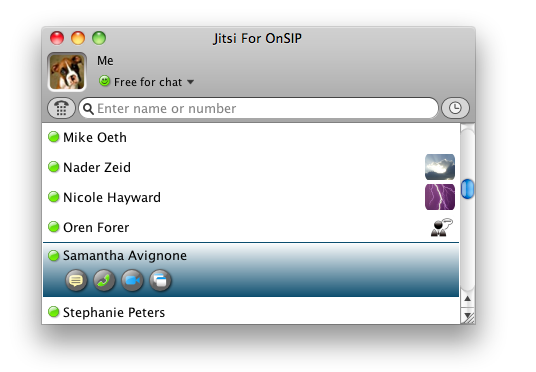 Jitsi's UI hasn't changed appreciably since 2011. The softphone still loads to a default chat window interface, making it easy to reach contacts quickly and to check their availability if you have XMPP or Jabber. Here at OnSIP, we've moved away from XMPP and Jabber because we mostly communicate via Slack. There doesn't seem to be any integration between Slack and Jitsi beyond a standalone video conference product called Jitsi Meet.
The user experience on Jitsi Desktop for Mac hasn't changed much. You'll still find yourself largely thrown into the deep end after you install the software. Upon first use, the softphone invites you to set up a new account, but this is the last of any promptings on Jitsi's end. There isn't a lot of documentation, so for your next steps you're left to your own devices. Placing a call and receiving a call are fairly straightforward, once you get an account registered. Other softphones allowed us to type the number or SIP address we want to dial on our keyboard and then hit enter. Jitsi unfortunately doesn't allow this keyboard input.
Jitsi for Mac doesn't display a numeric dialer, but you can click-to-dial contacts from the UI. Working at a large organization, we find it much easier to just dial a coworker's extension or username, rather than search or scroll through a list of contacts. When you type in a contact's name and hit enter, you're taken to a new message window rather than calling them outright. There may be a way to change this functionality, but it's most likely hidden in the Property Editor, an arcane interface that kept us from attempting adjustments.
It's easy to grasp the UI once you're in a call. The icons are straightforward, but if you can't quite figure them out, you can hover your cursor over the icons for an explanation. Adding a contact is easy, but we found that once the contact was added, we couldn't edit it beyond a simple renaming option. To truly edit a contact, we had to delete the contact and start over. This was annoying, in aggregate, with other UI issues.
Jitsi gives you the option of adding a profile photo, but after going through the steps to do so, our avatar remained the default profile. The global status also doesn't affect calling in SIP, so if you change your status to do not disturb, you can still be called. There's no indication that changing the SIP status affects Jitsi's phone behavior. If you're coming from a physical phone with a do not disturb feature, you may find the lack of DND functionality to be annoying.
Features
Jitsi Desktop for Mac has the same kind of functionality as most commercial softphones. There's no real gap in features, and the major difference comes down to the issue of reliability. As an open source project, Jitsi Desktop isn't beholden to the same quality assurance as other enterprise softphones. However, with the free pricing, that's likely the tradeoff a Jitsi user will have to deal with. The main features include:
Attended and blind call transfer
Auto answer and auto forward
Call recording
Call encryption with SRTP and ZRTP
Conference calls
Direct media connection establishment with the ICE protocol
Desktop streaming
File transfer for XMPP, AIM, ICQ, Windows Live Messenger, YIM
Instant messaging encryption with OTR
IPv6 support for SIP and XMPP
Message Waiting Indication
Voice and video calls for SIP and XMPP using H.264 and H.263 or VP8 for video encoding.
Wideband audio with SILK, G.722, Speex and Opus
DTMF support with SIP INFO
Zeroconf via mDNS/DNS-SD (à la Apple's Bonjour)
DNSSEC
Group video support (Jitsi Videobridge)
Packet loss concealment with the SILK and Opus codecs
Voice, Sound & Video Quality
The sound and video quality are excellent. Jitsi Desktop for Mac leverages the strengths of your computer to deliver both, which is impressive for an open source softphone. On a mid-2014 MacBook, we were able to stream full-screen video without a hitch, hampered only by the limitations of the devices from which we were streaming. Speakerphone and PSTN calling sounded okay, but SIP to SIP sounded pristine.
Compatibility Testing
At OnSIP, we put each of the phones we use through a multi-step interoperability test in which we apply ~30 test cases. Here's an example of a test case:
Test phone calls phone B

B picks up

B puts test phone on hold

B calls phone C

C picks up

B transfers test phone to C

The call must be transferred correctly to C. B must be released correctly after the transfer. When C picks up, audio must work both ways between test phone and C. When the test phone is on hold, there is no audio between it and phone B.
There were no issues with functionality and interoperability. The Jitsi softphone could transfer and be transferred to without issue. The only problem we found was when we did an attended transfer involving video. In this case, the video call would transfer, but we still had an open window on our Mac with a stuck video saying "call established," even though the call had transferred successfully. Closing the window cleared the issue, but if you're not transferring in a lab condition, this quirk could lead to some confusion.
OnSIP Setup
1. Create a new account.
Open Jitsi and go to File → Add New Account. A wizard will open, as below: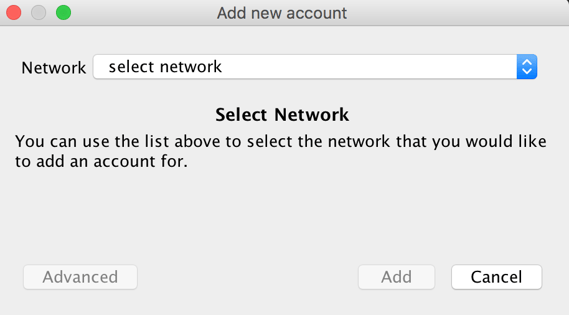 2. Enter SIP ID and password.
In the Network drop-down, choose SIP Network, then supply your SIP ID and Password.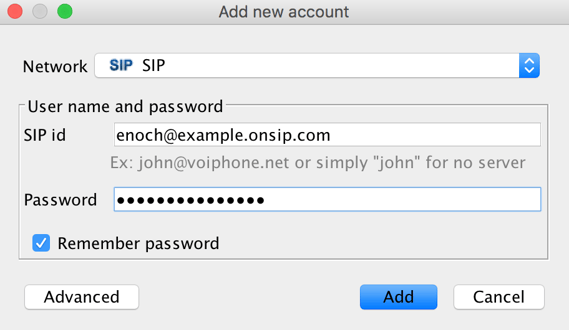 3. Enter advanced options.
Click on Advanced. Please note that the Advanced configuration is mandatory for the OnSIP service.
In the Advanced tab, fill in your Authorization Name. Uncheck "Configure proxy automatically" and change it to "sip.onsip.com," and change Preferred transport to "UDP."
Change your Keepalive method to REGISTER with an interval of 600.
Under DTMF, change the DTMF method to RTP (RFC 2833/RFC 4733).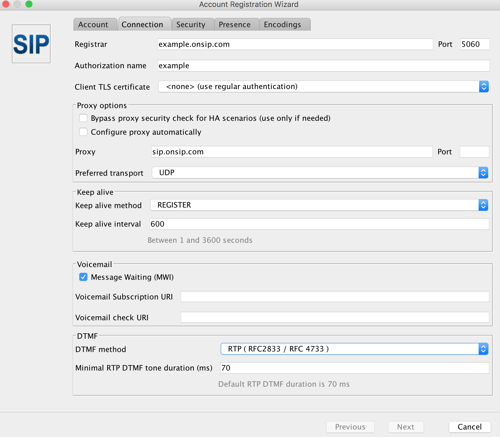 4. Change encodings.
Next, select the Encodings tab from the top menu. Select "Override global encoding settings" and then select the codecs you want to use, but note that you must keep telephone-event/8000 for DTMF to function properly.
Although the account has the information it needs to register, it is recommended that you tweak which codecs Jitsi is sending the OnSIP SIP proxies. By default, it sends far more codecs than we support, which means that the INVITE packet size is unnecessarily large, which can cause problems with packet fragmentation.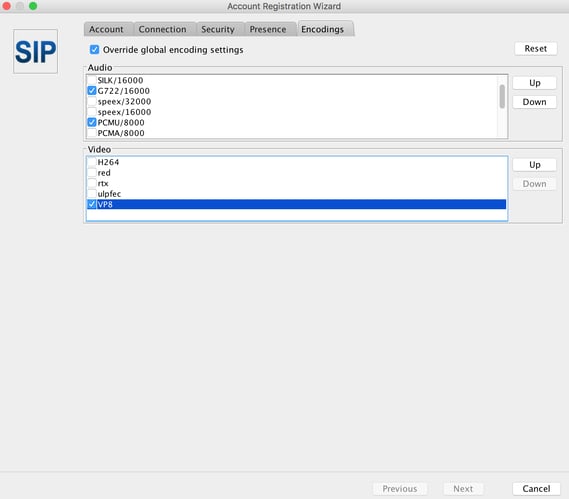 5. Confirm summary.
Click "Next" and you'll see a summary of the options. Click "Sign in." Jitsi Desktop for Mac is now ready to use.
Final Thoughts
People rarely accuse Jitsi of being behind in features, and this latest version of Jitsi Desktop for Mac showed us that the softphone is doing just fine in terms of breadth of functionality. The main problem with Jitsi, as we discussed above, is one of reliability.
As an open source product, Jitsi does not guarantee any quality assurances, nor are there support channels to fix errors. For that matter, there's barely any documentation on how to use the phone, and something as simple as making a call can cause confusion for the average user. It's not unusable, but if you or your employees aren't used to hands-off open source software, the experience can be jarring.
Besides the UI and reliability issues, Jitsi is nevertheless a solid softphone that is free to use. The developers on the Jitsi team did a phenomenal job creating and maintaining this open source SIP softphone. We see no issues with using Jitsi as a personal softphone. However, if you're looking for team or company-wide deployment, we recommend using a more reliable softphone like Bria or OnSIP.