The idea of mobile VoIP for business is great. You download a SIP client on your mobile phone, configure it with your account settings from your VoIP provider, and BAM! – you're hooked into your office phone system, making calls using your company caller ID, reaching coworkers with extension to extension dialing, and perhaps more importantly, not using your own minutes.
There's no doubting that mobile VoIP implementations for business users is popular. The number of people that actually end up using mobile devices to access their business VoIP service is another story altogether, but the concept is certainly a draw.
'Mobile VoIP' and variations of the term have become the new 'buzz' words with many providers already capitalizing on it by promoting their mobile compatibility. You have providers both releasing their own mobile client accompaniments, and others that are simply saying, "Go download this mobile application, and use our service—it's going to be awesome!" Many of the service providers in the latter group also claim to be leading 'pioneers' with their mobile VoIP solutions, which is actually pretty good bait for someone completely unfamiliar with the technology. One of these providers even went so far as to say in a press release that they were launching the Acrobits Softphone for the iPhone. (See the link here) It's a little bit misleading/disingenuous but I'll save that rant for later. We will be the first to admit that we've even been known to jump on this bandwagon a few times. (See Rob making a VoIP call on his iPad)
But is it 'awesome'? To be completely frank, more often times than not, the answer is 'no'. Why?
Here are a couple of reasons:
1. Mobile SIP clients generally deliver poor voice quality. The audio quality you get is dependent on your Wi-fi or 3G signal strength. You usually fare noticeably better over Wi-fi, but who wants to duck into a Starbucks every time they need to make or receive a call? Moreover, if you live in a place like Manhattan, a city renowned for its less than optimal 3G coverage, you will sometimes find that you won't even be able to successfully make calls. When testing out mobile VoIP clients over 3G, we ran into several instances where the client dropped its registration and tried to reregister multiple times over the course of a few minutes due to weak 3G. Calls are likely to fail in these scenarios because your provider may think the mobile app is at several different locations. Whether or not this becomes a big issue depends on the registration period of the VoIP client.

2. Push notifications is a common feature that you can usually toggle on/off that alerts you when someone is calling you even when the application is running in the background. Our problem with this feature is that your account details get sent to servers used by the mobile application publishers. There are some pretty obvious security concerns when your username and password is sent to a 3rd party-you basically compromise your account. This isn't likely to happen but it's a remote possibility that still makes us uncomfortable. Then there are the strict back to back user agents like Fring that require you hand over your username and password just to work. What we really want to see is a mobile application that just acts as a softphone, plain and simple. Please read the article The Dangers of Push Notifications in Mobile SIP Applications before you consider turning on Push Notifications. Bottom Line: don't do it.

3. Generally, mobile SIP applications don't have a lot of the features you might want for business. The ability to transfer and be transferred is a basic call function that immediately comes to mind. More often than not, it is either completely absent or dysfunctional.
That ends my little rant about mobile VoIP applications. My intention was not to turn you away from spending a few dollars and actually trying out a few of them yourself, but rather to give you an honest opinion about where I think the technology is at this time.
Now let's get into the actual review of the softphone we're looking at today, the Acrobits Softphone.
First Impressions
Acrobits Softphone is a mobile SIP application for the iPhone platform. It is one of the higher rated applications we've encountered in the App Store (4 out of 5 stars last time we checked), which is a good sign for our Acrobits Softphone review before us. We've been looking around for a great desk-phone-replacing mobile application for a while now; one that has all the normal calling features you'd expect from a business phone, and allows you to be reached on your mobile device when someone dials your extension. As we implied in our last mobile app review, being able to say goodbye to our desk phone (at least for a while) has always been an unfulfilled dream of ours.
Immediately off the bat, we noticed that the Acrobits Softphone had no clear way in its UI to transfer calls. Okay, it was a bit unsettling at first but not an immediate deal breaker. We later also discovered that we couldn't reach anyone by dialing their extensions from our auto attendant. The application simply ended the call. We looked at the SIP trace, and quickly contacted the people at Acrobits to confirm what was happening. As it turns out, the Acrobits Softphone has no transfer functionality, meaning that you cannot transfer or be transferred.
If we were to rate the phone purely on business functionality, it would fail right off the bat just for the omission of transfer. Testing out different variations of transfer functions actually makes up a large part of our own interoperability tests, and it is a vital feature for business.
However, I'm going to stray away from what we have been doing and just review the softphone application for what it is, and not what we want it to be. We will probably be doing this more often, and eventually craft up a new set of rating criteria for different types of VoIP end user agents. Because trashing a softphone application that was never really intended for business use is a lot like saying a car sucks because it won't fly. So instead of telling you not to buy this application, I recommend that if you do buy this application, tell everyone your direct number. I have also learned from Acrobits that they are indeed working on a business version that includes features like transfer, multi-line, call grouping, etc. It will be released in a couple of months and we will be sure to closely follow any developments.
All of that being said, the Acrobits Softphone looks and feels great. You can immediately tell that a significant amount of work went into making the UI attractive, and easy to navigate. It is one of the best looking mobile SIP applications I've seen.
Application Configuration
Configuring the Acrobits Softphone is relatively easy, but you need to know which of your user credentials to input into which field. This can get a bit confusing as field labels change from VoIP provider to VoIP provider. We will show you how to register one of the users in our "example" hosted PBX, hiro. For general instructions on how to register accounts, visit the Acrobits site.
Here are hiro's user credentials.

When you start up your Acrobits Softphone, you should see the keypad screen. Select 'settings' in the upper right hand side of your screen. Select SIP accounts, and use the '+' sign to add a new account. Finally, select the option 'Generic SIP Account'. With hiro's credentials, the 'New SIP Account' screen should look like the last screen.
OnSIP has recently been added to the list of providers, which makes adding an OnSIP account particularly easy.
JN Interoperability Test
As we already mentioned earlier, the Acrobits Softphone does not do transfers. Try reaching anyone behind an auto attendant and the call will simply end. If someone tries to transfer you, nothing will happen. This client was designed for making and receiving calls; if you're looking to get any fancier with your call handling options, then you will probably be disappointed.
There are a few other minor issues that we ran into. I would not recommend relying on 3G unless you have a very reliable 3G network connection. There were times when the softphone dropped its registration multiple times over the course of a few minutes, meaning that our system believed that the phone was registered at 3 or 4 different locations simultaneously. Not good.
Voice Quality
The voice quality over wifi is actually pretty good. It sounds better than your average cell phone call and is comparable to what you might get on your desk phone (non HD, of course). The sound quality over 3G is entirely dependent on where you are so take what we have to say with a grain of salt. The first 10 – 15 seconds of the call kind of sounds like the other person is talking through a fan with major intermittent delays in the audio. After the initial 15 seconds, everything begins to sound completely fine – better than a cell phone call. You might also run into some minor echo issues but it is not a deal breaker. We are concerned that someone on the other end might hear the audio in the first 10 seconds of the call and just say, "Ugh. Call me back" and hang up.
Ease of Use
The Acrobits Softphone provides a very user-friendly experience. At the top left hand side of your screen, you'll see your registration status and the account that is currently being used. Clicking on it allows you to easily switch between your accounts.
The softphone comes with 4 main screens, which can be accessed by the bottom navigation menu. The first screen is your 'quickdial' menu, where you can have up to 12 numbers or sip addresses configured for speed dial. You can easily assign pictures to each of these contacts – the application allows you to use your iPhone camera to take a quick snapshot of the person when you're putting in his or her contact info.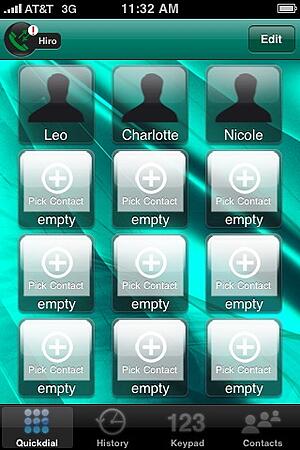 The next screen is your 'History', where you can see all your calls and missed calls arranged in a list. Each list item contains the name of the contact, the number of calls exchanged with that person, a time stamp, and a blue arrow that gives more information. Selecting any of these list items automatically places a call to the person, while selecting the blue arrow gives you the length of the call and the exact date and times. It is also here that you can listen to your recorded calls.
The next screen is your keypad, the main screen, where you can dial using numbers or sip addresses. You have several options while a call is in place. These include putting yourself on mute, putting the call on speakerphone, accessing your contacts and the keypad, putting the call on hold, and recording the call. In the upper right hand side of your keypad screen, you can access the settings for the softphone. Other than account information, you can toggle options and appearances in preferences, download G.729 in add-ons, see your usage information, and even access SIP logs that you can send to Acrobits for troubleshooting.
The final screen is your contacts, taken directly from your iPhone directory.
Final Thoughts
The Acrobits softphone is a sleek and easy to use VoIP client for the iPhone platform. It is very good for making calls over wifi, but the performance over 3G varies depending on how strong your connection is. If you're lucky, you'll hardly notice the difference, but we just can't say that we had that experience here in downtown, Manhattan.
Since the softphone does not have any transfer functionality, we can't recommend it to users who are looking for something that will mirror their deskphones in terms of sheer business functionality. This application is more geared towards the people who want a simple way of staying connected via VoIP, who either don't mind using wifi or have a strong 3G connection. It is also a very inexpensive way of doing call recording. If you're looking for something a little more business oriented, then we would suggest waiting for the business version.
Have any success stories with Acrobits? We'd love to hear your experiences.