Recently, our CEO and co-founder Mike Oeth was interviewed by Stacklist, a curated guide and recommendation platform to help entrepreneurs find the best tools for growing their businesses.
In the interview, Mike reviewed the various tools that the OnSIP team uses on a regular basis, from accounting to project management to customer service. Here are some highlights from our stacklist and our thoughts on choosing the right tools for your organization.
Flexibility and Usability are Key for Cloud-Based Platforms
Across all departments, we found that our most trusted tools are cloud-based, flexible, and easy to use. Whenever we are able to customize a software to fit our processes, we are able to quickly generate meaningful reports and identify areas for improvement.
Here are a few ways we have personalized apps to meet our needs:
Some tools have been easy to use since day one, and they help us spend more time on being productive rather than on troubleshooting. Using cloud-based software has also made it easy to access the information we need, no matter where we are or which device we're using.
Here are some of the SMB tools that help us get things done quickly:
Relying on Real-Time Communication Tools for Everyday Collaboration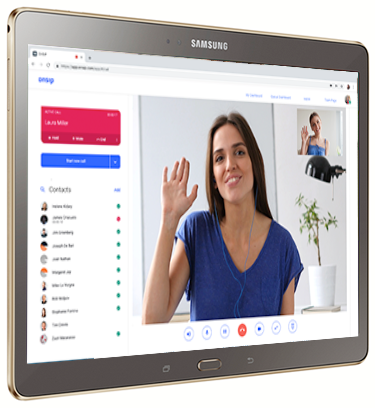 With over 40 employees across three offices and several remote team members, we rely heavily on real-time communication tools. Everyone in the company uses Slack to chat, and we have channels for each office location, department, and project. As Mike notes, "Slack has created a cool paradigm shift on instant messaging, and it's interesting the way they've put it together and integrated with other applications." (For example, here's how you can use Google Hangouts to video chat in Slack.)
We also use our own product, the OnSIP app, to call each other and host video conferences across the company. In addition to collaborating internally, we're able to track the status of our sales and support calls with our Enhanced Queues feature. We also built integrations with Salesforce and ZenDesk to help our customers who use the same tools to streamline caller ID and tracking.
Don't Be Afraid to Test Out New Tools
As a technology company, we like to keep up with the latest SMB trends. In addition to relying on several tried and true services, like Github, Pivotal Tracker, and Google Analytics, we are constantly on the lookout for new tools that can help us improve and grow.
For example, we recently implemented PandaDoc to simplify and track our sales quoting process. With this new tool, we're able to gain valuable insights which people are opening and reading the documents we send. This allows us to measure our progress and identify areas for improvement.
Sharing Tools and Insights with the SMB Community
We believe it's important for startups to share their stacklists because there's wisdom in the crowds. Resources like Stacklist are valuable because they provide peer-written reviews on both popular tools as well as lesser known ones. With this information, companies can make informed decisions about which products or services to buy and use. There's also a sense of giving back, in the same way that we support open source projects like our SIP.js library.
When OnSIP was founded, our co-founders carried over tools that they had used at previous organizations, like PayChex and Salesforce. But as we grew, we adopted new ones in different ways. Whereas selecting ZenDesk for customer service was the result of careful research and consideration, Slack was a viral trend that started with a few employees and ended up being a company-wide necessity. Both of these tools have radically changed the way we communicate with each other and work with our customers, and we wouldn't be the same company without them.
Overall, we believe that our diverse stacklist allows us to better collaborate, communicate, and achieve our business goals. By sharing these tools, we hope that other organizations can make informed decisions about their own stacklists.