We at OnSIP use a variety of business tools throughout our day, including Zendesk for customer support and Slack for internal team communication.
We've just recently started using PandaDoc for our sales quoting needs, and it has become a valuable tool in our belt. The software simplifies the process of sending out polished quotes to your prospects.
The PandaDoc Team has advocated what they call "the PandaDoc Close," which is their stated method of how to earn a commitment from a lead. To add to the effectiveness of this process, we thought of a good way to integrate OnSIP's video calling ability into the mix. With this combination of tools, your inbox will soon be overflowing with signed sales quotes!
PandaDoc, a Quote Software Tool
PandaDoc is a software tool that allows businesses to reduce the amount of paperwork they have to deal with on a daily basis. The software provides a centralized portal where you can create sales quotes, proposals, and contracts, and then invite your contacts to review and eSign them without having to print out the paperwork and fax back. You and your contact receive emailed notification when the document is ready for view, and when it has been signed (completed).
Documents can be downloaded as needed, and recipients can comment on a document right within the interface, all without the hassle of printing it out and emailing or faxing it back.
The "PandaDoc Close"
The PandaDoc Team has promoted a sales strategy that they call "the PandaDoc Close." Following this method, sales representatives fill out the quote (previously created as a template in the PandaDoc quote software portal) while on the phone with the prospect, and then email it to have him or her review the document while remaining on the phone. Once reviewed, the sales rep has the prospect eSign the quote before ending the call.
PandaDoc reports many beneficial results when following this method, including:
Increasing their close rate by 25%
Discovering any objections their prospect may have before they are off the phone
Incorporating Video into the PandaDoc Close
The stated benefits of using the PandaDoc Close are clear, indeed. Why not add the power of face-to-face communication into the mix?
All OnSIP users have access to the OnSIP app, a free softphone that runs on Mac, Windows, Chrome, and Firefox. Simply log in with a username and password, and you will be able to make calls as if you were using your desk phone.

The OnSIP app, however, can make and receive video calls. And when using the OnSIP app, you can also send a unique URL to colleagues and contacts that will allow them to video call you right within their browser windows.
Once logged into the OnSIP app, you are presented with this URL: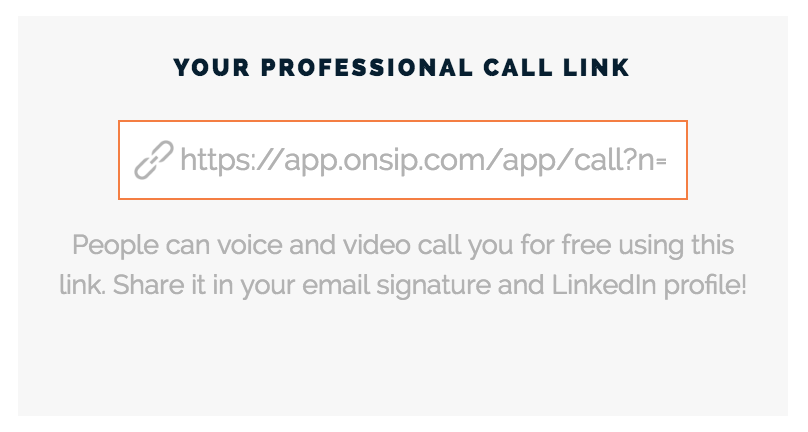 And when someone navigates to that URL, they can place a video call to you (just remember to answer that call while you're logged into the OnSIP app). What's more, it's a free call since it's placed entirely over the Internet and does not traverse the Public Switched Telephone Network (PSTN).
Imagine the benefits gained from interacting with your sales prospect over live video:
Have a more fluid conversation by reacting to one another's non-verbal cues and facial expressions
Build trust and rapport with your lead on an interpersonal level
Iron out questions and objections by physically showing your product over video
Enhance the PandaDoc Close with live video! Try it out, and let us know how you like it on Twitter or Facebook.