One of the challenges of a growing business is how to navigate the ins and outs of your emerging Human Resources department. You want your company to have legitimacy in intra-office matters, and that means at some point you're going to have to sit down and figure it out.
But there are plenty of HR software solutions and apps that make the process of managing your Human Resources department much easier. Here are a few top picks that allow you and your team members to take full control of your HR issues.
UltiPro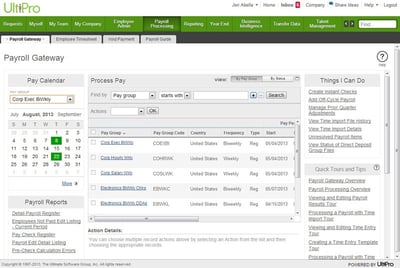 UltiPro is a human resources, payroll, and talent management system that gives organizations an accessible solution for HR management. UltiPro offers companies complete visibility of the entire employee life cycle - from recruitment to retirement.
UltiPro is a cloud-based service managed by a secure Web portal for executives, managers, and employees. The service includes features for benefits administration, talent acquisition, on-boarding, payroll, real-time reporting, performance reviews, time and attendance tracking, and succession planning.
Zenefits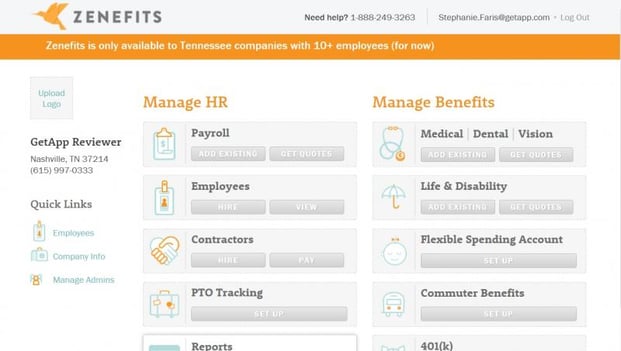 Zenefits is supposed to operate at a price point of $0 for companies who implement the service. Your health insurance carrier is expected to support the cost of maintaining and developing your particular Zenefits solution. Companies using Zenefits can choose from a comprehensive list of applications including Core HR, Benefits Administration, On-Boarding, Employee Scheduling and more.
Zenefits users can connect with current payroll, health insurance, and other HR systems in seconds. You can also use Zenefits to set up new payroll, insurance, and retirement plans. Additionally, the service also offers a team of in-house HR, insurance, and payroll specialists to answer questions via phone or email.
Job Diva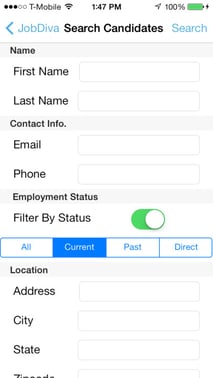 Job Diva offers full time resume harvesting, including synchronization with major job boards and vendor management systems. The service is linked with hundreds of staffing agencies, a client base that oversees over $15 billion of temporary staffing services in the US (which represents an estimated 12% of the industry's processing).
Job Diva offers an advanced Applicant Tracking System, streamlined CRM, and synchronization with leading job boards. One of Job Diva's biggest features is that it allows resume searches for skills by years of experience, saving recruiters countless hours in sifting for applicants with the right amount of time. The service has experienced 98% customer retention since its founding in 2003.
HR Management
This free app aims to keep users updated on today's best practices and news for fields such as HR strategy, staffing, leadership development, training, HR outsourcing, employment law, and many other sectors. HR Management also offers updates on the latest HR-related blogs and white papers that are of interest to business owners.
HR Management also maintains a database of real time HR Management Job postings for the US, UK, Australia, and Canada. The app comes with official videos and podcasts on HR topics.
TotalHRWorks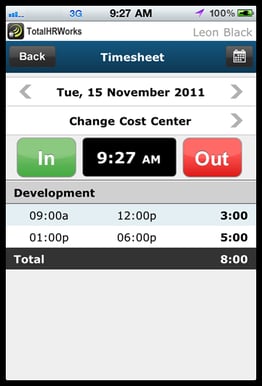 TotalHRWorks is a workforce management app that oversees time, attendance, and payroll. The app has both employee and manager sides so your whole team can interact and share important information.
On the employee side, users can review schedules, submit time off requests, view time off balances, check historical pay statements, and log GPS confirmation of place and time for tasks. The manager functionality allows users to see who is in or out, approve time off requests, streamline HR tasks through checklists, and limit employee access to clocking in through geo-restrictions.
APS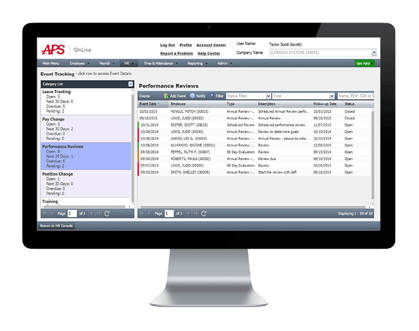 APS offers tools for managing core human resources, payroll, time, attendance, and absence management with its HR software. By automating workflows, APS reduces time-consuming payroll tasks, eliminates paperwork and provides an electronic audit trail for all data changes.
Employees and managers can access APS from tablets and smartphones. The service utilizes GPS tracking to control wherever employees clock in and out. APS Hire allows for applicant tracking and onboarding, and the service comes with online performance reviews.