One SIP client that we have kept our eye on for a while now is Media5-Fone from Media5 Corporation, a provider of "Secure, Survivable MMoIP Branch Office Solutions for Service Providers". The company has released a series of updates to the Media5-Fone over the past couple of months, turning it from a basic calling application to a full-featured soft phone. Apple recently approved version 2.4.1.9 for the iPhone, iPad and iPod touch, and here are a few of our initial thoughts. All tests were done on an iPhone 3GS.
First Impressions
There are a couple of things that make this application special. To my knowledge, the Media5-Fone is one of the first available clients to support iOS 4 multitasking. By 'multitasking support', I mean that users no longer have to rely on push notifications to get incoming calls when the application is not running in the foreground-- a big step forward. We've always been uncomfortable with push notifications, and for good reasons.
Back in May of this year, the Media5-Fone became one of the first SIP clients to feature wideband audio. The application has even gotten praise for its sound quality on regular G.711 calls.
Media5 has done a great job of continually adding features to their app. Media5-Fone now includes pretty much everything you need in a business SIP client and the company is not showing any signs of stopping there. According to their site, video is next on their list of things to tackle. A few of the current noteworthy features include SIP URI dialing, attended transfer, blind transfer, 3 way conferencing, support for 2 simultaneous calls, and detailed SIP traces. However, the application currently only allows users to have 1 account active at a time. A more complete list of the features (taken straight from Media5) is included here: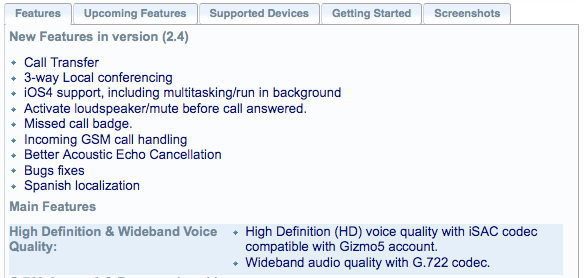 Is the Media5-Fone the prettiest mobile VoIP app we've tested? Probably not, but I'm not going to complain about it too much. Bria and Acrobits are a bit ahead in terms of production value, but the increased functionality that comes with background wakeup more than makes up for it.
Application Configuration
Getting yourself set up on the media5-fone is incredibly easy. Here I'm going to walk you through how to set up an OnSIP account, but you can apply a lot of these steps regardless of which service provider you're using. First you will need your account credentials. These include your SIP address, password, username, auth username, proxy/domain, and outbound proxy server.

Click 'More' in the bottom navigation bar > settings > configure SIP accounts > and press the '+' in the top right corner of your screen. Select the option 'define manually' under 'Custom SIP Settings'. Input the title, your username, and your password on the screen that follows.
Select 'servers' and input your SIP domain. The default port should be '5060'. Under 'Other', set the registration timer to '600'. Tap the 'New Account' or '' button in the top left corner to go back a screen. Select 'Advanced' and input your display name, and auth username. For DTMF method, you will want to select RFCs 2833/4733. You will also notice on this screen that you can select the codecs you want to use for Wi-Fi and 3G by organizing them into a prioritized list. I would recommend whittling this list down to only a several (for example G.722 and G.711) to cut down on packet size.
JN Interoperability Test
v2.4.1.9:
As mentioned earlier, Media5-Fone currently only supports 1 active SIP registration at a time, so a few of the cases in our interoperability test will not apply.
For the most part, the features work as advertised. We did run into a couple of recurring issues, which I will address in the rest of this section.
There were times when I tried to reach one of our extensions through the attendant menu when the SIP client user agent (UA) would revert back to the dialing menu as if the call had been dropped. Meanwhile, the phone that I was trying to call would continue to ring until I hit 'reject call'. After looking at the SIP traces, it looks like the media5-Fone UA is trying to talk to a dead call leg (with the auto-attendant). What actually happens is that the Media5 UA hangs up the call with the extension it's trying to reach and not the auto-attendant, so by the time the other phone has finished negotiating the call, the Media5 UA has no idea of the call and sends a 481 'Call Leg/Transaction does not exist' error to the phone. The user at the other end gets a dead call and the Media 5 user perceives that the transfer has failed because the call just drops. The interesting thing is that this does not happen all the time. Sometimes this call case worked perfectly fine, and other times it would fail time after time. We have reported this issue to the people behind media5-Fone and they are currently looking into it.
There were cases when I was testing PSTN DTMF transmission when the keypad would become completely unresponsive. I could click on the keys but nothing registered—no sound to indicate that I had selected anything at all, and obviously no response from the menu system. Ending the call and redialing seems to fix this issue.
Media5-Fone gives you the option of transferring one of your callers to a third caller when you're on two simultaneous calls. I never got this feature to actually work. It just drops the caller I'm trying to transfer.
The application has also completely locked up on me a couple of times during testing. It was nothing that I could not fix by simply rebooting the app.
Voice Quality
Wideband calls over WiFi sound great on the media5-Fone—much better than what users have grown used to on their cellular devices. The person on the other end of the line also reported that the audio she was getting was very impressive considering I was calling her on a mobile SIP client. She initially thought I was testing a desk phone. I did not experience a noticeable degradation in sound quality when I switched from WiFi to 3G, with the only difference being that it took a few seconds longer before either side heard any audio at all.
Calls over G.711 also had noticeably better audio and voice quality than cellular calls.
Experiences with any mobile SIP client can vary depending on network connectivity, but overall we were very impressed with the sound quality on the Media5-Fone.
Ease of Use
Media5-Fone is easy to use, but there are few little things here and there that can be fine-tuned. Like all SIP clients on the iPhone, Media5-Fone features a bottom navigation bar. You have 'Recents', which shows all of your calls sorted into the 'Dialed', 'Answered', and 'Missed' categories. Next is 'Contacts' which is just your iPhone directory.
Up next you have 'Dial', which is your standard dialing screen. Media5-Fone has included SIP URI dialing—simply tap the top bar and you get the keyboard. During calls, you have 6 options on your call menu. These include mute, keypad (which brings up a new numpad for interacting with attendant menus), speakerphone, '2nd call' (which takes you to the original dialing screen), hold, and finally, blind transfer.
When you're on two calls at once, the menu changes a little to incorporate merge and swap. The interface will also display both of your calls, with the active one in the foreground. You can just as easily tap on the caller in the background to switch between the two, which is pretty neat.
Next up in the bottom navigation bar is 'Voicemail' which is just another way to—you guessed it—dial your voicemail. Since I use OnSIP accounts to test these SIP clients, I usually forego this method and just use my email inbox to listen to my voicemails/read voicemail transcriptions as they come in.
'More' is the last option in the bottom navigation menu. This is where you go to set up the application, but there are also a few other features worth mentioning. You can select your ring tone, add contacts to a speed dial menu ('Favorites' – shouldn't this be in the 'Contacts' tab?), and view SIP traces if you run into issues. Unfortunately, there doesn't seem to be a way to set the volume of the dialpad or the ring tone in this version of the app. Sometimes it can be surprisingly loud. It also seems like you can only add contacts from your existing iPhone directory into 'Favorites'.
With the media5-fone, you can call someone, click the iPhone 'home' button to start browsing other applications and continue being on the call. When you want to return to the app during the call, simply tap on the red 'Media5-Fone' bar that shows up at the top of your screen. This works very well. However, sometimes the red bar stays even after a call has ended and the only way to get rid of it is to close the application.
Also keep in mind that having an app like media5-fone running in the background (at least on an iPhone 3GS) will likely drain your battery.
Final Thoughts
Media5-Fone is the first publicly available SIP client app we know of that successfully incorporates background wakeup. The application also includes impressive voice quality and many of the features that our enterprise customers will probably find useful. That's not to say that there aren't a few kinks here and there, or that the UI couldn't use a little fine-tuning. It's not perfect yet, but we have a feeling that many of the issues will be addressed soon in upcoming releases.