The following content was last updated on January 28, 2020. Any new information since that date may not be included in this article.
OnSIP and Dialpad are two leading providers of cloud phone systems for small and medium-sized businesses. In this blog, we did a deep dive comparison between the two providers to see where they lined up in terms of pricing, features, phones, and customer support.
Pricing
Dialpad
DialpadTalk, Dialpad's business phone system option, offers three pricing plans: Standard, Pro, and Enterprise. Furthermore, these plans' payment amounts are different depending on whether you choose to be billed on an annual or a monthly basis. The Standard Plan costs $15.00 per month per user (with the annual payment option) and $20.00 per month per user (with the monthly payment option). The Pro Plan costs $25.00 per month per user (with the annual option) and $30.00 per month per user (with the monthly option). For the Enterprise Plan, Dialpad directs shoppers to contact them for a price quote.
All three plans provide unlimited calling in the U.S. and Canada, unlimited SMS, call management features like transfer, hold, and mute, as well as integrations with G Suite and Office 365. The Pro Plan offers additional features like integration with Salesforce, voicemail transcription, and 24/7 phone support. And the Enterprise Plan offers everything on the Pro Plan with the addition of features such as API and Webhooks and Okta integration. The Enterprise Plan also provides service level agreements (SLAs).
It's important to note that the plans enforce seat minimums: for the Standard Plan, there's a 1 seat minimum, for the Pro Plan, there's a 3 seat minimum, and for the Enterprise Plan, there's an 100 seat minimum. Each plan comes with a free 14-day trial period.
OnSIP

OnSIP has two paid pricing plans and one free plan:
Unlimited Plan: The Unlimited Plan offers unlimited Standard Area Calling for $18.95 per person per month (the Standard Calling Area covers the

contiguous U.S. and 16

other countries). This plan enables customers to set up an unlimited amount of calling features like voicemail boxes, groups, and auto attendants; additional features like conference suites and call queues can be bought a la carte. Call recording is also included in this plan.
Basic Plan: The Basic Plan pricing allows you to pay for features and calls on a monthly basis. You can customize your account with this plan by building your own feature package: starting off with a basic set of popular business phone features at $49.95 per month, you can then add (and delete) additional features as needed. Calls cost 3.2 cents per minute (and 3.9 cents per minute for inbound calls to toll-free numbers). Extension to extension dialing, in-house calling, and SIP-to-SIP calls are all free. You won't be charged when adding users or phones on this plan; you simply pay for the calls that those phones make.
sayso Website Chat Plan: OnSIP's innovative sayso Website Chat Plan lets you use sayso, our website voice and video chat solution, for free! Once you add sayso to your website, site visitors can click on a call button to quickly start a voice or video call with one of your business representatives right through the browser window—no phones needed. The call occurs within the browser and entirely over the Internet.
All OnSIP plans have a 30-day free trial period.
Features
Dialpad and OnSIP offer feature sets that differ, although there is overlap among the basic options in each service. Both providers have auto attendants, dial-by-name directories, Music on Hold, video calling, video conferencing, and call reports/analytics.
OnSIP and Dialpad both offer softphones. Dialpad's Business Communication App is available for iOS and Android devices and as Mac and Windows desktop applications. Using the Business Communication App, you can make and receive calls, check your voicemail, move calls from your desktop to your mobile device (and vice versa), and even send/receive text messages.
The OnSIP app is a free softphone that's available in the browser (Chrome, Firefox, and Opera), as a desktop app for Mac and Windows computers/laptops, and as a mobile app for iOS and Android. You can make and receive calls from the OnSIP app, along with extension dialing your coworkers and making SIP to SIP calls. Other functionality includes: listening to and deleting your voicemail messages, video calling/conferencing, chatting with and viewing your coworkers' Presence statuses, and monitoring your Enhanced Queues on a real-time dashboard (desktop app only).
OnSIP's Enhanced Queues are advanced call queues that come with Call Barging, Call Whisper, and Call Monitoring—four features that let supervisors interact with their agents during sales and support calls. Supervisors can access these features in the Enhanced Queue Dashboard (found in the OnSIP web or desktop apps). There, they can also monitor their queues in real-time and run reports on their queues' and call agents' performance history.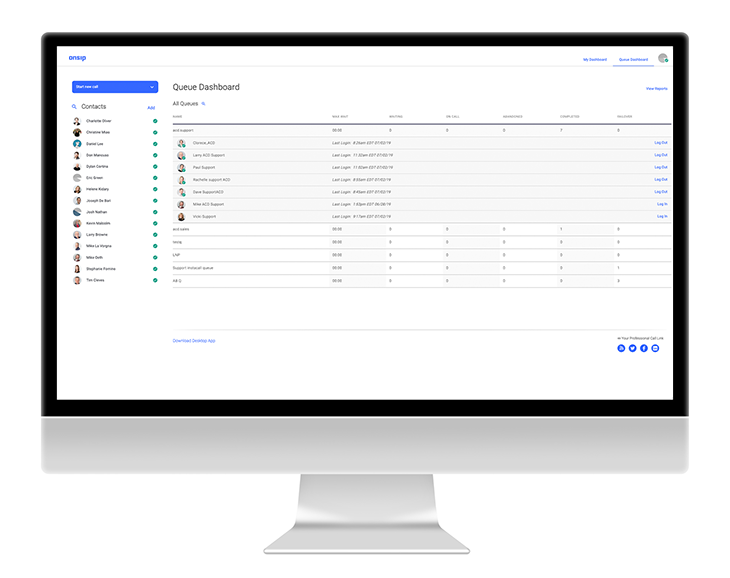 Call Monitoring allows supervisors to listen in on an agent's conversations without being detected; Call Whisper allows the supervisor to talk to the agent without alerting the customer; and Call Barging lets a supervisor speak to both the agent and the customer at the same time. Call Reporting gives the queue supervisor important call tracking metrics that can be viewed or downloaded as a .CSV file.
Dialpad also has real-time dashboards and reports as part of their DialpadSupport (inbound call center) product. It also comes with monitoring features such as Listen In, Barge, and Take Over, but not Call Whisper. In place of Call Whisper, Dialpad offers messaging so a supervisor can coach an agent while she is on a call. The DialpadSupport offering has a bevy of call center features: call recording, real-time call transcription, automatic logging to Salesforce/Zendesk, and even live customer sentiment analysis, just to name a few.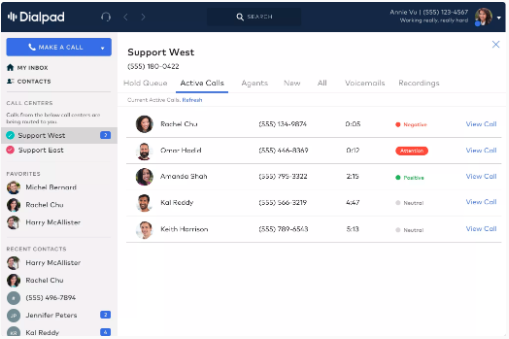 Each of Dialpad's three plans offer free video conferencing with UberConference Free (UberConference is Diapad's supplementary video conferencing product). UberConference Free allows users to have unlimited conferences with screen sharing. But, there's a time limit of 45 minutes per conference, and a maximum of 10 participants. The UberConference Business plan has the same feature set at the Free plan, plus even more user functionality. It also bumps up the per conference time limit to 5 hours and max participants number to 100.
OnSIP offers free group video conferencing in both the Unlimited and Basic Plans. Video conferencing occurs in the OnSIP web app or desktop app. Users can host video conferences with up to 5 participants; conference participants can be internal (i.e., other coworkers) or external (participants who are outside of your company). There are no time limits imposed for OnSIP's video conferences.
A central part of its cloud communications platform, OnSIP's sayso is a unique web calling solution that lets website visitors engage in video or voice calls with one of your employees using only their Internet web browsers—no downloads or plugins required. Your customers can simply quickly start up a conversation with your sales and support team members with just a mouse click.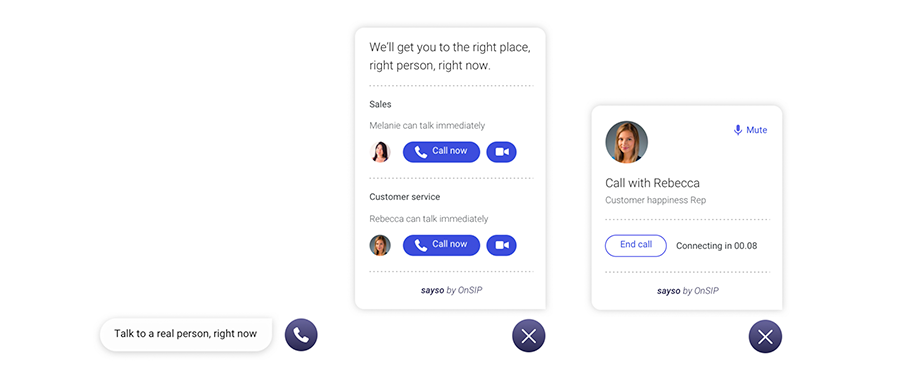 OnSIP offers a variety of integrations with popular business applications: Zendesk, HubSpot, Slack, and others. Dialpad has many integrations, as well. Some notable ones include: HubSpot, Office 365, and Salesforce.
Phones
Dialpad customers can purchase phones directly from Dialpad, but devices currently available for purchase are restricted to the Polycom VVX x50 series and a couple of Obihai devices. Dialpad also supports a larger variety of phones in the Polycom VVX series and Obi1000 series, whether acquired from Dialpad or not.
OnSIP does not sell phones to its customers but offers provisioned phones through a preferred partner. OnSIP furthermore operates a Bring Your Own Device (BYOD) model, meaning that you can use any SIP RFC compliant phone with the OnSIP UCaaS platform. OnSIP does have its own boot server to help speed up the phone registration process for its customers. Phones supported by the boot server include Polycom, Grandstream, Yealink, Panasonic, and Cisco. OnSIP also has an objective phone reviews section on its website to help customers find the device(s) that best fit their unique needs.
Support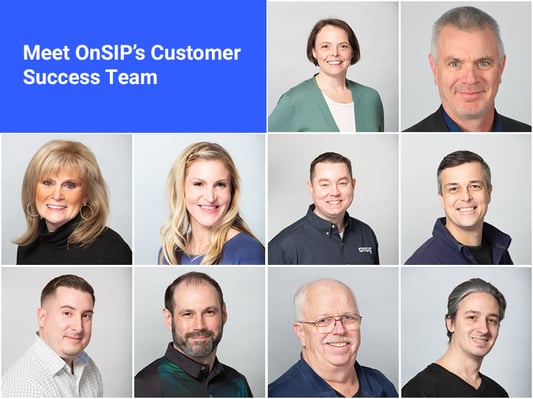 The OnSIP Customer Success Team is housed in Doylestown, Pennsylvania. Callers wait 22 seconds on average to speak to a team member. Customers have given the OnSIP service a 4.5/5 TrustScore rating on Trustpilot. OnSIP keeps a "trust" page to announce and log service disruptions, along with a Do It Yourself Knowledgebase that offers self-help support articles and how-to videos for customers.
Dialpad hosts a Help Center where customers can search for articles on how to set up/use features, watch how-to videos, and get more information on products that they are using. Dialpad also keeps a system status page where service disruptions are logged. And finally, Dialpad invites its customers to review the service on Trustpilot. Dialpad customers have awarded them with a matching TrustScore of 4.5/5.
DIALPAD™ is a registered trademark of Dialpad, Inc. Dialpad and its products/services are not affiliated with OnSIP or Junction Networks, Inc.