The following content was published on February 26th, 2016. Any new information since that date may not be included in this article.
OnSIP and Dialpad (formerly Switch.co) are two leading providers of business phone services for small and medium-sized businesses. While they both use the same technology, web real-time communications (WebRTC), to deliver features such as softphones and video calling, they differ in several key areas.
In this blog, we did a deep dive comparison between the two providers to see where they lined up in terms of pricing, features, phones, and support.
Other Business VoIP Providers Comparison blogs:
Pricing
Dialpad
Dialpad's standard pricing starts at $15 dollars per user per month. Enterprise range phone solutions are offered at prices tailored to each specific company. The features that come with Dialpad's standard package include multi-device ringing, call switching, call transfer, three-way calling, call forwarding, and auto attendants.
Toll-free numbers cost $5/month, plus $.02/minute. Dialpad offers unlimited calling in the US and Canada, but international rates are set for calls to other countries. Dialpad costs less than many leading service providers and has the advantage of costing the same per user across the board.
OnSIP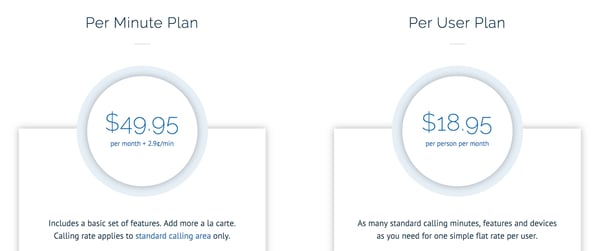 OnSIP has two pricing plans:
Per Minute Plan: The Per Minute Plan pricing allows you to pay for features and calls on a monthly basis. You can customize your account with this plan by building your own feature package: starting off with a basic set of popular business phone features at $49.95 per month, you can then add (and delete) additional features as needed. Calls cost 2.9 cents per minute (and 3.9 cents per minute for inbound calls to toll-free numbers). Extension to extension dialing, in-house calling, and SIP-to-SIP calls are all free. You won't be charged when adding users or phones on this plan; you simply pay for the calls that those phones make.
Per User Plan: The Per User Plan offers unlimited Standard Area Calling for $18.95 per person per month (the Standard Calling Area covers the continental U.S. and 14 other countries). This plan enables customers to set up an unlimited amount of calling features like voicemail boxes, groups, and auto attendants; additional features like conference suites and call queues can be bought a la carte. Call recording is also included in this plan.
Features
Dialpad and OnSIP offer feature sets that differ, although there is overlap among the basic options in each service. Both providers have auto attendants, busy lamp field, Dial-by-Name Directory, Music on Hold, HD Voice, voicemail to email, and video conferencing.
OnSIP offers group paging and conferencing for over 3 devices. Dialpad has conferencing, but it can only host up to three simultaneous connections. Dialpad's offshoot company, UberConference, offers conferencing for more than 3 devices.
Queues are treated as a separate feature with OnSIP, but they are built into Dialpad's Auto Attendants. Dialpad's Auto Attendants can route calls. On the other hand, OnSIP's Enhanced Queues offer Call Barging, Call Whisper, Call Monitoring, and Call Reporting - four features that let supervisors interact with their agents during sales and support calls.
Call Monitoring allows supervisors to listen in on an agent's conversations without being detected; Call Whisper allows the supervisor to talk to the agent without alerting the customer; and Call Barging lets a supervisor speak to both the agent and the customer at the same time. Call Reporting gives the queue supervisor important call tracking metrics that can be viewed or downloaded as a .CSV. Dialpad does offer Call Monitoring.
OnSIP and Dialpad both offer softphones. The Dialpad service runs via an app downloaded onto your desktop, tablet, or cellphone. The Dialpad app is available for both iPhone and Android operating systems. Calls made with Dialpad, including PSTN calls and extension dialing, take place on a software phone embedded within the app. The softphone phone interface comes with call recording, mute, hold, transfer, add, and dialpad buttons.
A central part of its cloud communications platform, OnSIP's sayso is a unique web calling solution that lets website visitors engage in video or voice calls with one of your employees using only their Internet web browsers—no downloads or plugins required. Your customers can simply quickly start up a conversation with your sales and support team members with just a mouse click.
OnSIP's Zendesk integration offers CRM lookup, lead creation, and call logging that operates via a Chrome plugin. Dialpad comes with integrations for personalized platforms such as Google Apps and Office 365.
Dialpad offers call recording, and so does OnSIP. Calls can be recorded with a button at the bottom of the softphone, and they are stored as downloadable mp3s. Dialpad also allows users to send SMS text messages.
Phones
Dialpad comes as a downloadable app - for tablets, cellphones, browsers, and desktops - with a built-in softphone that can make calls to the PSTN. This is the de facto phone solution of Dialpad. However, there are two ways to get desk phones to work with Dialpad. The first is through the Obi for Switch phone ($159) - a proprietary desk phone that cannot be used with other services.
The second is the Obi for Switch adapter ($49), which enables any analog desk phone to work with Dialpad. The Obi for Switch adapter is designed for a desk or conference phone without an IP connection.
Although OnSIP has its own free web phone, its service still gravitates around IP desk phones. OnSIP operates a Bring Your Own Device (BYOD) model, meaning that you can use any SIP RFC compliant phone with OnSIP's service. However, OnSIP does have its own official boot server to help speed up the registration process. Phones supported by the boot server include Polycom, Grandstream, Yealink, Panasonic, and Cisco. OnSIP has an objective phone reviews section on its website to help customers make informed decisions.
Support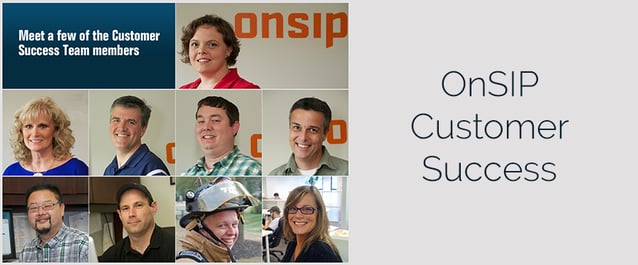 The OnSIP Customer Success Team in housed in Doylestown, Pennsylvania. Callers wait 16 seconds on average to speak to a team member. According to Zendesk, the OnSIP Customer Success Team has a satisfaction rating of 99%. Phone support hours are from 9 am - 8 pm ET (Mon- Thurs) and 9 am - 6 pm ET (Friday). OnSIP keeps a "trust" page to announce and log service disruptions, along with a Do It Yourself Knowledgebase that offers self-help support to customers.
Dialpad has a DIY help portal with pertinent articles pertaining to issues on the platform. Service representatives can be contacted via email or phone. The Dialpad support forum is powered by Desk.com.
Conclusion
Dialpad offers business phone system features, such as auto attendants, dial-by-name directories, and Music on Hold channels. But its absence of basic features, such as conferencing with more than 3 devices, keep the service more in the realm of real-time communications. It is mobile oriented, and focuses on lettings customers use its service across a variety of devices.
When compared with leading VoIP companies, Dialpad offers great pricing, a flat $15 per user per month. If you're just looking to make calls to the PSTN, and you don't mind using a softphone, Dialpad would be a great fit for you. Otherwise, you may want to consider a true business phone system like OnSIP, with its comprehensive features, flexibile pricing, and CRM integrations.
Want more? Download our VoIP Providers Comparison guide here!
DIALPAD™ is a registered trademark of Dialpad, Inc. Dialpad and its products/services are not affiliated with OnSIP or Junction Networks, Inc.