We all know the marquee features that hosted VoIP providers love to tout: SMS! Mobile app! Live website chat! But behind those attention-grabbing standouts there is a whole business communication platform for you to harness.
Here are eight interesting ways to use the features of a VoIP service.
VoIP Features that Excite, Streamline Processes, and Are Just Plain Cool
1. Keep Your Business Local With the Right Area Code
VoIP technology removes the geographic constraints of the PSTN so you can utilize phone numbers in novel ways.
Here's an idea: if you have a high percentage of customers in a particular city or region of the country, get a phone number in the local area code there. In your VoIP service's web admin portal, you can configure the settings so that calls to that number are sent to your virtual receptionist or a receptionist's phone.
Why is this useful? Callers in that location will recognize the area code and think that they are interacting with a local business, and you'll be able to take those calls even if you're in another city or state.
2. Use a Phone Number that Elevates Your Business's Stature
Certain area codes are better known (305, the area code for Miami) or have an element of prestige to them (212, for the borough of Manhattan). If you can snag one of those, you've just granted your business a bit of gravitas.
Since we've already established how VoIP lets you use phone numbers in other area codes, check with your provider to find out which phone numbers are available for purchase. If you're an SMB, or if you just recently started a business, get a phone number that instantly elevates your status to potential customers.
3. Measure Marketing and Ad Campaign Effectiveness With Unique Phone Numbers
You can also use phone numbers effectively in your marketing or advertising campaigns. If you're running a couple of different ones at the same time, assign a unique phone number to each campaign and display them on your various print ads, banners, and commercials.
Each month, review the phone call records provided by your VoIP service and tally the number of calls made to each campaign's phone number (call detail records show you the numbers that callers dialed). Include these data points when reviewing campaign performance.
4. Replace Chatbots With Audio and Video Calls on Your Website
In place of website chat buttons and chatbots, some providers have calling features that enable site visitors to call you straight from your website. OnSIP sayso is one such example, and it is one of the many benefits of using VoIP.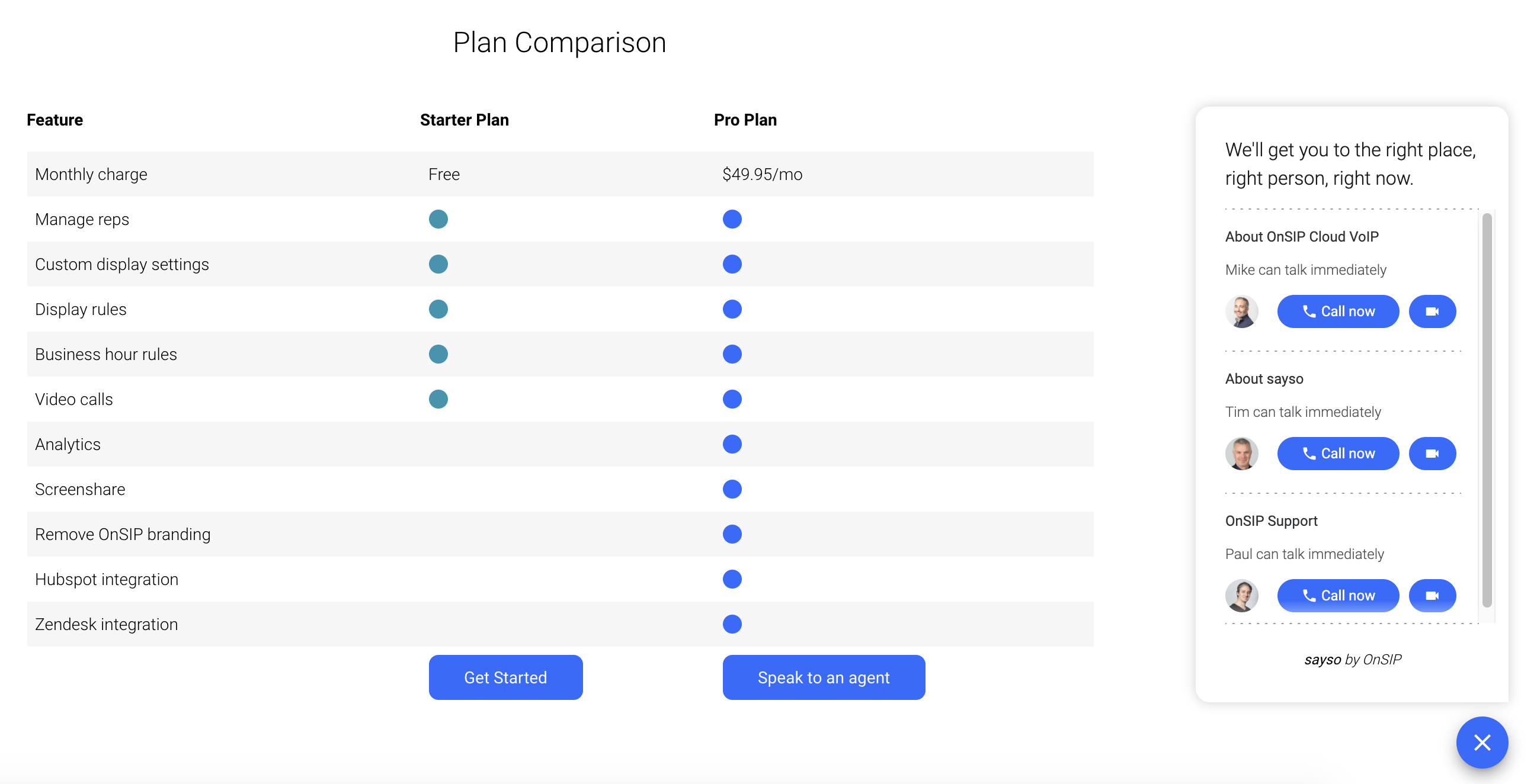 A small code snippet adds sayso to your website, and it appears as a floating button on the page. When a visitor clicks on this button, he can make an audio call to one of your business's reps using just his web browser window. And if you've enabled the video option, the visitor can choose to video call the rep, too.
With sayso on your site, you can speak directly with your leads while they're reviewing your product and support your customers without them even leaving your webpage.
5. Train Call Agents in Real Time by Using the Whisper Option
A call queue dashboard provides queue supervisors with call monitor and barge abilities, but did you know there's a third option available to you? It's known as "call whisper" and here's how you can use it.
Call whisper lets you listen in on an active call and speak with your call agent without the person on the other end of the line hearing you. You can use the whisper option for real-time coaching of your agents—it's especially handy when you're training new hires. Provide suggestions on how the agent can respond to a caller's question, bring up queries that the agent should ask the caller, and offer compliments when the agent is successfully handling the call.
6. Allow Customers to Click to Call Your Agents on a Team Page
A recent trend for business websites is to have staff members' names, titles, and profile pictures on a webpage, whether it's the Contact Us page or somewhere else. OnSIP has a feature that adds click to call options to this online staff directory.
Called "Team Pages," this distinctive and dedicated webpage displays your staff members, titles, and pictures, along with audio and video call buttons for each person. The page is completely customizable: you can add your company logo, a brief bio, and even select which employees to display. Employees' statuses update in real-time, so visitors know if a person is busy on a call or not available.
When a visitor reaches this page, he can call a staff member by clicking on one of the buttons underneath her picture. The call happens entirely over his web browser window so he won't need to pick up a phone to speak with the employee. Try adding your support department reps to your Team Page and give your customers a hassle-free way to contact them.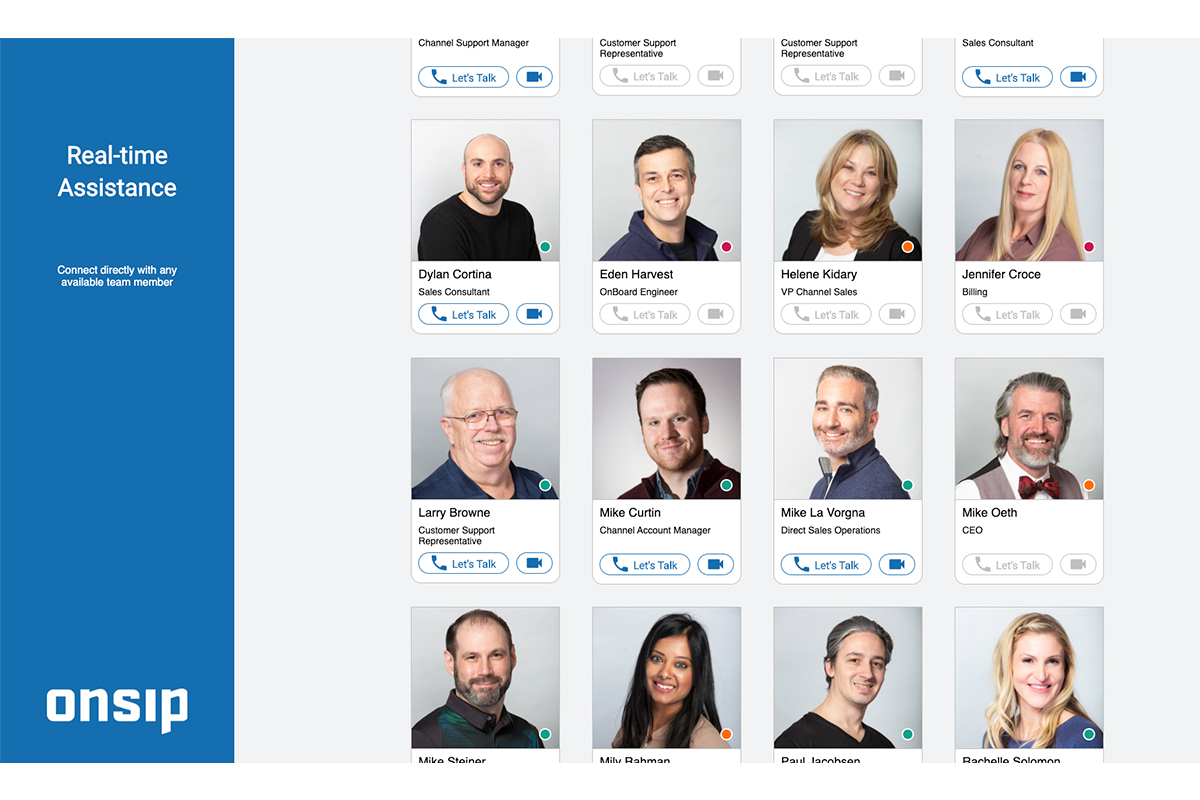 7. Transfer Live Calls between Your Devices With Call Flip
Have you ever been on a call on your desk phone but needed to transfer it to your cell phone so you could continue it on the go? Some VoIP providers allow you to do just that using the feature called "call flip" or "call pull."
By dialing a star code on your phone, or selecting the option in the service's mobile app, you can transfer live calls from your desk phone to your VoIP mobile (or desktop) app and vice versa. Don't abruptly end calls because your cell phone is low on power or your Uber has arrived—just flip 'em to another device to continue the conversation!
8. Play Hold Music that Engages Your Waiting Callers
Stop playing worn-out elevator music to your callers and choose tunes that fit your business brand. Certain VoIP providers offer various streams of on-hold music, ranging from rock to country and even radio stations. Hold music has a distinct effect on waiting callers, so make sure you're streaming music that positively influences their mood and keeps them waiting on the line for the next available rep.
Reap the Benefits of Using VoIP With Unique Calling Features
Hopefully this blog post has given you some good ideas on how you can use VoIP features at your company. Explore all of the options that your provider has to offer, and set up the ones that make yours a tech-forward organization!