Your business idea may have been thought up in a restaurant or a shower. Your first prototype or diagram may have been put together in a garage.
Your startup isn't ready for a 'business phone system' yet - or is it?
Even if your business is years away from having busy hallways and phones ringing off the hooks, you may still want to consider a more professional communications platform than your current one (or lack thereof). Implementing a cloud phone system now can save your company valuable time and money in the long run.
Here are five scenarios that should prompt you to consider a cloud phone system solution.
1. Your office manager is too busy to be answering calls all day.
For teams in the early stages of development, treating phone duty as a side task may suffice, but only for so long. If everything goes as planned, your call volume and your office will grow beyond the point of one person managing both.
Setting up a virtual receptionist to automatically distribute calls will not only save your office manager time, but many headaches as well. A simple menu can provide callers with important information and transfer calls without wasting human resources. After all, you hired an office manager to help keep the team focused and motivated, not a receptionist to man the phone lines 24/7.
2. Your 'sales guy' is now the 'VP of Sales' with a team.
A startup's sales strategy may begin with one guy making outbound calls, but the much anticipated inbound calls start coming soon enough. The last thing you want is for the line to be busy and lose valuable opportunities and revenue as a result.
As your Sales team grows, features such as ring groups or ACD Queues become a must. Let your phone system do the work of connecting prospective customers with your first available sales rep.
3. Your customers like to call you all the time.
Although you could field calls every hour of every day, we recommend you get some sleep every now and then. Helping customers is great, but sometimes your support team needs a break.
Setting up a few simple Business Hour Rules will allow you to handle calls appropriately according to the day and time. Have a co-worker in a different time zone? Forward your calls his way when you're off the clock.
You can also designate a failover in the event a call goes unanswered. Someone calling your desk phone while you're out and about? Have it fail over to your cell phone, an available co-worker or your voicemail box.
4. Your developers are busy patching your app and don't have time to set up every conference call.
Phone system equipment is not always straightforward. It can be difficult to install, difficult to maintain and confusing to use - but a cloud phone system eliminates much of that hassle.
Using a cloud solution like OnSIP means any and all system setup is done through a web interface - the changes are made on the provider's end. You can just plug your phone in and go, and your developers can spend their time on improving the product.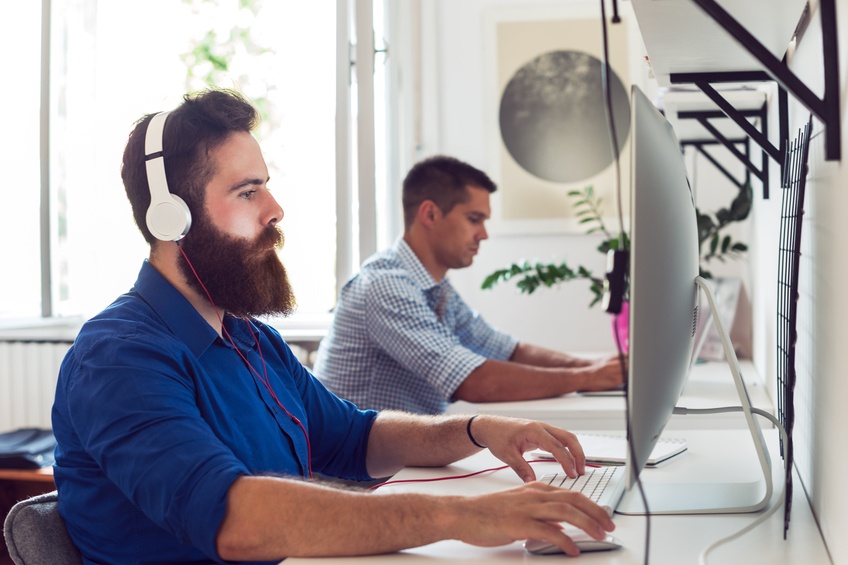 5. Your business partner decided to move to San Francisco and set up an office there.
Businesses are becoming more geographically dispersed with more remote workers than ever. A modern phone system provider understands that.
A cloud phone system is able to treat phones across the country as if they are within the same office. Calls can be made or transferred from NY to SF with no equipment beyond the phones themselves. You can even set the same business Caller ID geolocation for both.
The same concept applies to on-the-go solutions. Working from home or a café? Today's cloud phone system providers can treat mobile phones and laptops like ordinary deskphones. Or you can even go completely deskphone-free with various webphone options, like our OnSIP app.
A Cloud Phone System Can Help
Life moves fast, especially within a startup, and it may not be obvious when you first need a phone system. These examples are just a handful of real-world scenarios that that can be handled easily by a modern cloud phone system. And the best part is, cloud systems scale easily as your business grows. Set yourself up now, and new employees can be added in minutes.
For a balanced look at the pros and cons of a cloud phone system, check out our previous post.