As a business VoIP provider, staying on top of the latest technologies is important to us. It's also important to businesses who want to use them. So when I decided to research the question, Can Skype for Business replace my PBX? (in other words, are they a competitor of ours?), I figured I'd publish my findings.
Finding concrete information about the service and its role in the business VoIP landscape has been unexpectedly difficult. In this post, I've tried to summarize what was proposed, what is currently available, and whether or not I think Skype can be a viable option for a business' PBX needs.
What is Skype for Business?
You may be familiar with Skype, the freemium instant message and video chat service for consumers that was bought by eBay in 2009 and later sold to Microsoft in 2011. You may also be familiar with Lync, Microsoft's business-focused communication software made available in 2011. Microsoft announced in 2014 that Lync would be rebranded/replaced with Skype for Business the following year.
Skype for Business was officially released in September 2015, though the Mac OSX client remains as "Lync for Mac 2011" for now. It is included in Microsoft's "Office 365" - an online subscription service which also includes Office applications and file storage.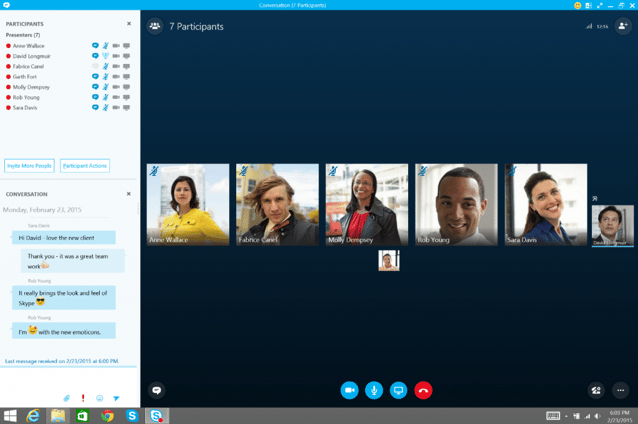 The service has a number of collaboration features, allowing co-workers to make and record audio & video calls amongst themselves, instant message with presence and file transfers, and has lofty goals for meeting the needs of "all your conversations".
Skype for Business Phone Integration & Other Promises That Were Made
These lofty goals were largely laid out in an announcement back in March, including a video titled "Vision for the Future" featuring actors making futuristic calls, where the information they needed was always a hand gesture away. After the video and a bit about "reinventing productivity", the team addressed the details - one of which was the announcement of phone service:
We will offer enterprise voice and audio conferencing in Office 365, starting with a technical preview in the U.S. this summer, as well as enterprise-grade PSTN connectivity, beginning in the U.S. later this year, followed by a global roll out.
They also addressed hardware:
I'm pleased to announce Skype Room Systems, which will deliver the Skype for Business experience to the more than 50 million meeting spaces of all shapes and sizes in use by organizations worldwide.

Polycom will deliver a new series of solutions called Polycom RoundTable, purpose-built for Skype for Business. The first new device in this new offering is the Polycom RoundTable 100. Designed for small-to-midsized businesses (SMB) and teams, and expected to be offered at a price point of around $1,000.
Current Status of Skype for Business and PBX Integration
Microsoft did indeed include PSTN connectivity in the technical preview earlier this year, which was available to a subset of Office 365 users. Paul Robichaux received an invitation and wrote a piece outlining PSTN calling for WindowsITPro in July/August. In it, he goes through the signup, setup and calling processes and stated that he was "overall, pretty impressed" with the preview. He also reiterated that there is no mention of how much the service will cost when it is released (it's free in the preview) or when that is expected to happen.
Fast forward to today and "Skype for Business" is available for purchase. However, I haven't been able to find any details regarding an official release of any PSTN features or their pricing - only mentions of "Integration with on-premises communications systems, such as PBX and video teleconferencing systems". It's actually been difficult finding any information at all, other than the announcement and a couple reviews of the preview from when it first began.
Galen Gruman of InfoWorld recently wrote a review of the Office 365 release, but it only addresses the online meetings and chat functionalities of Skype for Business (neither of which were received well).
As for the Polycom RoundTable 100, a colleague of mine touched base with Polycom to ask when this phone model will be available. She was told that Polycom and Microsoft mutually agreed not to bring it to market. Polycom instead lists its RealPresence line of hardware under their Skype for Business products.
So, Can I Replace My Phone System with Skype for Business?
My answer: Probably not right now, but maybe in the near future.
Unfortunately, that's about as accurate of an answer I can give at the moment. Considering the announcement and the preview, it's expected that PSTN capabilities will be added to the service at some point, but they don't seem to be there at all in its current form and what has been written is not especially encouraging.
When this functionality does become available, it will be a separate issue of whether or not their pricing, features, desk/conference phone options, required commitments, etc. are the best choice for your business.
You could probably still use an on-premise PBX and run a Lync server, as was previously possible, but that requires extensive planning and setup, will be less integrated than advertised, and is best completed by a Microsoft VAR.
Alternatives for Your Phone System
Reading some of the reviews and other comments for the technical preview, the possibility arose that "the cloud" itself is what people are mainly excited about when it comes to Microsoft's proposed offering. Take these two quotes for example:
Deploying PSTN calling for Skype for Business on-premises can be complicated, with a long list of requirements and prerequisites. On the other hand, PSTN calling in the cloud is much simpler.
... when Avaya and Polycom get phones shipping that can connect right up to the cloud service, this becomes a really compelling alternative to continuing to maintain an expensive on premises PBX system.
The hosted PBX, or cloud phone system, has existed for quite some time, though, and has been successfully implemented and used by millions of people in businesses worldwide. There are quite a few providers that can get you up and running with business phone service in less than a day, without the need for a physical on-premise PBX.
OnSIP, for example, also provides an instant messaging service with presence, a feature similar to Microsoft's "Call via Work" called Click-to-Call, and a free browser-based phone that can be used for testing or making/receiving remote calls. Because OnSIP is standards-based, any SIP phone will work with the service, so no phones need to be specially made and ordered.
Non-PSTN Needs
Office 365 positions itself as an all-in-one collaboration suite, but it's also worth noting that there are many applications with smaller scopes of focus that try to master their trade, rather than covering them all. In Gruman's review from earlier, he mentions GoToMeeting and Join.me as more reliable options for video conferencing.
In our work space, we often use our own service OnSIP for voice in the browser and on deskphones, Slack for group messaging, Basecamp for project management, and Google Drive for document sharing. If we grow dissatisfied with any one piece, we can switch to another provider, rather than being locked into one provider for everything.