The following review was conducted in July 2016.
We're big fans of the most recent phones from Yealink. When we heard Yealink had a new conference phone, we were interested to see how the company would add innovation to a device that is notoriously resistant to redesign. The Yealink CP860 is the company's first foray into the conference phone market.
The CP860 comes with Optima HD voice, full duplex technology, and 10-feet 360-degree sound pickup. Additionally, the phone offers extension microphones for wider voice reception and five-way conferencing. Yealink also added 320ms echo cancellation to the phone. Mobile phones and PCs can be connected for conference calls, and there is USB call recording support.
The Yealink CP860 sounds like a promising device, but does it live up to the hype? We took it for a test drive to find out.
First Impressions
The Yealink CP860 is a low-profile phone. The buttons are very responsive, and they're laid out in a utilitarian fashion. The small, sharp screen provides concise information, and the chassis is solidly built. The phone has a satisfying weight that ensures it won't slide around on your desk.
The phone is only a few inches tall but a bit wider than many conference phones. These dimensions give the CP860 a flattened look. The design differs from the standard form factors of most other Yealink phones. Despite the compact, pyramidal look, the CP860 finds a sweet spot between function and style. It appears professional and capable and is instantly recognizable as a conference phone.
Features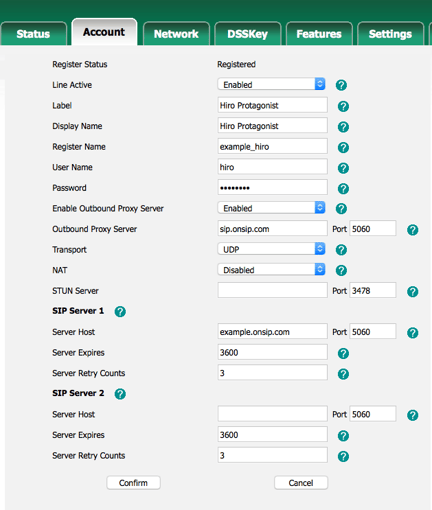 Line active: Enabled
Label: Label for the line
Display name: Name to appear on the Caller ID of the other user
Register name: Auth Username
User Name: Username
Password: SIP Password
Enable outbound proxy server: Enabled
Outbound proxy server: sip.onsip.com
Transport: UDP
NAT: Disabled
SIP Server 1 Server Host: example.onsip.com Port: 5060
Server expires: 3600
Server Retry count: Three
Step 4. Confirm that your phone is registered.
In the Admin Portal, click on the "Users" tab. You will see a green "online" notation next to each user with a registered phone.
Final Thoughts
Aside from a few quibbles with the voice quality, the Yealink CP860 is a solid conference phone. The feature set is impressive, and the phone has everything you need to conduct conference calls with clarity and precision. Yealink's SIP software continues to remain very reliable and easy to use. The conference phone's UI and the online admin portal are well designed.
At a retail price of less than $500, this is one of the more economical choices for a SIP-based conference phone. And if you can find a marked-down price, the phone is well worth the cost. The phone may not perform at the level of the VTech ErisStation, but the CP860 is reliable, capable, and modern. Overall, the Yealink CP860 is a good first effort into conferencing solutions from the company.