Written by Joe De Bari, Lead of Marketing Communications at OnSIP. The following content was last updated on October 17, 2018. Any new information since that date may not be included in this article.
Vonage is a cloud phone system and unified communications provider for SMBs and Enterprises. Their cloud communications platform offers traditional phone features, a desktop and mobile app, a wide selection of integrations with other business apps, and developer APIs; they also offer residential VoIP service. OnSIP is a cloud and unified communications provider that serves the SMB market as well, with business phone features, browser-based and desktop applications, call center technology, developer APIs, and more.
In this blog, we provide an in-depth VoIP comparison between Vonage Business and OnSIP in the domains of pricing, features, phones, and support to understand what sets the two services apart.
Pricing
Vonage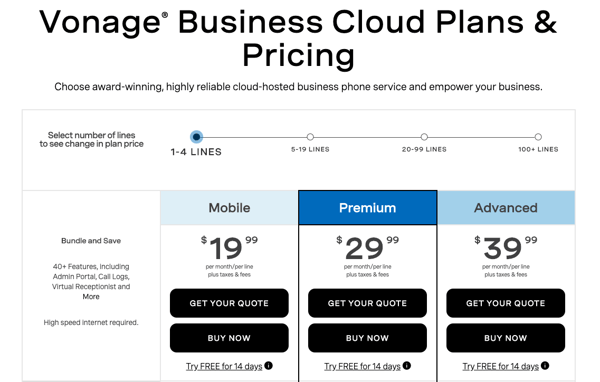 Vonage offers three main pricing plans for their Business Cloud service, each billed at a per month/per line fee. The Mobile Plan costs between $14.99 to $19.99 per month/per line, dependent upon the total number of lines that are on your account. The Premium Plan costs between $24.99 to $29.99 per month/per line, also dependent upon the total number of lines on your account. And the Advanced Plan costs between $34.99 to $39.99 per month/per line, again dependent upon the total number of lines. If your account has 100+ lines, Vonage encourages you to 'Contact Sales' for the pricing info of each plan. All plans also offer a 14 Day Free Trial period.
All plans offer unlimited calling in the continental U.S. and Canada, unlimited SMS messaging, as well as mobile and desktop apps. Vonage's pricing page notes that the Mobile Plan is best "for remote teams—and any business that doesn't need desk phones." The Premium Plan is for business offices and additionally offers an auto attendant, CRM integrations, and video conferencing, chat, and file sharing. The Advanced Plan offers the same features suite of the Premium Plan along with even more features like call recording and "Vonage Visual Voicemail."
OnSIP

OnSIP offers two paid pricing plans that address differing business needs from pay-as-you-go to unlimited calling:
Per Minute Plan: OnSIP's signature billing plan, the Per Minute Plan enables you to utilize a cloud phone system without having to pay per user or per phone setup or monthly fees. On this plan, you can customize your account by building your own feature package: starting off with a basic set of popular business calling features at $49.95 per month, you can then add (and remove) additional features as needed. Phone calls are paid for on a per minute basis: 2.9 cents per minute (and 3.9 cents per minute for inbound calls to a toll-free number). Extension to extension dialing and other in-house calling are all free.
Per User Plan: This plan offers unlimited Standard Area calling at $18.95 per person per month for each user on your account (the Standard Calling Area covers the continental U.S. and 14 other countries). This plan enables customers to set up an unlimited amount of calling features like voicemail boxes, groups, and auto attendants; features like conference suites and call queues can be purchased a la carte. Call recording for each user is included in the Per User Plan.
All OnSIP plans have a 30-day free trial period.
Features
OnSIP and Vonage offer many of the same business phone system features that have become mainstays in the industry. Auto attendants (virtual receptionists), advanced call queues, Busy Lamp Field, call parking, voicemail to email, conference bridges, and admin portals are a handful of features both services have in common.
OnSIP provides a free business softphone to all of its customers.
The
OnSIP app
is available in the browser (Chrome, Firefox, and Opera), as a desktop app for Mac and Windows computers/laptops, and as a mobile app for iOS and Android. App users can make/receive voice and video calls, host small group video conference calls, listen to and delete voicemails, chat with coworkers, and view their presence statuses (and set their own as well) directly from their browsers or computers.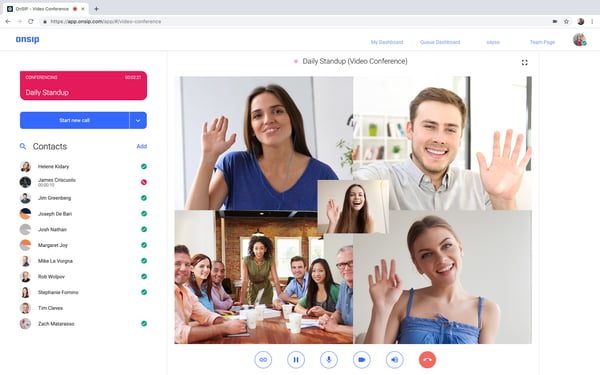 Vonage provides its customers with desktop and mobile apps. Vonage DesktopConnect is a free app that lets users make/receive calls, send texts, review voicemail messages, view the call presence of coworkers, and more. This app is for Mac and Windows computers; it's also accessible in a browser window. The Vonage Business Cloud Mobile App is available for iOS and Android phones. The mobile app allows users to make/receive calls, make video calls, send/receive text messages, instant message team members, and perform other actions right from their smartphones.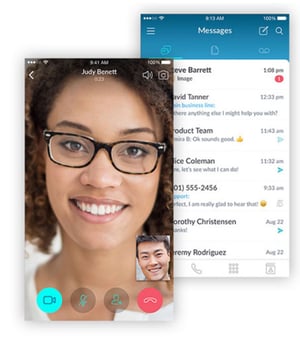 A central part of its cloud communications platform, OnSIP's sayso is a unique web calling solution that lets website visitors engage in video or voice calls with one of your employees using only their Internet web browsers—no downloads or plugins required. Your customers can quickly start up a conversation with your sales and support team members with just a mouse click.
A Vonage communications system integrates with all of the major CRM platforms and business applications. They offer integrations with Salesforce, G Suite, Zoho CRM, Zendesk, SugarCRM, and other services. They furthermore have an API platform, called Nexmo, that allows developers to build contextualized communications into their own apps and websites.
OnSIP offers integrations with Zendesk (with CRM lookup), Slack, Google Analytics, and others. OnSIP likewise provides developer APIs that empower web developers to add real-time communications into their own apps.
Phones
Vonage customers can purchase a variety of Polycom and Yealink phones directly from Vonage. Customers can also use their existing phones as long as they are SIP capable. Vonage lists a range of "Preferred phones" from Grandstream, Panasonic, Polycom, and Yealink that are "extensively tested and are known to work well with Vonage service." Other listed "compatible phones" should work with the service but haven't received the testing checks that the "preferred phones" have.
OnSIP offers a Bring Your Own Device (BYOD) policy for its customers, as long as the device adheres to the SIP RFC standards. The company does not sell phones directly to customers, but provisioned phones are available through a preferred partner. OnSIP also provides a 'boot server' that automatically configures Polycom, Panasonic, Cisco, Yealink, and Grandstream phones, as well as objective VoIP phone reviews of many devices on the market.
Support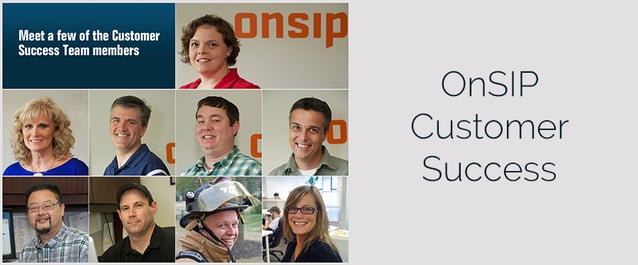 Vonage hosts a Support webpage that has links to account set up and maintenance articles and videos. Over the phone support is available weekdays, weekends, and via on-call after hours emergency support. They also offer live chat, support tickets/cases, and community forums.
OnSIP's Customer Success Team is located in Doylestown, PA. They hold an average caller wait time of 24 seconds per call, and a customer satisfaction rating of 96% (reported by Zendesk). When in need of support, OnSIP offers its customers live phone support, live chat, and support tickets/cases. The company also operates its own DIY Knowledgebase (with how-to videos) to assist customers with self-help support.
VONAGE is a registered trademark of Vonage, Inc. Vonage and its products/services are not affiliated with OnSIP or Junction Networks, Inc.