The following content was published on February 4th, 2016. Any new information since that date may not be included in this article.
OnSIP and MegaPath are two leading hosted VoIP service providers tailored for small- to medium-sized businesses. Though the services are similar in many ways, the two providers ultimately offer two unique phone systems.
In this blog, we continue our series of deep dive VoIP comparisons, putting OnSIP side by side with MegaPath to see how the two services stack up in terms of pricing, features, phones, and support.
Other VoIP Comparison blogs:
Pricing
MegaPath
MegaPath offers three pricing plans: Business Voice, Premium Business Voice, and Enterprise Voice. MegaPath charges users per phone, rather than per minute or per feature. All plans offer unlimited nationwide calling and come with over 50 standard features, such as Auto Attendants, Hunt Groups, and Advanced Call Fowarding.
Call Recording and international calling are included with the Enterprise Voice plan. MegaPath's unified communications platform comes free for a year, incorporating IM, Presence, Screen Share, SMS Text, Video Calling, and Softphone solutions for desktop, tablets, and smartphones. MegaPath has professional installation available for its hosted VoIP packages at extra cost.
OnSIP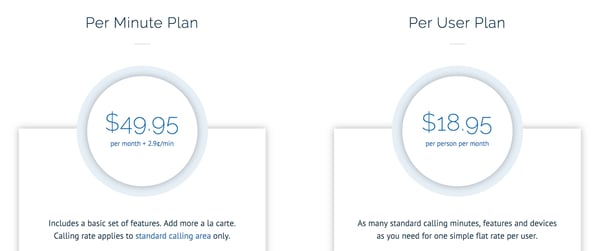 OnSIP has two pricing plans:
Per Minute Plan: The Per Minute Plan pricing allows you to pay for features and calls on a monthly basis. You can customize your account with this plan by building your own feature package: starting off with a basic set of popular business phone features at $49.95 per month, you can then add (and delete) additional features as needed. Calls cost 2.9 cents per minute (and 3.9 cents per minute for inbound calls to toll-free numbers). Extension to extension dialing, in-house calling, and SIP-to-SIP calls are all free. You won't be charged when adding users or phones on this plan; you simply pay for the calls that those phones make.
Per User Plan: The Per User Plan offers unlimited Standard Area Calling for $18.95 per person per month (the Standard Calling Area covers the continental U.S. and 14 other countries). This plan enables customers to set up an unlimited amount of calling features like voicemail boxes, groups, and auto attendants; additional features like conference suites and call queues can be bought a la carte. Call recording is also included in this plan.
Features
MegaPath and OnSIP both offer the features that have become standard in the hosted VoIP industry, including Auto Attendants, ACD Queues, Music On Hold, HD Voice, Conference Bridges, and Ring Groups.
OnSIP and MegaPath both offer video conferencing solutions, although they differ significantly in form. OnSIP's sayso offers instant voice and video calls at the click of a button. The sayso button can be placed on any webpage, and visitors simply click it to start an instant voice or video call with one of your employees. Operating right within the Internet browser itself, sayso doesn't require any downloads or plugins to run.
The OnSIP app is a free softphone that's available in the browser (Chrome, Firefox, and Opera), as a desktop app for Mac and Windows computers/laptops, and as a mobile app for iOS and Android. Free calls can be made to and from the PSTN, along with extension dialing and SIP to SIP calls. The OnSIP app is also integrated with OnSIP Enhanced Queues, offering instant video calling and call recording for sales agents in the Queue.
MegaPath offers a downloadable softphone with its Unified Communications suite. The package runs on desktops, tablets and smartphones. The softphone can make HD Voice and HD Video calls. It also has Presence, SMS (Texting), Video Meetings, and Screen Sharing.
OnSIP and MegaPath both offer advanced Queues that have Call Monitoring and Call Recording. But OnSIP also adds "Queue Call Barge" and "Queue Call Whisper" to its Enhanced Queue. MegaPath offers call recording for every call, while OnSIP only offers it for calls made in Enhanced Queues. MegaPath is also capable of receiving incoming fax messaging - though its service cannot send faxes.
OnSIP has a handful of other features that MegaPath lacks, including voicemail to email, Dial-by-name Directory, Alerts and Notifications, and Group Paging. With OnSIP's Zendesk integration, incoming calls are matched with existing Zendesk records, support tickets are automatically created, and agents can click to dial callers. OnSIP Zendesk integration is available through the Zendesk Apps Marketplace.
Phones
MegaPath's stocks all the phones that work with its service. You do not have to purchase the phones directly from MegaPath, but they do stock a phone store with all of the chosen models. The phone store offers a collection of Polycom, Cisco, and Panasonic phones. A modest phone comparison chart is offered for buyers to whittle down their decisions, but MegaPath's Learning Center has more extensive documentation for setting up the phones.
OnSIP operates with a Bring Your Own Device (BYOD) philosophy, meaning that it's up to the customer to choose which phone they want to use. There are no preset phone options - any phone that is RFC SIP compliant will work with OnSIP. Rather than stocking a phone store, OnSIP lets its customers purchase phones from third party vendors. OnSIP also maintains a comprehensive boot server to expedite the phone registration process, and a series of objective phone reviews to help customers make informed buying choices.
Support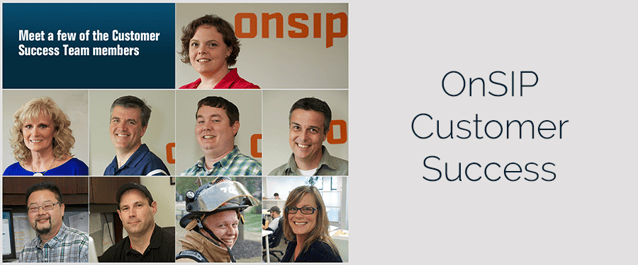 The OnSIP Customer Success Team is located in Doylestown, PA, and currently has a 99% satisfaction rating from Zendesk. The average wait time for callers stands at 16 seconds. The OnSIP Customer Success Team is an American Business Award winner for its outstanding support services in the software industry. Phone service hours are 9 am - 8 pm ET (Mon- Thurs) and 9 am - 6 pm ET (Friday). The Customer Success Team also operates a Knowledgebase with Do It Yourself support articles.
MegaPath offers phone-based support, DIY articles for its customers, and an online admin portal where support tickets can be filed at any time of the day. Like OnSIP, Megapath maintains a 'trust' page that displays the status of the MegaPath network, including historical records of past outages.
Conclusions
While MegaPath offers many of the same standard features as OnSIP, it lacks CRM integrations with third party applications and limits customers to using preselected phones. Additionally, MegaPath's Queue capabilities are not as robust as those of OnSIP. OnSIP also offers instant video in the browser and a free browser softphone. OnSIP has a Pay-As-You-Go pricing model that charges you for minutes and features instead of per seat.
On the other hand, MegaPath has call recording for all calls, whereas OnSIP only offers the feature for its Enhanced Queues. MegaPath also has the ability to receive fax messaging, but OnSIP has no online fax service. Finally, MegaPath has a Unified Communications app that incorporates many elements of the platform into a single interface.
Your decision will boil down to whether or not you want a phone system that has broad reach with third party platforms, BYOD freedom, and extra features, versus an option that offers call recording and a full Unified Communications interface.
Want more? Download our Business VoIP Providers Comparison guide.
MEGAPATH is a registered trademark of Megapath, Inc. Megapath and its products/services are not affiliated with OnSIP or Junction Networks, Inc.