In 2013, Jonathan Conant was busy establishing his law practice, the Conant Mediation Center. With two locations in Arizona, he needed a phone system that offered flexible options for his on-the-go staff and scalability for his growing firm. He considered hosted phone systems and selected OnSIP for his new service.
With OnSIP, he now has a business phone system that grows with his firm while providing advanced call capabilities for his dispersed staff. He can rely on the service to support his future plans for a third and fourth office in the state.
Jonathan's story shows how business VoIP services can be a smart choice for law firms. These services offer many capabilities that will support a firm's operations and compliment the competence of the staff.
Experienced Legal Counsel from Conant Mediation Center
Jonathan, an attorney with over 30 years of experience, specializes in mediation services such as adoptions, custody disputes, dissolutions. He started in Florida, where he gradually expanded his law practice to six locations with 20 employees. Later on, Jonathan moved the firm to Arizona and operated out of two locations. He also hired new staff members to assist him with his increasing case load.
Jonathan knew that with the expansion, he would have to replace his in-house Alltell phone system and looked at alternatives to those products. Cloud VoIP is especially adept at uniting multiple office locations and allowing staff members to seamlessly communicate with each other (even if they are at a client's location or in a courthouse). It also offers highly reliable service and a polished impression to callers. Cloud-based law office phone systems would give his law firm an important advantage in his new home.
Watch Jonathan tell his story in his own words:
OnSIP: A Versatile Law Office Phone System
Jonathan reviewed a variety of cloud VoIP providers in his research, including OnSIP. He took advantage of our 30-day free trial period to test out our service. During this time, he had full access to our web admin portal, and was able to make test calls, listen to call quality, and set up features like attendant menus and call recording rules.
Once he selected OnSIP for his firm's phone system, he chose our Pay-as-You-Go pricing plan, which allowed him to pay for his calls on a per-minute basis. For a business that has low or predictable call volume, this plan was an ideal choice to keep telephone costs down.
Another main reason why Jonathan chose OnSIP was our Pennsylvania-based Customer Success Team. Noting that he would "get emails or calls back at times I didn't expect, even on weekends," he became confident that OnSIP would work with him to ensure his phone system was successfully deployed.

Cloud Phone System Features for Law Firms
Lawyers have highly stressful, yet highly rewarding, careers, with expectations to be professional, judicious, and detail-oriented. Owners of law firms can turn to cloud phone systems to reflect this proficiency in their client communications. Consider how Jonathan uses his cloud VoIP phone system:
Jonathan utilizes business hour rules (BHR) to efficiently handle all incoming calls. Calls during regular business hours are addressed by in-house staff, while after-hours calls go straight to his voicemail. BHR allows you to set parameters that define where calls should be sent to based on the time and the day of the week.
Incoming calls are answered by an auto-attendant menu, a clear and simple recording that funnels callers to the appropriate departments. Accomplished by a pre-recorded announcement, attendant menus provide a polished first impression to callers and direct them to the right staff member without having to be manually transferred from department to department.
Finally, Jonathan takes full advantage of OnSIP's call forwarding capabilities. For example, he sends calls to his cell phone when he knows that he'll be working away from his office. Administered in our web Admin Portal, inbound call preferences can be changed in real-time. For instance, calls can go to voicemail after a specified time period, or they can be immediately sent to an external phone number.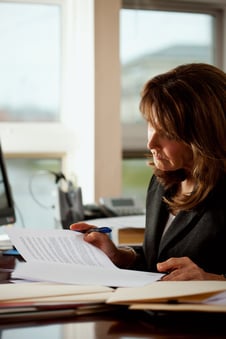 Law offices also find that these particular features can facilitate their day-to-day operations:
Record client calls to fulfill legal obligations. Most hosted VoIP providers offer call recording capability, where calls are stored in easily accessible admin portals or web storage services.
Utilize video conferencing to schedule face-to-face calls with clients, paralegals, and other lawyers as needed. Video calling is a staple of business VoIP providers, and the technology provides for HD audio and video calls, as well as screen sharing capabilities (in some cases). Video conferencing is typically built into a web-based user portal to maximize usability with the service's other features.
Simultaneous phone registration allows you to have multiple phone devices ring so that you get an incoming call wherever you are. For example, you can register multiple office phones (if you have more than one branch location), a home office phone, and a softphone app on your smartphone, and they will all ring at the same time. Just be careful: some VoIP providers charge on a per phone basis, so this can be a costly feature (you won't have to worry about that with OnSIP, however - we do not charge per device!)
Cloud VoIP: "It's so adaptable"
Jonathan chose OnSIP for the peace of mind in having a phone system that grows with his firm and adapts to his requirements. Making use of features such as conference bridges and call forwarding options, he is fully connected to his staff and his clients whenever his profession takes him away from the office.
Considering a cloud phone system for your law practice? Download our free guide on law office phone systems by clicking on the button below!