When Nicholas Hamner of Franklin Retirement Solutions needed to replace his company's aging phone system, he turned to cloud VoIP. As the Director of Marketing/Operations, he knew that a hosted phone system would provide his business with many benefits: lower costs, flexibility to add and remove phone features as needed, and remote working capabilities.
After conducting extensive research on hosted VoIP providers, he selected OnSIP for our comprehensive Unified Communications as a Service (UCaaS) platform. Equipped with our softphone app, the staff at Franklin Retirement Solutions stays connected to the office even when they are visiting clients at their homes.
Franklin Retirement Solutions presents a clear example of how other financial planning firms can take advantage of a cloud phone system. By setting up a useful piece of technology - cloud VoIP - firms can enhance and streamline their business operations in a variety of ways.

Financial Planning: In Person & Over the Airwaves
Franklin Retirement Solutions is an independent financial services firm located in Willow Grove, PA. The company specializes in retirement planning but also offers assistance in other financial services, such as tax preparation and estate planning. While staff members mostly work out of one office location, they can work remotely as needed. Agent representatives strive to provide a highly personalized level of service to their clientele, often traveling to a client's home for meetings. Employees also have the flexibility to work from their homes if inclement weather or an illness keeps them from coming into the office.
The company's President & Co-Founder, Peter Wechsler, along with his son, Jeremy Wechsler, Esq., host a weekly radio show, Retiring the R.I.T.E Way, and video series, Your Retirement Quarterback®. In these live shows, the pair analyze current financial news and provide financial planning tips. Listeners can even call into the show to have specific questions answered.
We had the opportunity to invite Nicholas to speak with OnSIP's CEO and Co-Founder Mike Oeth. Watch the video interview to learn more about Franklin Retirement Solutions and how they use OnSIP to support their daily operations:
Searching for an Affordable & Flexible Phone Service
Previously, Franklin Retirement Solutions was using a Nortel Norstar in-house PBX. As the company grew over time, they began to exceed the device's capacity. The hardware itself began to fail, forcing the company to have to perform costly and time-consuming repair work on aging parts. Furthermore, Nicholas knew that a newer, hosted phone system would be able to accommodate staff members when they needed to make in-home visits to clients.
He decided to replace their phone system altogether. "It was a choice of: we can try to repair this aging system that we're already at the limit [of], and there's no guarantee it's not going to break three months from now, or we can move to a new system, and that's what we chose to do," he observes.
Starting his search on Google, Nicholas found several cloud VoIP providers and requested price quotes from all of them. Ultimately, he chose OnSIP for a variety of reasons: affordability, flexibility to add and remove features as needed, and a comprehensive feature set. "The unification of voice, IM, and video channels gave us the ability to streamline our operations," notes Nicholas.
Cloud Phone System Benefits for Financial Services Firms
Franklin Retirement Solutions representatives strive to always be efficient and responsive to their clients. When it comes to phone calls, this means relying on OnSIP to provide a user-friendly and efficient calling experience. Here are some examples of how the Franklin Retirement Solutions team works more efficiently with OnSIP:
Staff members use our free softphone app to make and receive client calls right from their computers. The app, available on the web or as a desktop client, allows employees to call any phone number with as much ease and speed as if they were using a typical desk phone. It also offers video calling capabilities, voicemail access, and an array of other enterprise calling features. "App.onsip.com is great for phone calls and managing calls," says Nicholas.
Staff members also stay in touch with each other while on-the-go by using a mobile softphone app on their smartphones. The app enables them to make and receive calls with their OnSIP account instead of racking up personal phone bills. It also allows them to dial via extension and access the entire company directory, even if they are away from the office.
When both daytime receptionists are on the phone, an auto attendant menu helps professionally guide callers to their intended destinations. Callers can efficiently locate the person they wish to speak with by following the voice prompts on the phone menu.
Each week, people can have their personal questions answered on the weekly live radio show. Listeners can reach the hosts by dialing a phone number, or by clicking on a button on the show's website. These 'call' buttons are unique links that allow visitors to initiate a free voice or video call over the Internet, no phone required.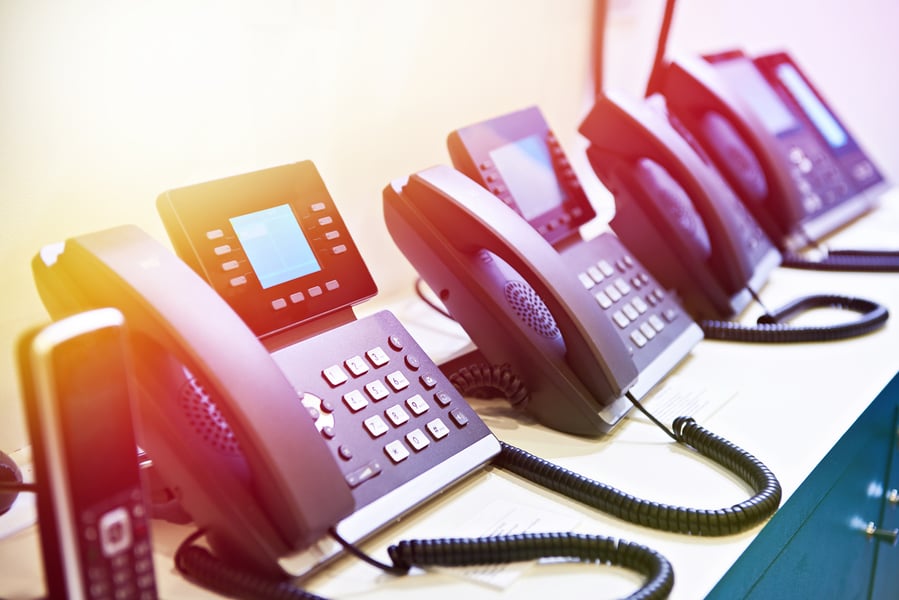 Cloud phone systems can also aid financial services firms in a variety of other ways:
Video calling and conferencing capabilities will help to strengthen relationships with clients. Employees can easily initiate a video conference call in our softphone app, and then invite external parties to join the call using only their internet browsers, no downloads required.
Business hour rules can help reduce abandoned calls during after-hours by routing them to different destinations. Calls during regular business hours can be answered by in-house receptionists or attendant menus, while after-hours calls can be sent to voicemail, third party answering services, or even an external cell phone.
Simultaneous phone registrations allow employees to answer incoming calls on multiple phones or devices. For instance, an employee can have an office desk phone, a home office desk phone, and a mobile softphone app all ring at the same time, no matter where s/he is working at the moment. Check with your VoIP provider to see what options are available— OnSIP supports up to 10 devices per user for free!
Cloud VoIP: A Valuable Tool for Financial Planning Firms
Financial services firms can gain many benefits from using cloud phone systems as a critical lifeline to their clients. Nicholas chose to go with OnSIP to provide the staff at Franklin Retirement Solutions with a variety of options for offering exceptional customer support and streamlining daily communications. He also has peace of mind knowing that OnSIP will easily scale as the firm continues to grow.
To learn more about how your team can benefit from using a cloud phone service, download our free guide below.