February 2018 Update: Yealink has fixed music on hold incompatibility in a firmware update, so mentions of that issue have been removed from the review.
Introduction
The Yealink SIP-T19P E2 is a redesign of an earlier model, the Yealink SIP-T19P, which is on its way to being discontinued. The newer model preserves the popular features of the legacy phone while expanding its capabilities and adding tweaks.
The Yealink SIP-T19P E2 is an entry-level device with better functionality than other similar low-cost options. The phone offers a single SIP line, with full call control functionality and HD codecs, making it ideal for low call volumes. This device would work well in a home office, a public waiting room, or any nonintensive calling environment.
First Impressions
The Yealink SIP-T19P E2 is a solidly designed device with button placements that make sense. The economical layout offers instant access to many of the most used features for business phones. The phone's screen is small but sharp and presents information clearly with little lag.
There are specific buttons for popular phone features, like redial, transfer, mailbox shortcut, speaker, mute, and headset. Four buttons are programmable, which allows users to customize their functions. The default functions include do not disturb (DND), phone directory, and call history. If you find that you need other functionality for the soft keys, such as intercom and paging, you can do so using the web interface.
The only minor oddity we noticed was that there is no built-in microphone on the body of the phone. If you use the speakerphone, the phone appears to use the handset as the audio input.
Features
The Yealink SIP-T19P E2 features the full SIP stack of the Yealink phone line. While the phone only accommodates one SIP line, it offers three-way conferencing and attended transfers, which are not found on most other entry-level phones on the market.
Other calling features include:
Call hold, mute, DND
One-touch speed dial, hotline
Call forwarding, call waiting, call transfers
Group listening
SMS
Redial, call return, auto answer
Local three-way conferencing
Direct IP call without SIP proxy
Ring tone selection/import/delete
Set date time manually or automatically
Dial plan
XML Browser, action URL/URI
Integrated screenshots
132 x 64 pixel graphical LCD screen
Anonymous calling, anonymous call rejection
As an upgrade, the phone now provides HD voice codecs, which wasn't always the case for Yealink's entry-level devices. The SIP-T19P E2 also features the full web UI functionality of other Yealink devices, which makes it very customizable. If your phone system has an uncommon feature or need, this phone may support it.
Voice Quality
The Yealink SIP-T19P E2's sound quality is decent, but if you need high voice quality in your conversations, you may be frustrated by the phone's slightly muffled sound.
In conversations with other SIP devices that also use the G.722 HD codec, the SIP-T19P E2 experienced a noticeable dip in sound quality. This did not make the phone unusable, just noticeably less clear. We found the sound quality to be not as good as more advanced phones from Yealink but still acceptable for everyday use.
Compatibility Testing
At OnSIP, we put each of the phones we use through a multi-step interoperability test in which we apply ~30 test cases. An example of a test case would be the following:
Test phone calls phone B


B picks up


B puts test phone on hold


B calls phone C


C picks up


B transfers test phone to C

Call must be transferred correctly to C. B must be released correctly after the transfer. When C picks up, audio must work both ways between test phone and C. When test phone is on hold, there is no audio between it and phone B.
The Yealink SIP-T19P E2 works exceptionally well with OnSIP. Transfers, hold, and conferences all work with our other test devices (Bria for OSX 4, Polycom VVX 410). The phone was able to navigate through all of our offered products such as queues, IVRs, and voicemail.
OnSIP Phone Registration
Step 1: Gather information for each user.
For each phone that you are configuring, obtain the following credentials. You can find this information in the user detail pages under the Users tab in the Phone Configuration section of the OnSIP admin portal.

Step 2: Log into your Yealink phone through a web browser.
When your phone is powered on and connected to your LAN, use a browser on the LAN to navigate to the IP address of the Yealink SIP-T19P E2.
Step 3: Enter Account Information.
Select the "Account" tab, navigate to "Register," and enter your account information.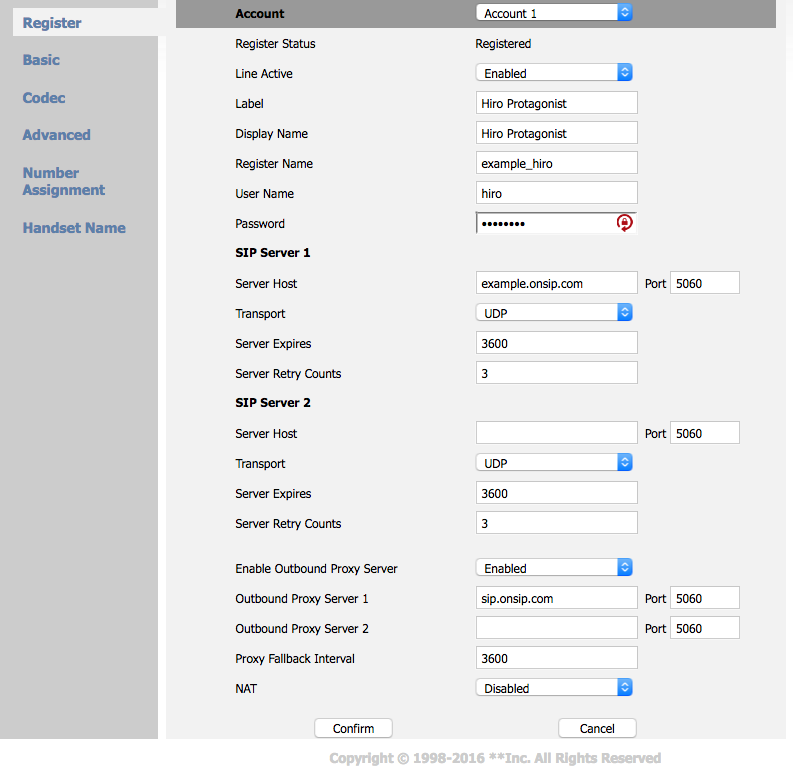 Account Active > Select "On"
Label > The soft key label for this line
Display Name > What you would like others to see when you call them
Register Name > "Auth Username"
User Name > "Username"
Password > "SIP Password"
SIP Server > "Domain"
Enable Outbound Proxy Server > Select "Enable"
Outbound Proxy Server > sip.onsip.com
Step 4. Confirm that your phone is registered.
In the admin portal, click on the "Users" tab. You will see a green "online" notation next to each user with a registered phone.
Final Thoughts
The Yealink SIP-T19P E2 is an excellent re-release of Yealink's entry-level phone. The market price makes it an economical device, and Yealink's reliable SIP software and phone functionality make it easy to use. The screen is better than comparable phones from Polycom and Grandstream, although the sound quality takes a noticeable dip. If you're looking for an easy deployment of single-line phones, this a solid option.