Summary
| | |
| --- | --- |
| Overall: | |
| Configuration: | |
| OnSIP Testing: | |
| Voice Quality: | |
| Ease of Use: | |
Quick Specs
Message waiting LED
LCD backlighting (blue/white)

Dedicated feature keys

Multi-language support
Pros
Great battery life
Up to 6 handsets supported
Dual handset/deskphone capabilities
Cons
Voice quality
Limited concurrent calls
VTech is a relative newcomer to the SIP business phone scene. They've had a long history of making wireless phones, so their release of a wireless DECT SIP phone seemed like a bit of a gimme.
We were lucky enough to be sent several VTech models, including the VSP600 ErisTerminal SIP DECT base station, as well as VSP601 cordless handsets and a VSP608 cordless deskset. The VSP608 is interesting because it only needs a power connection to operate, not an Ethernet connection.
We decided to conduct a review of all three products together to evaluate VTech's line of DECT SIP devices.
First Impressions
The VTech VSP600 base station is a well-designed piece of machinery. It's easy enough to pair handsets to the base unit and simple to configure. Thanks to an included wall mount, it's also easy to deploy.
The VSP601 feels like a good, if slightly dated, handset. The phone lacks the lovely color display of recent Yealink phones, and it certainly feels like what you'd get from a company known for consumer home products. There aren't a lot of options on the face of the phone, but it's still a fully functional device.
The VTech VSP608 is a bit unusual. The phone is designed to act as a desk phone but relies on DECT technology rather than an Ethernet connection. The ability to see your speed dial keys is nice, although you'll have to label them on the included piece of paper. This manual process may be a bit unwieldy if you change your speed dials frequently.
The buttons are a bit larger than those of most phones, and the font on the phone itself is easier to see than other desk phones. There can sometimes be a delay between pressing a key and seeing the phone acknowledge your input. Since the phone must communicate with the base station, however, this isn't unexpected. You might have a problem if you're used to instant responses from your desk phone.
Features
The VTech VSP600 features DECT 6.0 technology, allowing it to support up to six handsets. The base station also supports a host of business phone features, such as transfers, speed dial, three-way calling, and call hold. However, the unit can only support four simultaneous calls, so if you have a three-way call going on one handset, the other handsets can only have one other call at the same time.
With this in mind, trying to use one DECT unit to cover an office with five people won't provide you with the reliability your business needs. That's why we suggest DECT phones as a supplement to your existing solution.
The VSP601 handset claims to have a seven-day standby time. We didn't test it for a week, but we did leave one out for a few days and returned to find that the battery was still nearly halfway full. The range of the unit extends farther than we could reasonably test, and we didn't have any issues with drops or sound-quality deterioration in our usage.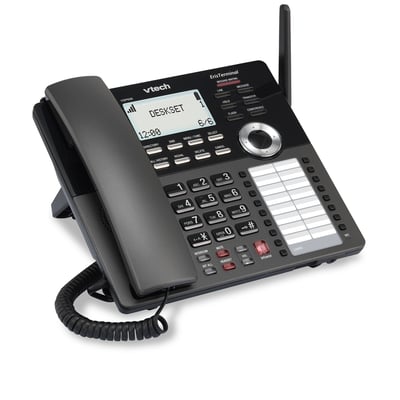 The VSP608 is designed to mimic a traditional desk phone, but it's curious that VTech didn't use designs from the ErisTerminal VSP700 series of phones. There seems to be a lack of design coherence in components such as the directional keypad or what buttons are represented on the face of the phone.
It's also odd that the VSP608 uses a rechargeable battery. Once the VSP608 is charged, you can unplug the phone, and it will allow you to speak for up to seven hours before running out of juice. This is really a unique feature for a DECT phone, giving you the ease and usability of a desk phone while also giving you the freedom of a handset.
Overall, the VSP600/601 and VSP608 have quite a few features in common. Here's a rundown on their basic overlap:
Call history up to 200 entries
Do not disturb (DND)
Three-way local conference
N-way network conference
External/internal call transfer between handsets
Intercom between handsets
Mute
Redial
Ten speed dial entries
Call transfer: blind/attended
Call hold
Call forwarding: per-line basis (busy/always/no answer)
Call timer (call duration)
Caller ID
Voice & Video Quality
Unfortunately, the sound quality is where the VTech VSP devices are lacking. They are decent enough to understand a caller, but you may find it difficult to use the phones after you've experienced the G.722 HD voice of other devices.
The audio was a bit tinny and hollow. This was a surprise since VTech got its start with wireless POTS phones. The sound quality isn't horrible, but it's not as clear as other non-DECT devices within the same price range.
Compatibility Testing
At OnSIP, we put each of the phones we use through a multi-step interoperability test in which we apply ~30 test cases. An example of a test case would be the following:
Test phone calls phone B


B picks up


B puts test phone on hold


B calls phone C


C picks up


B transfers test phone to C

Call must be transferred correctly to C. B must be released correctly after the transfer. When C picks up, audio must work in both ways between test phone and C. When test phone is on hold, there is no audio between it and phone B.
The VTech VSP600/601/608 excels at OnSIP's interoperability testing.
We found no major issues with the devices but one small oddity with the 601. When you have a call on hold, to retrieve the call you must press the "Flash" button to retrieve it rather than the "Hold" button.
OnSIP Setup & Phone Configuration
Step 1: Gather information for each user.
Each user has a set of credentials that you will need to configure each phone. For each phone that you are configuring, obtain the following:
"SIP Address" (Address of Record)
"SIP Password"
"Auth Username"
"Username"
"Proxy/Domain"
You can find this information in the user detail pages under the "Users" tab in the "Phone Configuration" section.
Step 2: Log into your VTech phone through a web browser.
When your phone is powered on and connected to your LAN, use a browser to navigate to your phone's IP address. You can locate your phone's IP address by selecting the following on your VTech phone: Menu > 2. Status > 1. Network > IP.
The factory default user name for the phone is "admin," and the factory default password is "admin."
Step 3. Enter your user information from Step 1.
Navigate to the General Account Settings section in the web portal: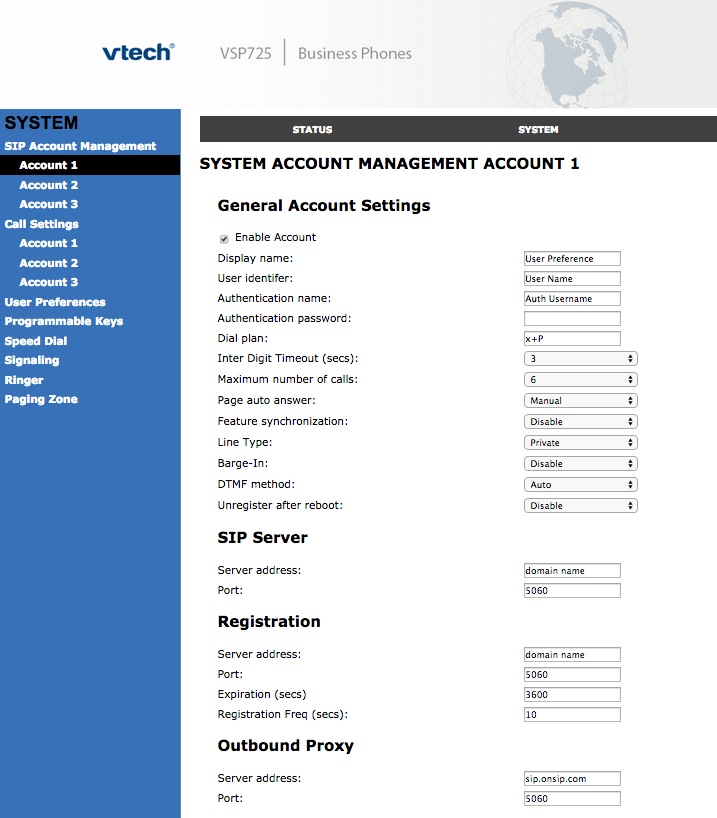 Check "Enable Account" check box. Enter your OnSIP credentials in the appropriate fields:
General Account Settings

Display Name: Whatever You Like
User Identifier: Username
Authentication Name: Auth Name
Authentication password: SIP Password
SIP Server
Server Address: example.onsip.com
Port: 5060
Registration
Server Address: example.onsip.com
Port: 5060
Outbound Proxy
Server Address: sip.onsip.com
Port: 5060
Press "Save" when you are finished.
Final Thoughts
We would classify the VTech VSP600/601 and VSP608 as solid DECT phones with great battery life, particularly the VSP601. The wireless VSP608 is especially unique, given that it has a rechargeable battery and can convert between a handset and a desk phone. It was also interesting that the phone could operate without a direct Internet connection. We haven't reviewed any phones like this in the past, and the added flexibility is certainly a good thing.
These phones don't have the greatest sound quality but are decent enough for the price point. As we stressed above, we would not recommend using the VTech VSP600/601 or VSP608 as the primary phones in your office. These devices are great as supplements, but due to the concurrent call limitations, they probably can't function as a complete phone solution for your business.