Summary
| | |
| --- | --- |
| Overall: | |
| Configuration: | |
| OnSIP Testing: | |
| Voice Quality: | |
| Ease of Use: | |
Quick Specs
Dual Ethernet ports: 10/100 Mbps

Base power: AC adaptor (optional) and Class 2 PoE

158 x 57 pixels LCD resolution, w

hite backlight
3 soft keys, 2 programmable feature keys

Message waiting LED indicator
Pros
Dual 10/100 Ethernet ports
PoE
G.722 codec
Cons
Small screen
Loudspeaker quality
The VTech VSP715 is an entry-level phone from VTech. It can register up to two SIP accounts and can be powered with PoE or an optional AC adaptor. The deskphone also has 10/100 dual Ethernet ports and supports the G.722 voice codec for HD quality calling.
As part of our VoIP Phone Reviews program, we have looked at many basic desk phones in the past. To see how the VTech VSP715 fared against other popular brands and models, we conducted the following review to evaluate the phone's design, features, compatibility, and more.
First Impressions
The VSP715 has a small monochrome LCD display with a white backlight and 158 x 57 resolution. The small screen can make it quite tough to use, especially when handling multiple calls. You can't see all of the lines in the default screen, so you need to use the buttons underneath to switch between lines. The phone was easy to register, and we had no issues with making basic calls.
The phone comes with two programmable keys, which gives users the flexibility to customize them for different functions. However, these buttons are not labeled, which might cause some confusion when using the phone for the first time.
Navigating the phone menu can also be tricky, as the design of the VSP715 is slightly different from the industry standard. Whereas other models have the "select" button in the middle of the navigation keys, the "select" button is located underneath and to the left of the navigation keys on the VSP715.
Features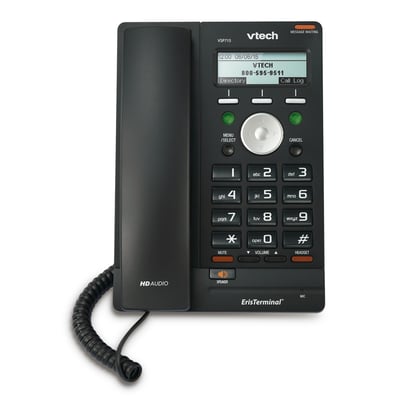 The VTech VSP715 comes with two programmable keys, as well as three soft keys below the LCD screen and a four-way navigation pad. There is a message waiting indicator for voicemail messages, and missed calls and forwarded calls are also displayed on the screen.
The VSP715 can register up to two SIP accounts, and each line can handle up to two calls each. To switch between calls, you will need to use the keys we mentioned earlier. The phone also comes with a few troubleshooting tools, including syslog, a network trace function, and call logs.
Additional features of the VSP715 include:
Local phonebook of up to 200 entries
Phonebook import/export
Call history up to 200 entries
Do not disturb (DND)
Busy lamp field (BLF)
Three-way local conferencing
Call barring/blocking (block anonymous callers/blacklist)
Intercom, mute, redial
Ten speed dial entries
Call transfer (blind or attended)
Call hold, call park, call pickup
Call forwarding (per-line basis)
Caller ID
Multicast paging
Multi-language support
Automatic call distribution (ACD)
Voice & Sound Quality
The VTech VSP715 supports several voice codecs, including G.722, or HD voice. However, we found during our testing that the sound quality on the loudspeaker was less than stellar.
Compatibility Testing
At OnSIP, we put each of the phones we use through a multi-step interoperability test in which we apply ~30 test cases. An example of a test case would be the following:
Test phone calls phone B


B picks up


B puts test phone on hold


B calls phone C


C picks up


B transfers test phone to C

Call must be transferred correctly to C. B must be released correctly after the transfer. When C picks up, audio must work both ways between test phone and C. When test phone is on hold, there is no audio between it and phone B.
The VTech VSP715 passed all internal testing, including account registration and call scenarios.
OnSIP Setup
Step 1: Gather information for each user.
Each user has a set of credentials that you will need to configure each phone. For each phone that you are configuring, obtain the following:
"SIP Address" (Address of Record)
"SIP Password"
"Auth Username"
"Username"
"Proxy/Domain"
You can find this information in the user detail pages under the "Users" tab in the "Phone Configuration" section.
Step 2: Log into your VTech phone through a web browser.
When your phone is powered on and connected to your LAN, use a browser to navigate to your phone's IP address.
The factory default user name for the phone is "admin," and the factory default password is "admin."
Step 3. Enter your user information from Step 1.
Navigate to the General Account Settings section: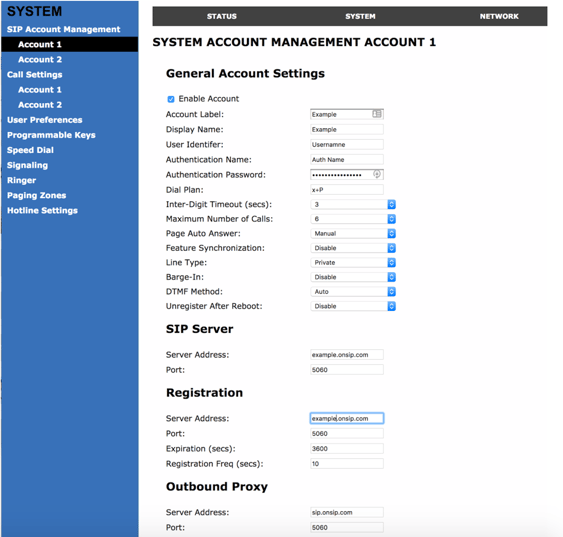 Check "Enable Account" box. Enter your OnSIP credentials in the appropriate boxes:
Display Name: Whatever You Like
User Identifier: Username
Authentication Name: Auth Name
Authentication password: SIP Password
SIP Server
Server Address: example.onsip.com
Port: 5060
Registration
Server Address: example.onsip.com
Port: 5060
Outbound Proxy
Server Address: sip.onsip.com
Port: 5060
Press "Save" when finished. Your VTech VSP715 phone will now be activated.
Final Thoughts
The VTech VSP715 is a reasonably priced phone that can perform basic call functions. You have the option to charge the phone with the built-in PoE or use an AC adapter. However, the voice quality on the speaker was not very good, and the aesthetics of the phone could have been more thoughtfully designed. In particular, we found it odd that the number keys are so large while the screen is so small.
As such, we would not recommend this phone for heavy phone users. If you're looking for a desk phone within this price range, we would suggest an entry-level Grandstream phone instead.