The following content was published on December 9th, 2015. Any new information since that date may not be included in this article.
If you're shopping around for hosted PBX providers, you've probably come across ShoreTel Sky and OnSIP. What are the differences between the two companies? We put them side by side and did a VoIP comparison to find out.
(Note: The info for this blog was gathered from ShoreTel Sky's website and conversations with its sales team.)
Other OnSIP Comparison blogs: OnSIP versus Jive VoIP Comparison, OnSIP versus 8x8 VoIP Comparison, OnSIP versus Nextiva VoIP Comparison.
Pricing
ShoreTel Sky Pricing
ShoreTel Sky offers its standard "Full Managed Profile" at $40 a month per seat, with the discounted total set at $32 per seat. The Full Managed Profile comes with unlimited local and nationwide long distance calling. A group of preset features such as an Auto Attendant, an ACD queue, and caller ID are included among a package of some 80 features with the Full Managed Profile. The features come in bulk, and cannot be customized.
Setup and Bandwidth
ShoreTel Sky may charge activation fees per seat depending on what plan (hosted, onsite, hybrid) you use. ShoreTel Sky requires users to purchase managed broadband service from pre-approved service providers in order for the service to run. They include:
ShoreTel Sky Managed T1s/Ethernet
ShoreTel Sky Private MPLS T1s/Ethernet
This managed bandwidth solution comes with additional fees. OnSIP does not require users to purchase managed bandwidth. OnSIP's VoIP traffic is sent across the open internet, and includes NAT and firewall traversal.
OnSIP Pricing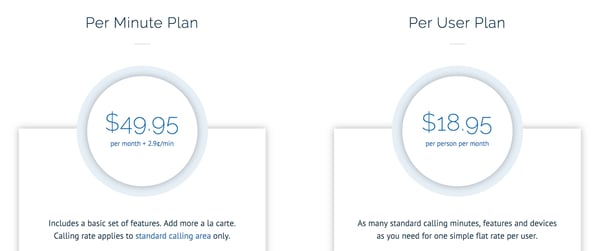 OnSIP has two paid pricing plans:
Per Minute Plan: The Per Minute Plan pricing allows you to pay for features and calls on a monthly basis. You can customize your account with this plan by building your own feature package: starting off with a basic set of popular business phone features at $49.95 per month, you can then add (and delete) additional features as needed. Calls cost 2.9 cents per minute (and 3.9 cents per minute for inbound calls to toll-free numbers). Extension to extension dialing, in-house calling, and SIP-to-SIP calls are all free. You won't be charged when adding users or phones on this plan; you simply pay for the calls that those phones make.
Per User Plan: The Per User Plan offers unlimited Standard Area Calling for $18.95 per person per month (the Standard Calling Area covers the continental U.S. and 14 other countries). This plan enables customers to set up an unlimited amount of calling features like voicemail boxes, groups, and auto attendants; additional features like conference suites and call queues can be bought a la carte. Call recording is also included in this plan.
Features
OnSIP and ShoreTel Sky both offer features that have become staples of the hosted PBX market. Each service has auto attendants, ring groups, dial-by-name directories, conference bridges, ACD queues, HD voice, call parking, and call forwarding as part of their platforms.
One of the greatest differences between OnSIP and ShoreTel Sky is the way they handle the hardware that runs their services. OnSIP is an entirely "hosted" solution that does not require customers to purchase hardware outside of the phones themselves. ShoreTel Sky offers three solutions: hosted, onsite, and hybrid. Onsite ShoreTel Sky systems require physical hardware such as servers to be stored on your property - and may delegate some of the maintenance work off to you. Hybrid solutions combine both hosted and onsite features.
OnSIP and ShoreTel Sky both operate geographically redundant servers. OnSIP maintains data centers in New York and Los Angeles to hedge against unforseen circumstances at any given location. ShoreTel Sky stretches its servers across Dallas and Chicago. This is why OnSIP and ShoreTel Sky continue to have some of the best service uptimes in the entire VoIP industry.
OnSIP and ShoreTel Sky both offer call monitoring, call barging, and call whispering within their respective ACD queues at an additional cost. Each company has voicemail-to-email conversion, although ShoreTel Sky does have its own voice-to-text conversion. OnSIP has open APIs that can be used by developers to build instant voice and video chats and customized CRM. ShoreTel Sky offers Microsoft Outlook integration for email clients.
OnSIP offers in-browser calling solutions such as sayso and the OnSIP app. Installing the sayso button on your company's website allows visitors to engage in video or voice calls with one of your staff members using only their Internet web browsers, with no downloads or plugins required. Your customers can choose a department they'd like to speak to and quickly start up a conversation with a representative with just a mouse click.
The OnSIP app is available in the browser (Chrome, Firefox, and Opera), on desktop for Mac and Windows computers/laptops, and on mobile for iOS and Android. With the apps, users can make/receive voice and video calls, host small group video conference calls, listen to and delete voicemails, chat with coworkers, view their presence statuses (and set his/her own as well), and more.
ShoreTel Sky has its own form of video calling, included in the ShoreTel Sky Communicator, which offers presence, instant messaging, voice chat, video chat, and screen sharing. ShoreTel Sky offers call recording and online faxing for additional fees.
Phones
ShoreTel Sky offers phones and phone rentals to its customers. The standard phone that comes with each Full Managed Profile is a ShoreTel IP Phone 480. The regular price for each rental is listed at $5 dollars, but the effective rate is free, given the monthly discount. Customers who implement the ShoreTel IP Phone 480 will not be able to use the device with other services. ShoreTel also offers several of its own branded phones for purchase in its product store (such as the ShoreTel IP420 and the ShoreTel IP 485g).
OnSIP offers a Bring Your Own Device (BYOD) policy, and does not sell or rent phones to customers. Customers are given total leeway in what phones they wish to employ with OnSIP's service. This means that OnSIP customers can purchase phones that will work with other phone services, ensuring that they are never 'locked' into the devices that they choose. OnSIP works with any SIP phone that follows the SIP RFC standards. It has its own boot server for Polycom, Panasonic, Cisco, Yealink, and Grandstream phones to expedite the registration process. OnSIP also maintains its own objective phone reviews.
Support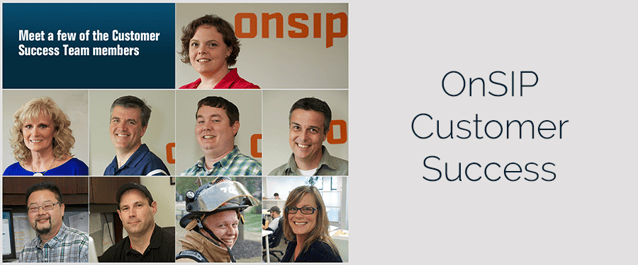 OnSIP's Customer Success Team is located in Doylestown, Pennsylvania. According to Zendesk, the customer satisfaction rating for the OnSIP Customer Success Team hovers around 99.9%. The Success Team offers an average customer waiting time of 16 seconds per call. OnSIP CEO Mike Oeth still answers at least one support call per day, in order to stay in touch with customer issues. Phone hours are from 9 am - 8 pm ET (Mon- Thurs) and 9 am - 6 pm ET (Friday). OnSIP also sends out network alerts and maintains a "trust" page to keep track of service disruptions.
ShoreTel Sky Support is based in the US. It offers up-to-date Knowledgebase articles and support forums for customers, in addition to over-the-phone help. ShoreTel Sky also maintains its own "trust" page to keep customers apprised of its Net Promoter Score (NPS).
Want more? Download our Business VoIP Providers Comparison Guide.
SHORETEL SKY is a registered trademark of ShoreTel Sky, Inc. ShoreTel Sky and its products/services are not affiliated with OnSIP or Junction Networks, Inc. OnSIP believes the statements made in this post to be accurate as of the publish date of this post.