Written by Joe De Bari, Lead of Marketing Communications at OnSIP. The following content was last updated on September 21, 2018. Any new information since that date may not be included in this article.
OnSIP and Jive are hosted VoIP providers that offer businesses easy-to-use cloud phone systems. Both companies have built their platforms from the ground up. While there's plenty of overlap between the providers' feature sets, the companies ultimately offer distinct advantages.
This is a deep dive VoIP comparison of how OnSIP and Jive hold up on pricing, features, phones, and support. Most of the information is freely available on Jive's website. Other information was gathered in conversations with Jive's sales team.
Pricing
Jive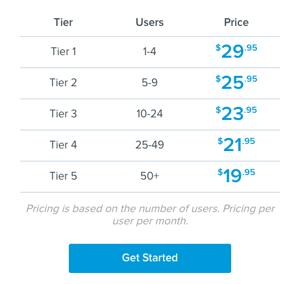 Jive charges customers monthly on a tiered per seat basis. 1-4 seats costs $29.95 per seat; 5-9 seats costs $25.95 per seat; 10-24 seats costs $23.95 per seat; 25-49 seats costs $21.95 per seat; and 50-99 seats costs $19.95 per seat. Special pricing is available for businesses with over 100 seats. These tiers offer unlimited domestic calling and a suite of features. International calls to 52 countries are free; calls to other locations are charged at separate rates.
The features set included with each Jive seat covers mainstays such as auto attendants, voicemail boxes, ring groups, call queues, and conference bridges. As Jive was recently acquired by LogMeIn, the company is currently offering a promotion where customers get a GoToMeeting Pro License included with every Jive seat.
OnSIP

OnSIP offers 2 paid pricing plans:
Per Minute Plan: The Per Minute Plan pricing allows you to pay for features and calls on a monthly basis. You can customize your account with this plan by building your own feature package: starting off with a basic set of popular business phone features at $49.95 per month, you can then add (and delete) additional features as needed. Calls cost 2.9 cents per minute (and 3.9 cents per minute for inbound calls to toll-free numbers). Extension to extension dialing, in-house calling, and SIP-to-SIP calls are all free. You won't be charged when adding users or phones on this plan; you simply pay for the calls that those phones make.
Per User Plan: The Per User Plan offers unlimited Standard Area Calling for $18.95 per person per month (the Standard Calling Area covers the continental U.S. and 14 other countries). This plan enables customers to set up an unlimited amount of calling features like voicemail boxes, groups, and auto attendants; additional features like conference suites and call queues can be bought a la carte. Call recording is also included in this plan.
Features
OnSIP and Jive both offer hosted PBX features that have become standard in the market. Each company has auto attendants, call parking, ring groups, Music on Hold, voicemail to email, call queues, conference bridges, HD voice, and call forwarding as part of their platforms.
Both companies are well known for their geographic redundancy. OnSIP operates data centers on the East and West coasts—an architected platform that has been patented by the U.S. Patent and Trademark Office. Jive operates over 10 data centers that are distributed around the world.
OnSIP and Jive both offer call analytics and call tracking with their services. OnSIP's Enhanced Queue is an advanced call queue that allows supervisors to monitor queue calls in real-time and generate performance reports that can be exported as .CSV files. Enhanced Queues also allow for call barge (burst into conversation), call whisper (speak only to your call agent), and call monitor (listen without customer or call agent knowing). Jive offers the same features and abilities with its Contact Center package.
Jive has online faxing with a service they call Virtual Fax. It is included on all plans at no additional cost. The feature lets you send and receive unlimited faxes, as well as view faxes right from your email.
OnSIP offers sayso, a unique web calling solution in the business VoIP marketplace. Placing the sayso button on your company's website allows visitors to engage in video or voice calls with one of your staff members using only their Internet web browsers, with no downloads or plugins required. The button is made possible through a snippet of code automatically generated in the OnSIP Admin Portal.
The OnSIP app, a free softphone available for all OnSIP users, is a complete desk phone replacement. With this app, users can make and receive calls to and from the Public Switched Telephone Network (PSTN), video call coworkers, host video conference calls with up to five participants, listen to and delete voicemail, and much more. The OnSIP app is available in the browser (Chrome, Firefox, and Opera), on desktop for Mac and Windows computers/laptops, and on mobile for iOS and Android devices.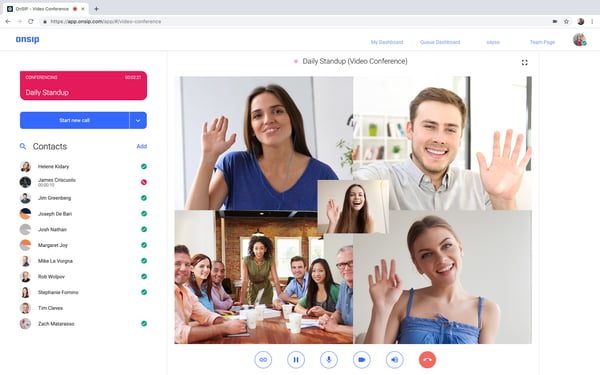 Jive provides a variety of applications that let their customers use the service on any device. Their mobile and desktop applications, as well as an in-browser interface, offer calling, coworker chat and Presence statuses, and even enable sending text messages to your contacts.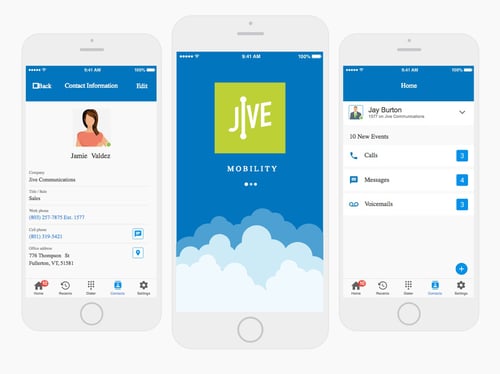 Phones
Jive sells phones to new customers at discounted rates. The company offers a wide variety of desk, conference, cordless, and executive phones from brands such as Polycom, Cisco, Panasonic, and VTech. VoIP phones purchased from Jive arrive preconfigured with a user's extension and other pertinent account information.
OnSIP operates a Bring Your Own Device (BYOD) policy and does not sell phones to customers, although the company does offer provisioned phones through a preferred partner. OnSIP does offer a 'boot server' to its customers that automatically configures Polycom, Panasonic, Cisco, Yealink, and Grandstream phones. But, any phone that follows the SIP RFC standards will work with the service. OnSIP also maintains its own section of objective phone reviews to help users find the right device.
Support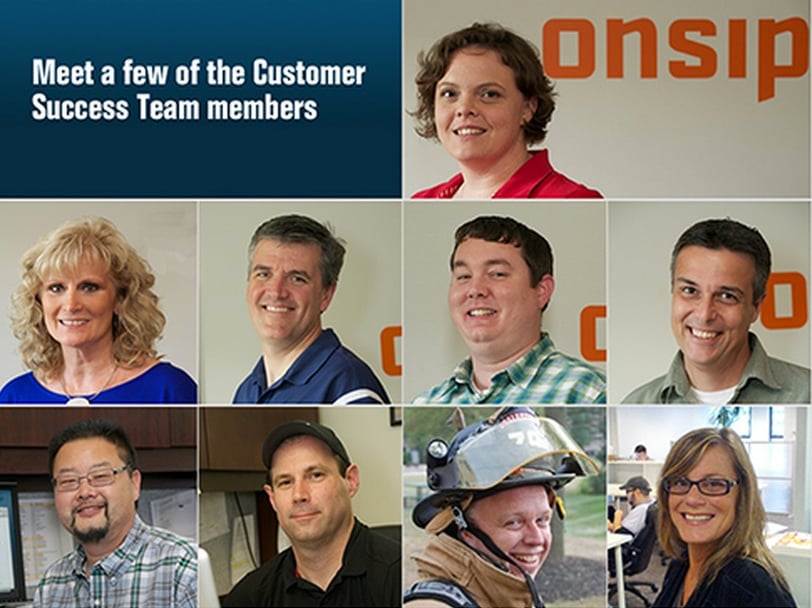 OnSIP's Customer Success Team is located entirely in Pennsylvania. It currently holds an average caller wait time of 24 seconds per call. The team's customer satisfaction rating hovers around 96% (according to Zendesk statistics). Customers can contact the company for ongoing support through live phone calls, emails, live chat, support tickets, and an online Knowledgebase. OnSIP's CEO and Co-Founder Mike Oeth answers at least one support call per day, in order to stay up-to-date with issues that customers are facing.
Jive's Support is available 24 hours a day, 7 days a week through mediums such as calls, emails, live chat, and a web support center. With the company headquartered in Utah, they also employ staff throughout the U.S., Canada, and Latin America. Like OnSIP's Knowledgebase, Jive hosts a full library of articles for DIY support issues.
JIVE is a registered trademark of Jive, Inc. Jive and its products/services are not affiliated with OnSIP or Junction Networks, Inc. OnSIP believes the statements made in this post to be accurate as of the publish date of this post.