The following content was published on January 6th, 2016. Since then, Fonality was acquired by NetFortris. Any new information since this post's publication date may not be included in this article.
OnSIP is a purely hosted PBX solution in the sense that the equipment used to route calls from one phone to another is maintained entirely by the service provider. Fonality offers its own hosted PBX service - but it also has a hybrid PBX solution that requires you to purchase hardware that must be maintained on-premise.
What solution is right for you? We did a VoIP comparison between OnSIP and Fonality, judging each company in terms of pricing, features, phones, and support.
(Note: All information regarding Fonality was taken from the company's website).
Pricing
Fonality
Fonality's pricing is set by three packages: Essentials, Professional, and Ultimate. The pricing is tiered between 1 to 4 employees; 5 to 15 employees; 16 to 100 employees; and over 100 employees (which comes with customized pricing and features). The Essentials package offers a collection of standard business phone system features (ACD queues, ring groups, etc.), while the Professional package offers softphone usage and CRM integration. The Ultimate package comes with voicemail transcription, advanced call center agents, and HD video collaboration with screen sharing.

For a Professional, 1 to 4 employees comes in at $34.99 per user per month; 5 to 15 employees clocks in at $29.99 per user per month; and 16 to 100 employees is set at $24.99 per user per month. The Essentials plan is $5 cheaper than the Professional plan, and the Ultimate plan is $15 more expensive than the Professional plan.
Fonality's service plans offer unlimited Public Switched Telephone Network (PSTN) minutes. However, there are restrictions on autodialing, continuous or extensive call forwarding, virtual extensions for regular business use, continuous connectivity, and fax broadcast. In these cases, Fonality reserves the right to invoice customers for minutes that it deems excessive.
OnSIP

OnSIP offers two paid pricing plans (one covers unlimited calling and the other is for pay as you go usage) as well as a free plan for our website video calling feature:
Unlimited Plan: The Unlimited Plan offers unlimited Standard Area Calling for $18.95 per person per month (the Standard Calling Area covers the contiguous U.S. and 16 other countries). This plan enables customers to set up an unlimited amount of calling features like voicemail boxes, groups, and auto attendants; additional features like conference suites and call queues can be bought a la carte. Call recording is also included in this plan.
Basic Plan: The Basic Plan allows you to pay for features and calls on a monthly basis. You can customize your account with this plan by building your own feature package: starting off with a standard set of popular business phone features at $49.95 per month, you can then add (and delete) additional features as needed. Calls cost 2.9 cents per minute (and 3.9 cents per minute for inbound calls to toll-free numbers). Extension to extension dialing, in-house calling, and SIP-to-SIP calls are all free. You won't be charged when adding users or phones on this plan; you simply pay for the calls that those phones make.
sayso Website Chat Plan: OnSIP's innovative sayso Website Chat Plan lets you use sayso, our website voice and video chat solution, for free! Once you add sayso to your website, site visitors can click on a call button to quickly start a voice or video call with one of your business representatives right through the browser window—no phones needed. The call occurs within the browser and entirely over the Internet.
All OnSIP plans have a 30-day free trial period.
Features
OnSIP and Fonality both come with features that have become hosted PBX standards. Auto Attendants, Ring Groups, Dial-by-Name Directories, Conference Bridges, Music on Hold, and HD voice are all offered by both companies. The finer distinctions between the platforms come in the domain of streaming video, CRM integrations, and on-site hosting.
Fonality offers a hybrid solution that combines elements of hosted and on-premise PBX to give customers more technical control over their phone system. Fonality's hybrid solution requires that customers house external servers in their office place, which are available for purchase in the Fonality phone store. Hybrid PBX customers retain control over call security, automatic default failovers, and call control. However, the user and administrative control panels are housed on Fonality's servers. OnSIP, on the other hand, maintains a completely hosted solution. All phone system elements, including hardware, are managed offsite by OnSIP.
Fonality's Heads Up Display feature combines screen sharing and live video to immerse participants in a video conferencing solution that connects up to 25 people. Participants can access Heads Up Display from a computer, phone, or tablet. The goal is to have participants conference with each other as if they were standing in the same room.
One of OnSIP's signature features, sayso is a unique web calling solution in the business VoIP market. Installing the sayso button on your company's website allows visitors to engage in video or voice calls with one of your staff members using only their Internet web browsers, with no downloads or plugins required. Your customers can choose a department they'd like to speak to and quickly start up a conversation with a representative with just a mouse click.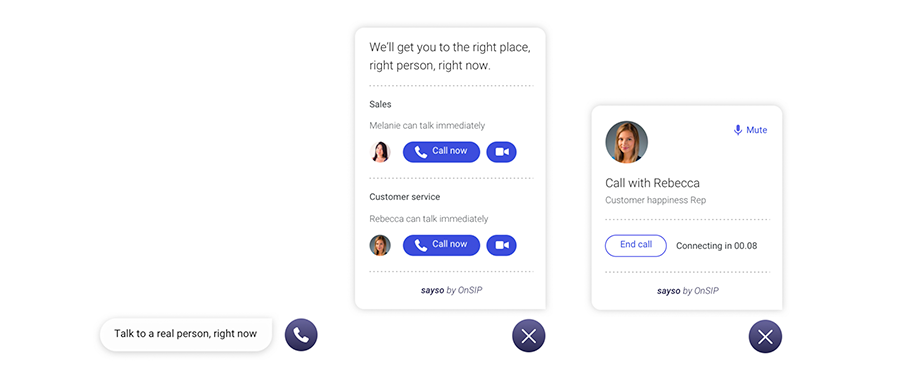 OnSIP provides a free business softphone to all of its customers. The OnSIP app is available in the browser (Chrome, Firefox, and Opera), on desktop for Mac and Windows computers/laptops, and on mobile for iOS and Android. With the apps, users can make/receive voice and video calls, host small group video conference calls (web and desktop app only), listen to and delete voicemails, chat with coworkers, view their presence statuses (and set his/her own as well), and more.
Fonality offers a proprietary softphone as part of its Professional and Ultimate packages. The softphone is downloaded and installed as an extension with the web browser. The Fonality softphone offers audio calls, but does not support video calls.
OnSIP and Fonality both offer CRM integrations with Salesforce. Fonality CRM Link for Salesforce offers click-to-dial, incoming call screen pops, integrated dialpad, auto call logging, and in-browser operability. OnSIP Zendesk integration streamlines the customer support process. Pop ups notify support representatives of incoming calls, tickets are automatically created on new inbound calls, and incident numbers are displayed instantly.
Both services offer voicemail to email capabilities, but only Fonality offers voicemail to SMS. OnSIP and Fonality each have call whisper, call barge, and call monitoring as part of their enhanced ACD queue solutions.
Phones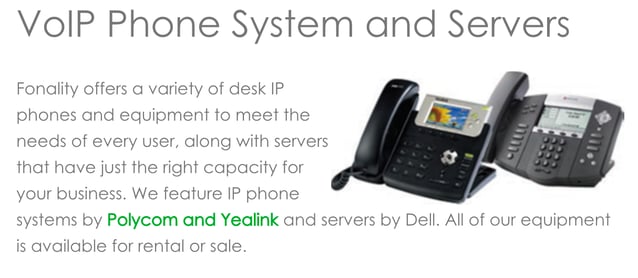 Fonality offers Polycom and Yealink VoIP phones for sale or rental in its company store. Dell Servers are also available for customers of Fonality' hosted/on-premise hybrid solution. Additionally, specified Polycom and Yealink phones can be purchased outside of the Fonality store for usage. Phone rebates are given to new customers to lessen startup costs.
OnSIP offers a Bring Your Own Device (BYOD) policy, meaning that customers are free to bring any SIP phone to its service: All phones that comply with the SIP RFC standard will work with OnSIP. OnSIP does not operate its own phone store, but it does offer provisioned phones through a preferred partner. The company also maintains a bootserver for Panasonic, Yealink, Cisco, Polycom, and Grandstream phones.
Support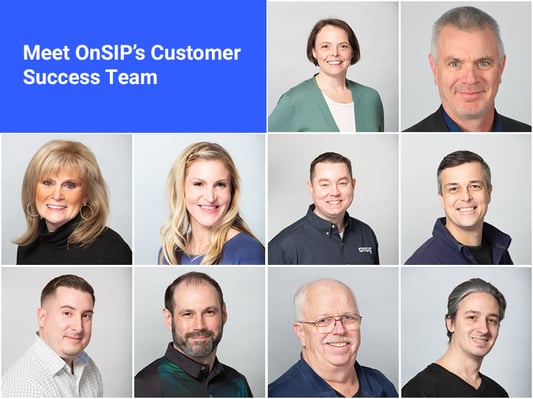 OnSIP's Customer Success Team operates out of Doylestown, Pennsylvania. The average wait time for a support call hovers around 22 seconds. Customers have given the OnSIP service a 4.5/5 TrustScore rating on Trustpilot. Additionally, the company manages a Do It Yourself Knowledgebase of informative support articles and videos for customers.
Fonality offers 24/7 phone support. It maintains a section of DIY articles for first time setup and troubleshooting. Fonality also has live phone system training via webinar, in addition to informational YouTube videos. Like OnSIP, Fonality maintains a "trust" page that keeps a comprehensive view of all service disruptions.
FONALITY is a registered trademark of Fonality, Inc. Fonality and its products/services are not affiliated with OnSIP or Junction Networks, Inc. OnSIP believes the statements made in this post to be accurate as of the publish date of this post.