The following content was published on May 5th, 2016. Any new information since that date may not be included in this article.
Jive Contact Center, Jive Contact Center Pro, and OnSIP Enhanced Queues are all leading call center solutions. Each service offers call supervision, music on hold, and Automatic Call Distribution (ACD). There are, however, important distinctions that separate the three services from each other.
This is a deep dive comparison between Jive Contact Center, OnSIP Enhanced Queues, and Jive Contact Center Pro for pricing, features, phones, and support.
Pricing
Jive Contact Center
The Jive Contact Center package automatically comes with each Jive seat. The cost of Jive Contact Center depends on which Jive package you choose to purchase. Jive charges users monthly on a tiered per device basis. 1-4 users costs $29.95 per device; 5-9 users costs $25.95 per device; 10-24 users costs $23.95 per device; 25-49 users costs $21.95 per device; and 50-100 users costs $19.95 per device.

The Jive Contact Center Pro package costs $99 dollars per user per month. The most expensive Jive voice package is $29.95 per month, about $68 dollars cheaper than the Contact Center Pro package. That means the exclusive features in the Pro package will cost at least $60 more per seat per month.
OnSIP Enhanced Queues
OnSIP Enhanced Queues cost $14.95 per user per month, and can be added to any OnSIP seat. Pricing for OnSIP seats comes in Pay-As-You-Go, Per Seat Metered, and Per Seat Unlimited.

The Pay-As-You-Go plan charges you per minute and per feature. Calls are billed at $3.2 cents a minute, and features are purchased on an a la carte basis. The features minimum is $49.95 per month. Voicemail Boxes, Auto Attendants, and Ring Groups come prepackaged with the Pay-As-You-Go plan.
The Per Seat Metered plan costs $8.95 per month and $3.2 cents per minute. The Per Seat Unlimited plan costs $24.95 per month and comes with unlimited minutes. Both plans come with a Voicemail Box, an Auto Attendant, Music on Hold, and other leading features.
Read our VoIP Comparison for Jive versus OnSIP for more information on OnSIP pricing.
Features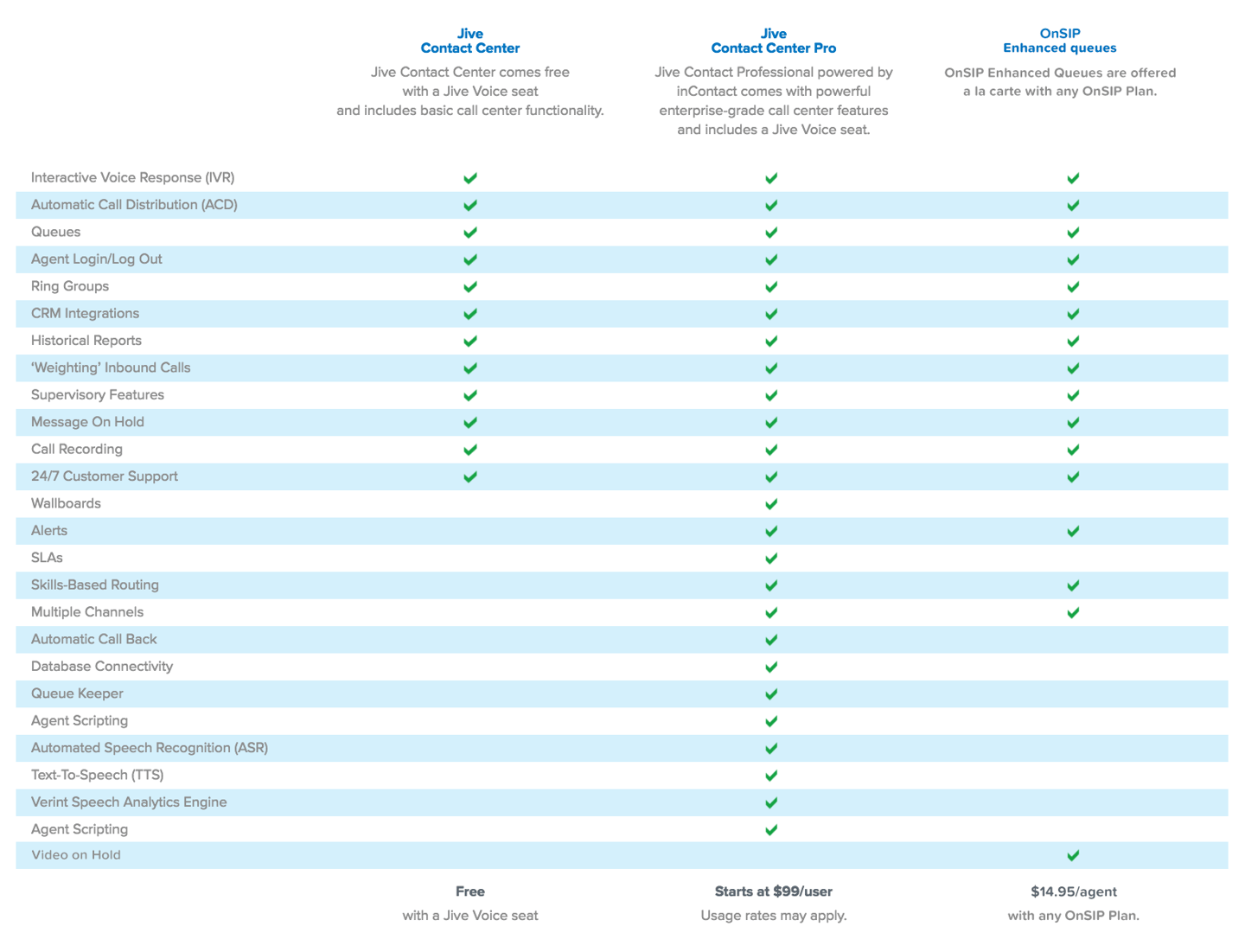 Jive Contact Center, Jive Contact Center Pro, and OnSIP Enhanced Queues share many features. All three solutions come with ACD queues, agent login/out, message on hold, and call recording. All three solutions include call monitoring, call barge, and call whisper.
Call monitoring allows a supervisor to listen to a sales agent's call without being detected. Call barging allows a supervisor to monitor a call and barge into the conversation. Call whisper allows a supervisor to speak directly to the sales agent without having the customer hear.
Jive Contact Center does not have any CRM integrations. Jive Contact Center Pro comes with Zendesk, Google, and Salesforce integrations. OnSIP offers a Zendesk integration.
OnSIP is the only service that offers Video on Hold. Video on Hold allows customers in a Enhanced Queue to watch YouTube videos while they wait for a call to be answered. The feature is meant to replace Music on Hold and keep customers from hanging up. All three services offer Music on Hold for their respective queues.
OnSIP Enhanced Queues and Jive Contact Center Pro both have Queue Alerts, Skills-Based Routing, and multiple channels. The basic Jive Contact Center package does not come with any of these features.
Jive Contact Center Pro has several features that are offered by neither OnSIP Enhanced Queues or Jive Contact Center. This is what the $99 dollars is paying for: text-to-speech (TTS), Agent Scripting, Automatic Speech Recognition, Verint Speech Analytics Engine, and Automatic Call Back.
OnSIP also offers a unique web calling solution called sayso, which allows website visitors to engage in video or voice calls with a representative using only their Internet web browsers—no downloads or plugins required. Your customers can quickly start up a conversation with your sales and support team members with just a mouse click.
Phones
Jive Contact Center runs on a third party platform called inContact. The service maintains Jive's ACD Queue capabilities and offers an interface to supervise queue activity. But customers still access the Jive Contact Center through Jive's online Admin Portal. The Admin Portal is where control of the queues, real-time analytics, and other Contact Center features are controlled.

OnSIP Enhanced Queues are operated by OnSIP. The OnSIP app is a free softphone for Mac, Windows, Chrome, and Firefox that supports Enhanced Queue integration. Supervisors and agents can make and receive phone calls, extension dial, video call, and manage Enhanced Queues directly from the app in an Internet browser. The OnSIP app can replace a desk phone altogether and is generally designed for call centers.
JIVE is a registered trademark of Jive, Inc. Jive and its products/services are not affiliated with OnSIP or Junction Networks, Inc.