DND (Do Not Disturb) Explained
DND, Do Not Disturb, is a commonplace calling feature found on phones of all sorts: Smartphones, VoIP phones, and softphones, just to name a few. Simply put, it's a mode that mutes all forms of notifications—incoming call rings, sounds, visual alerts, and even message vibrations—on a phone.
It's important to note that, for smartphones, Do Not Disturb is in effect whether your phone is locked or open. If the DND mode is on while you are actively on your phone, you won't get any sound or visual interruptions for incoming calls and messages.
Smartphones also allow you to customize the DND mode to your heart's content. When it's enabled, you can specify if you want calls from specific people or message alerts from specific apps to come through. Notifications from these whitelisted contacts and apps will still ring through even though all other notifications are silenced during the time that you have DND on.
Do Phone Calls Go to Voicemail on Do Not Disturb?
Phone calls will go straight to your voicemail when the Do Not Disturb mode is enabled on iPhone and Android devices. You will not receive any type of popups or other interruptions on your screen.
For VoIP phones and softphones, the Do Not Disturb mode will send calls to whichever failover destination you've selected in your VoIP service's admin portal. Most of the time, a failover destination is your work voicemail box. But it doesn't have to be. You can set the failover to be any feature in your VoIP phone system—an ACD queue, an auto attendant, or even your cell phone number.
OnSIP, Do Not Disturb, and Global Availability
OnSIP, a hosted VoIP provider, allows you to have multiple phones registered (up to 10 registrations per user) at the same time. And with remote working and business travel, today's employees have softphones on their mobile devices in addition to desk phones in their offices. In this case, what's the answer to the question, "does do not disturb send calls to voicemail?"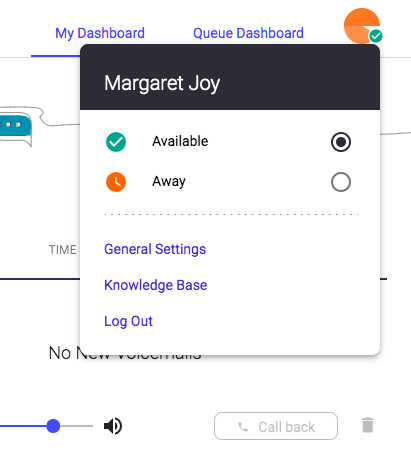 To address this, OnSIP developed a setting called Global Availability. Users enable and disable this setting in the OnSIP web or desktop app (our softphone applications) by selecting one of two options: Available or Away. When the Away option is chosen, it takes effect globally. Another way of putting it: the Away option sets all of your registered desk phones and softphones to Do Not Disturb. Any call that comes to your extension or phone number will go directly to your failover destination, no matter how many phones you may have.
You do still have the option to set Do Not Disturb on an individual phone basis. If you mark your Global Availability as Available, but set DND on your VoIP desk phone, a call will not ring that phone, but it will still ring your desktop or mobile app.
So as you can see, the answer to the question "do phone calls go to voicemail on Do Not Disturb" depends on which phone device you are using! And if you're curious about other common acronyms in the phone world, download a free copy of our VoIP Glossary.