If your customers are reaching out to your support team, chances are they're not having the most ideal customer experience at the moment. If that's the case, wouldn't you want to provide a direct click to call path to your support department?
Support calls cover a wide spectrum when it comes to severity, of course, but if aspects of the calling journey as tiny as hold music can enrage customers, why risk letting them navigate potentially confusing phone trees or sit through long hold times? Why let them experience an impersonal system at all? Enter sayso, your support team's new best friend.
OnSIP sayso is an innovative inbound calling solution that turns customer calls into instant, personalized connections with your company. With the click of a floating icon on your website, customers both old and new can engage in live voice and video chat with exactly the right person. You decide which sayso topics are available on each website page and which representatives are assigned to each of those topics. Representative availability even updates in real-time. When site visitors click on the topic they want, they can be confident they're reaching the perfect person to help them with their questions or concerns.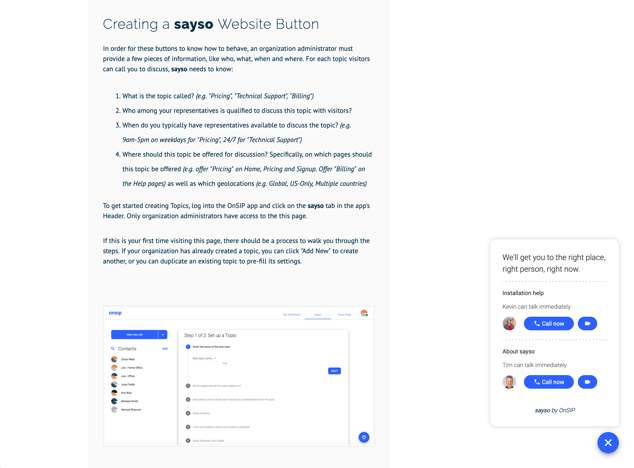 How sayso Works for Support Representatives
We built sayso from the ground up to make sure its workflow was entirely intuitive and in line with the OnSIP experience. Functionally, there's no difference for reps when they answer regular phone calls or sayso web calls in the OnSIP app.
However, unlike regular calls in the OnSIP app, sayso comes with several new features designed to make the representative as informed as possible about the customer's needs. The incoming sayso call pop-up lists the topic the caller chose, as well as a link to the web page from which they're calling. Even better for those that use HubSpot as their CRM, OnSIP's HubSpot integration fills the pop-up with a preview of the customer's contact record and a link to the full record that opens in a new tab.
Browser notifications let you know when an inbound call is ringing, and the countdown timer starts at 15 seconds for both the caller and the callee, but even if the rep picks up before the timer hits zero, she has the full 15 seconds to take in the information onscreen and prepare.
Should you miss the call, sayso automatically goes to the next available representative, and if that rep doesn't pick up, the call jumps once more before prompting the caller to fill out a form with the best time to call back. That form is then emailed to the first representative called.
Incoming sayso calls look like this: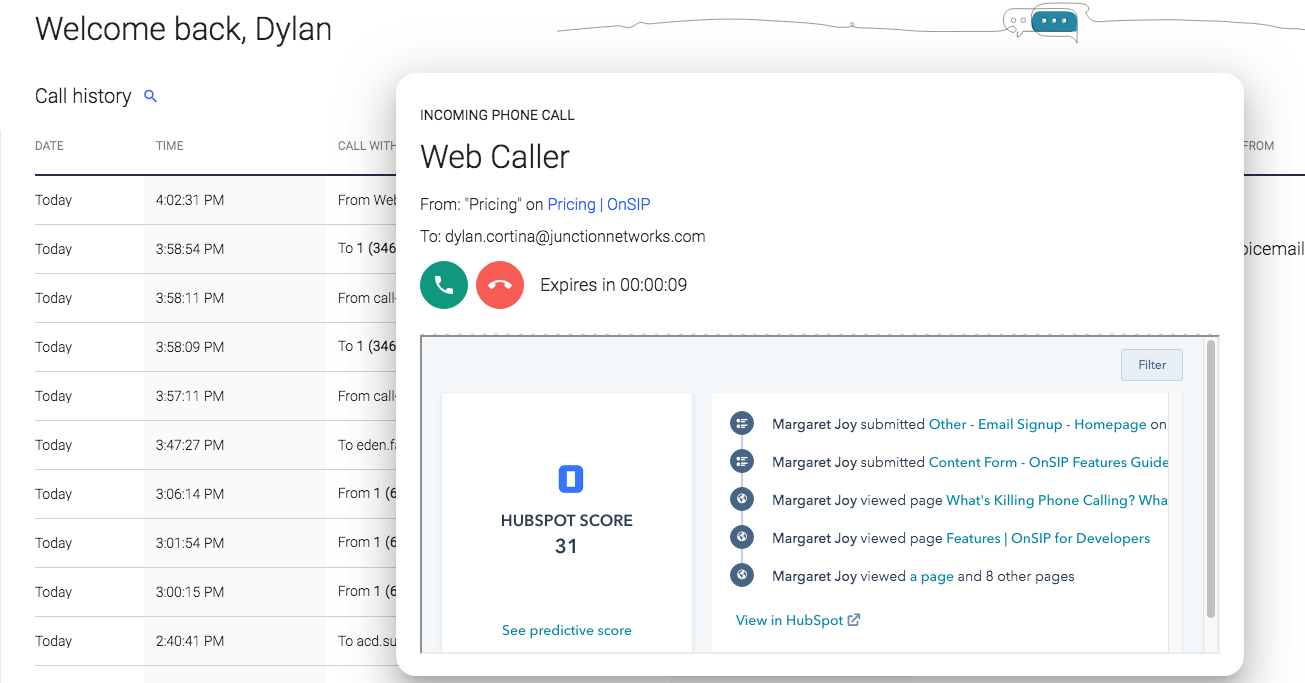 1.) Personalize Customer Service With Website Calls and HubSpot CRM Integration
Great customer service is all about making the customer feel heard, understood, and valued. Showing your customers that you care about them is vital, and actually talking to them makes a difference. While text chat tools and bots are a great option for some, they often leave the customer feeling frustrated and even unsure if they're talking to an actual employee or a robot.
With instant video and voice chat, customers can put more than just a name to the voice on the other end of the line. There's a reason we set sayso to try three reps before providing a form: We know that one-to-one conversation is incredibly more personal, and that goes a long way in customer service and brand reputation.
Support reps have the customer's record at their fingertips, know which topic is troubling them, and can even link directly from the call to the website page the customer is on, bringing new meaning to "We're on the same page." HubSpot allows you to filter the activity that shows up on a contact record when you view it, giving each rep control over what they see at any given time. And since the contact's timeline includes previous sayso calls, reps can see if the customer has experienced similar issues before.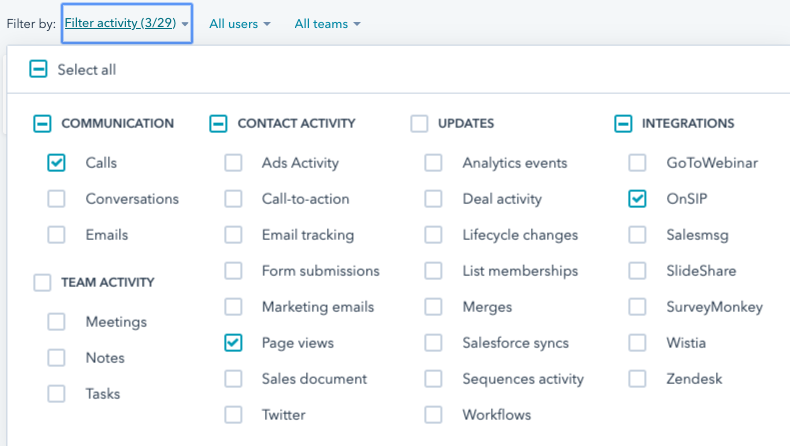 2.) Video Chat Customer Service: What You Didn't Know You Were Missing
Live video chat is particularly useful for support teams—it's reassuring for customers to know they can reach a real support person with the click of a button, leading to a more productive and calm experience for all involved.
In a world that values instant gratification, enabling click to call on your website is a significant improvement over leaving customers to the mercy of auto attendants and long queues. We don't mean to disparage these incredible telephony tools—we all still rely on them in our day-to-day. But we also know that everyone has at least one memory of a less than stellar navigation experience. Click to call is simple, it's immediate, and it's a wonderful alternative to traditional phone systems for business hours when your team is available anyway.
3.) Improve Your Customer Retention Strategy
Because of the added information included in sayso calls, reps have vastly increased customer intelligence. Think of any time you've called a support line—did you bounce around a few people before you reached someone who could fix your exact issue? Did you have to explain from the beginning each time? It's a frustrating experience, and reps feel the brunt of that exasperation.
Thanks to sayso topics and web page information, along with OnSIP's HubSpot CRM integration, reps already have a well-informed idea of what the caller is dealing with, and both parties can cut right to the chase and solve the problem at hand. The customer realizes that the support rep understands his trouble and is eager to help solve it. Like we mentioned above, this type of personalized attention goes a long way toward solidifying customers' positive view of your brand and keeping their business with you.