Outstanding customer service requires daily attention, call agent coaching, and continuous review cycles. There are a few important call features that you can use to your advantage in this endeavor: Call monitor, whisper, and barge. Learn about these features here and why they are essential to your company's customer support processes.
Call Monitor
Call monitor is a feature that allows a supervisor or manager to listen in on a live call between an agent and a caller. Neither the agent nor the caller will receive any alerts stating that the supervisor is listening in on the conversation.
Call Whisper
Call whisper enables a supervisor monitoring the call to speak to the agent without the caller hearing. That means they can coach or help out the agent in real-time.
Call Barge/Call Barging
Call barge allows a supervisor, while monitoring the conversation, to join the call. When a supervisor "barges into" the call, it effectively becomes a 3-way call, and he can then speak directly with both the agent and the caller.
Where Can I Find These Call Monitoring Features?
These three phone call features are staples in hosted VoIP platforms and call center software. Typically found in on-screen dashboards, these options enable sales and support managers to review their teams' calls in real time. With just the click of a button, they can listen to the issues that callers are bringing up and understand how agents are responding.
OnSIP has these three features as part of our Enhanced Queue Dashboard found within the OnSIP app (both the web browser and desktop application versions). They appear as buttons next to agents who are actively on calls. While sitting in front of their computers or laptops, supervisors can easily click on any of these buttons to monitor a particular agent's conversation.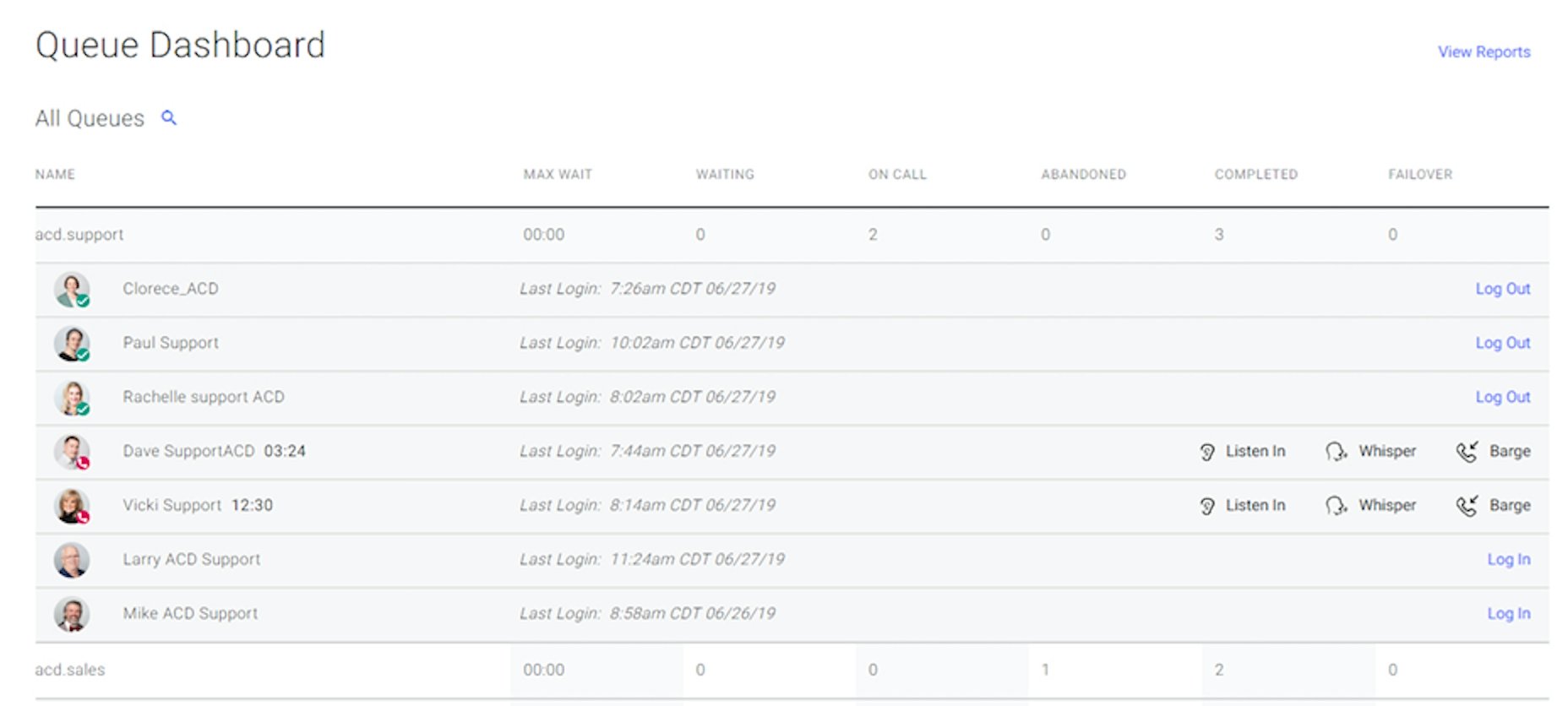 Why Should I Use These Call Monitoring Software Features?
One of the many reasons why supervisors should use call queue dashboards is the call monitoring features found there. Monitor, whisper, and barge help improve the caller's experience, reinforce your company's customer service best practices, and develop your agents' skill sets. As a result, your customer experience gets a boost and your agents continuously improve across the board—whether they're in training or long-term pros.
Train and Coach Agents
Utilizing the monitor option, supervisors can be observers of calls that newly hired agents are handling. After the call, the supervisor can huddle with the agent and suggest how they could have answered a question differently or where they could tweak their approach in future calls.
And with the whisper option, a manager can enter a call on-the-fly to take advantage of coaching opportunities. She can then offer encouragement when an agent is asking the right questions or guide the agent through complex troubleshooting steps.
Provide On-the-Spot Assistance to Callers
Good customer experience is built from swift and accurate responses and a helpful disposition. When an agent needs assistance, a supervisor can select call barging to immediately jump into a call. Joining the conversation to speak with a caller while he's on the phone is key to ending the interaction on a good note and reinforcing the quality support your customers expect.
Supervise Remote Working Call Agents
If you have agents who are working from home or are otherwise dispersed, monitor, whisper, and barge are valuable supervision tools. Even with agents answering calls at their homes, managers can still use these call monitoring software features to connect to and interact with remote employees.
Keep on Top of Recurring Issues and FAQs
Managers, by regularly eavesdropping on calls, can learn about recurring issues that customers encounter. They can then escalate that information to the appropriate leaders in the organization and make a plan to investigate and resolve those problems at the root cause.
If your business has a sales team, support team, billing team, or any team that regularly interacts with customers and clients over the phone, these are three must-have call features. Simply put, they help to ensure that your business representatives are making a good impression each and every time they're talking to your customers.