Sessions College for Professional Design is an online school of visual arts offering degree and certificate programs in graphic design, web design, digital media, and more. Founded in New York in 1997, the company is now headquartered in Tempe, Arizona. A team of designers, entrepreneurs, and educators believed in the power of the Internet to provide an excellent arts education to a global audience. Now thousands of students in the United States and abroad use Sessions College programs to earn credentials and gain the professional skills and portfolios required for careers in creative arts.
The Transition to VoIP and Choosing OnSIP
Switching to VoIP was a no brainer for Sessions College. "Sessions' transition to VoIP was an obvious choice," says Director of Operations Gavin Keiner. "Increasing costs of traditional phone services, mixed with the decreasing cost of bandwidth and the desire to accommodate expansion plans without exorbitant capital investments, made VoIP hugely desirable."
OnSIP stood out because they "offered plans based only on what we use, rather than forcing us to count each user and subscribe them to high monthly cost plans." In addition, the geographical freedom OnSIP allows for was a perfect fit for Sessions.
"Many members of our team spend a majority of their time talking to students across the world, while others communicate primarily internally. We don't have to bother with making decisions about which user is subscribed to which convoluted plan, which is great."
VoIP Phones and Favorite OnSIP Features
Sessions College has had more than a few transitions over the years and has relied on OnSIP's flexibility to know that their phone system will never be an issue.
"OnSIP has regularly allowed Sessions great mobility during our numerous transitions and expansions over the years, most recently this March. Having outgrown our former space, plans for ramping up the new location did not include having to coordinate phone vendors to either relocate a clunky on-premise system or turn on a new system at a high capital expense."
The school is a fan of OnSIP's exceptional functionality. "We use many features of the OnSIP system, including Conferencing, Voicemail, Auto Attendant, Groups, Music on Hold, Unlimited Extensions, E911, 800 service, extension dialing, etc." Sessions exclusively uses Polycom SoundPoint devices, and employees are big fans of the HD voice quality and hassle-free video conferencing.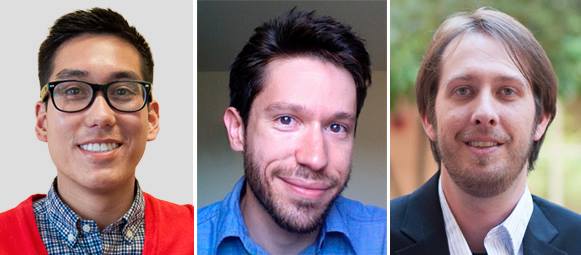 A few employees of Sessions College of Professional Arts.
And they are happy with OnSIP's continued quest for customer satisfaction. "We've seen OnSIP regularly increase features offered, bolster reliability, and trust the support and service offered," Gavin continues.

Standing Out From the Crowd: Design Meets VoIP
As Gavin explains, "Sessions College was the first accredited fully online school delivering programs in graphic and Web design. Over the last ten years, in spite of the growth of online education, very few design schools have been willing to develop and deliver courses online." It's not for lack of programs, he says, but lack of consistent quality in online learning experiences. Sessions College stands out from the crowd because they focus exclusively on a rigorous, affordable online program.
"As we continue to grow, we are able to accommodate a diverse team of talented instructors, administrators, and content producers around the world who collaborate to provide the student experience we pride ourselves in."