Last week, Eli Kugel and Corey Jordon from OnSIP headed to Orlando to attend the 2017 VRM Xtravaganza, hosted by the Florida Vacation Rental Management Association (VRMA).
The 2017 VRM Xtravaganza
The VRM Xtravaganza is an annual two-day event for the vacation rental property industry, and brings together homeowners, local businesses, and suppliers. This year, the event boasted over 70 vendors and took place at the Westgate Lakes Resort & Spa.
As a recent member of the VRMA, OnSIP was excited to exhibit our flexible cloud phone system at the event. Our unique Pay-As-You-Go pricing is a great fit for vacation rental home owners who often have idle phones and fluctuating usage.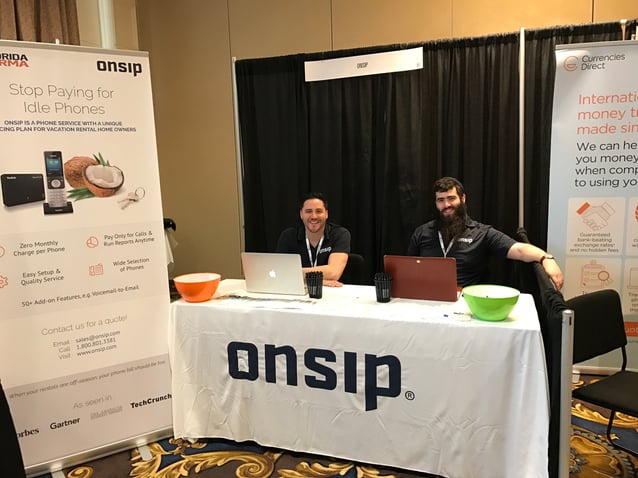 Other industry vendors at the event included insurance companies, lock suppliers, vacation rental CRM software, online booking services, and professional photography agencies. In addition to exploring the Exhibition Hall, attendees had the opportunity to hear from a variety of speakers on topics ranging from legal advice to digital strategies.
The event also featured a Twitter party on Wednesday afternoon, where attendees were encouraged to participate in a live online conversation. Two co-hosts asked questions about the vacation rental home industry, and anyone could respond by including "#fvrma17" with their answer for a chance to win prizes from Go Pro, Amazon, and Disney.
Q2: What amenities do you look for in a Florida Vacation Home? #FVRMA17 pic.twitter.com/eOsxWEUly2

— FLVRMA (@FLVRMA) May 3, 2017
Catching Up with Orlando Rent-a-Villa
The event was also a great opportunity for the OnSIP team to spend time with Lloyd Hart and Rebecca Shiver of Orlando Rent-a-Villa, one of our beloved customers.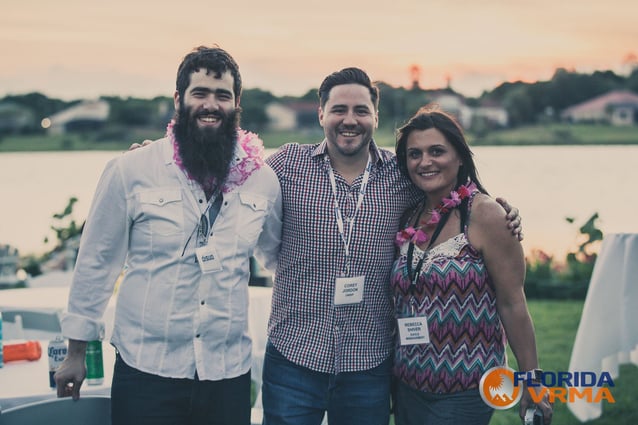 Since switching to OnSIP, Orlando Rent-a-Villa has not only been able to provide flexible phone service for their rental properties, but they can also rely on software to connect their dispersed team members. Here's what Rebecca had to say about OnSIP's outstanding customer support:
"Not only were [Eli and Eden from OnSIP] super friendly, but the knowledge they had about their product was top notch...The OnSIP team has always been available and WILLING to assist with any issue we may have. Whether it be setup issue or a hypothetical question about future changes in our business, our OnSIP reps always take the time to get us back on track. The 24-hour support is a great feature, but you will likely not ever require it; their software has been 100% reliable….You won't get a better communications partner for your company."
We had a great time at the 2017 VRM Xtravaganza, and we look forward to providing affordable and reliable phone service for more vacation rental properties in the future!