We're excited to announce that Helene Kidary of OnSIP and Women in the Channel will be moderating a panel seminar on Thursday, October 27th, 2016. The event, "Huddle, Blitz, Score!", is presented by Chorus Communications and Metrospect Events, and will take place at South Philly's Lincoln Financial Field.
The 2016 Fall Forum is targeted to technology companies in the Greater Philadelphia region. Industry leaders will give presentations on the latest developments and offer tips for optimizing business productivity and connectivity. Sponsors include VoIP companies, carriers, and other major technology providers.
After the panel, guests are invited to a happy hour at the Touchdown Club, sponsored by Cologix, Line Systems, and inContact. Attendees can mingle to music by DJ Freezie and enjoy complimentary beer, wine, and stadium fare.
Speakers
The event will feature presentations from MetTel, EarthLink, Comcast Business, Tierpoint, Black Box and Momentum Telecom. A business case study will be discussed surrounding the panelists' unique roles and involvement in supporting a company's communications needs, followed by a round of Q&A with the audience, and all being refereed by our very own, Helene Kidary!
"Chorus chose Helene to moderate this panel given that she is an accomplished business leader and serial entrepreneur, with more than 20 years of experience in the technology space," says Daniel Cronin, president of Chorus Communications. "I couldn't be more ecstatic with our decision to have her lead this unprecedented panel."
Helene is Vice President Channel Sales at OnSIP and Board Member & Chairman Membership Committee of Women in the Channel. As an accomplished business leader in the telecom space, she is an expert on enterprise technology and communication strategy. Earlier this year, she attended several industry events, including the 2016 Intelisys Northeast Mindshare, Cloud Expo New York, Channel Partners Evolution, and Channel Partners 2016.
"I am honored to be moderating this panel of experts in our industry," says Helene. "They say it takes a village; and where technology has taken us, requires all of the players from UCaaS, Mobility, SD-WAN, Infrastructure, Data Centers and Connectivity, to collaborate and work together to keep businesses up and running today and going forward."
See You at the Kickoff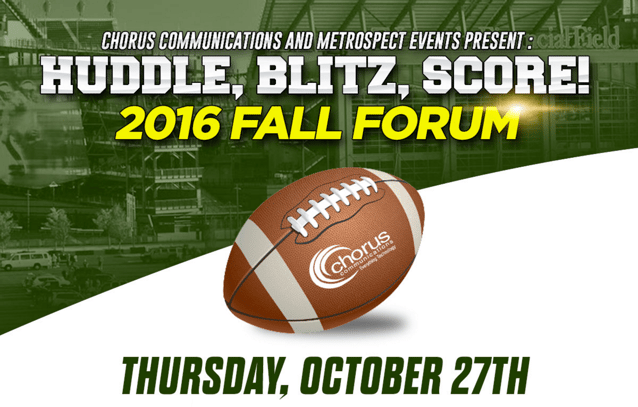 We're excited to visit the home of the Philadelphia Eagles next week. Let us know if you'll be attending the 2016 Fall Forum by tweeting @onsip!