If you're an OnSIP account administrator and regularly use our web app at app.onsip.com, you've probably noticed the Administrators tab in the top nav bar. We've been hard at work on an ongoing project to port the Admin Portal's account management tools into the OnSIP web app.
Now we need your help! We'd love to get your feedback on our designs incorporating Admin Portal features into our web app's interface. Because you're well acquainted with how to set up these features in the Admin Portal, your hands-on knowledge will help us develop intuitive and useful experiences for managing your OnSIP account in the app.
The New Dynamic Duo: OnSIP Web App Meets Admin Portal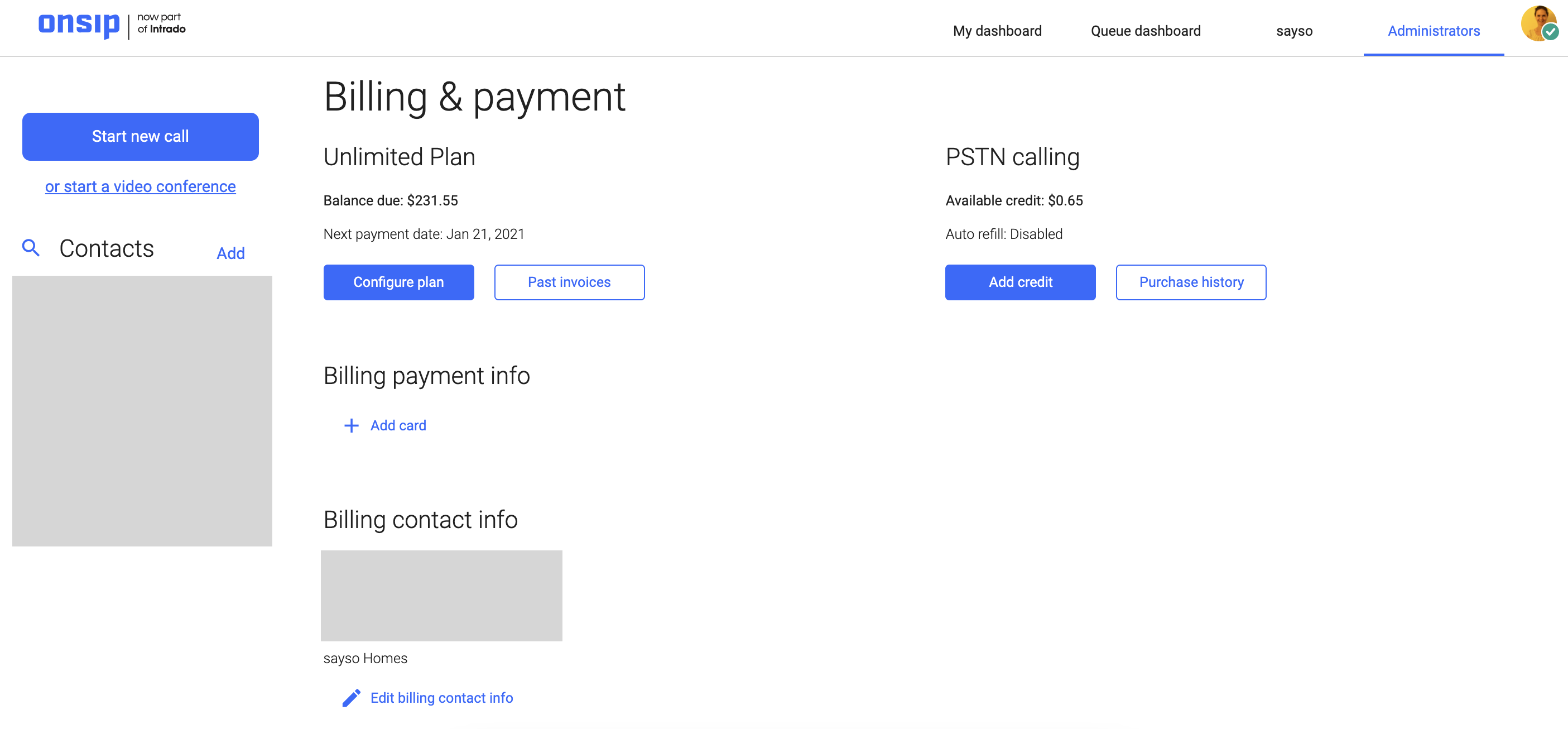 The web-based Admin Portal is where OnSIP account admins go to add users to their accounts, purchase phone numbers, configure phone features, and manage billing tasks. As of this writing, a few Admin Portal features are already available in the web app:
Billing and payment tools: Add a credit card, enable auto-refill, download account invoices, etc.
E911 management: Add emergency response locations, assign them to users, etc.
User management: Add users to your OnSIP account, edit user contact info, set up voicemail to email, etc.
Our Product Team is currently working on getting the following into the web app:
Ring groups management
Adding phone numbers
Configuring desk phones for users
At the end of this project, account administrators can expect to find all of the Admin Portal's account management tools in the web app itself. It's our hope that admins will use our web app each workday as the one-stop location to make work calls, collaborate with coworkers, and manage their OnSIP accounts.
Become a Beta Tester and Help Us Deliver Useful Business VoIP Management Tools!
To help us in this project, we're putting out a call for beta testers! Take advantage of this opportunity to help build out the OnSIP web app—if we know what you find to be helpful or useful, we'll be able to craft a product that makes the job of managing your OnSIP account that much easier.
A member of our Product Team will schedule a one-hour video call to walk you through a screenshare of our proposed designs and gather your comments and suggestions. We may reach out to you for follow-up calls as layout designs are updated.
To participate, submit your contact information in the form on the right side of this page and a member of our Product Team will be in touch.