While we have several options to listen to voicemail (call your voicemail from any phone, listen to your voicemail attachment in your email, listen to voicemail in the OnSIP app), OnSIP customers can also read their voicemail transcriptions via the PhoneTag Voicemail-to-Text (V2T) service.
We've written about this tip before, but we thought we'd publish a refresh for new customers. This is a great feature for anyone who's on the run, often in meetings, or just plain dislikes listening to voicemail.
With a simple setup process, customers can sign up for PhoneTag and receive their voicemails in text format in their inboxes, along with a .wav attachment (or as an SMS if they choose).
Integrating PhoneTag with OnSIP
Within the OnSIP app's settings, users can configure their email settings to send voicemails to their unique PhoneTag email address.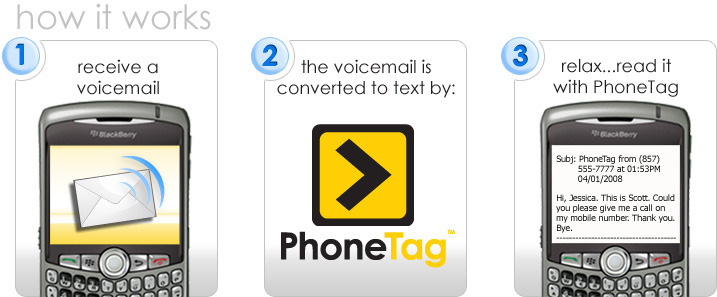 Users can choose between a $0.35/message plan, a 40-message plan called Tag40 for $9.95 per month and a TagUnlimited plan for $29.95 per month. All PhoneTag customers get a free seven-day trial. This feature is offered on a per-user basis.
In this blog post, Rob Wolpov, President of OnSIP, writes that he was thrilled with the accuracy of the transcription. And in this video, Rob describes his setup experience. The set up process is really simple:
Step 1
Sign up with PhoneTag and choose OnSIP as your provider. Choose an appropriate plan. You should receive a confirmation email.
Step 2
In the OnSIP app, and in Voicemail Settings (look for the gear icon on the top right), enable "Send notification email," and change the email address to the PhoneTag address provided in your confirmation email.
Step 3
Enjoy the new freedom afforded by this awesome service!
Mashing up the Mashup
One of our customers, LiveAir Networks, took the mashup to a whole new level by adding Zendesk to the mixture. (Zendesk is a hosted customer support application that's very useful in organizing customer support tickets.)

By signing up for PhoneTag and automatically emailing those transcripts to Zendesk, LiveAir was able to significantly cut down the time it took staff to listen through voicemail, sort them out, transcribe them manually and then create support tickets. Read about this here.
Do you have a unique idea of how to use this service? Let us know!
Are you using voicemail best practices? Check out this blog on voicemail greeting script suggestions.
How to Automate Voicemail to Text Support Tickets
A while back, a customer of ours wrote a guest blog on a Phonetag/Zendesk/OnSIP mashup. Here's a video on how to automate voicemail to text support tickets, narrated by Rob Wolpov, OnSIP's president and cofounder: