Summary
| | |
| --- | --- |
| Overall: | |
| Configuration: | |
| OnSIP Testing: | |
| Voice Quality: | |
| Ease of Use: | |
Quick Specs
Communication encrypted with TLS/SRTP

Contacts integration from LDAP, Outlook, CSV

Call recording, conferencing

Auto answer,

Auto forward
Pros
Send/receive faxes
Call recording
Lightweight
Cons
Video calling not available for Mac
Confusing address bar
Contacts & presence issues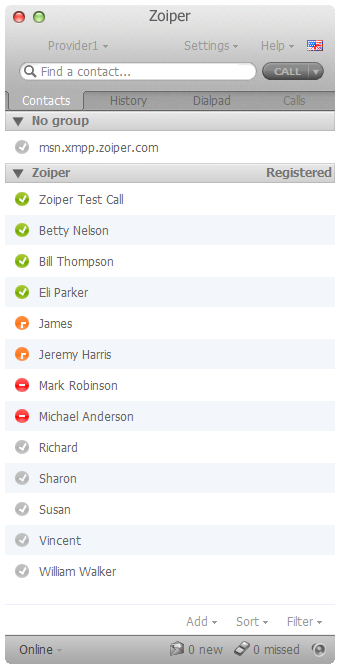 This review predates OnSIP's mobile app for iOS and Android, free to OnSIP users, so is not affected by bias.
Zoiper is an audio/video softphone app for desktop and mobile devices. It's currently available on Mac, PC, Linux, Android, and iOS. The softphone app is designed for a variety of users, including individuals, service providers, call centers, or any organization looking for a business-grade phone app. In addition to audio and video calling, Zoiper also supports instant messaging, BLF, presence, and faxing.
For those with security concerns, Zoiper has military-grade encryption options that keep data safe without slowing the phone down. It also has integrations with other leading applications, including Outlook and Lotus.
Zoiper sounds great on paper, but we wanted to give it a try to see for ourselves. This review is based on the context of using the desktop app for Mac in an out-of-office/remote working scenario, although it can certainly be used for other situations.
First Impressions
Zoiper was a breeze to set up. The interface is full of useful functions yet remains intuitive and very easy to navigate. The app takes a "tabbed" approach, so similar functions are grouped together. You can navigate to Contacts, Call History, Dialpad, and Calls by selecting tabs just below the Find a Contact search bar. The search bar is somewhat confusing because you can also dial numbers and SIP addresses in this field. Otherwise, the Zoiper interface is compact and self-explanatory.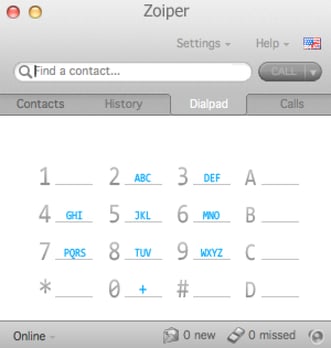 The window certainly doesn't take up the whole screen. In fact, Zoiper will probably take up less space than any other app you have open. This is a bonus if you frequently flip through many different windows. Zoiper was developed to use fewer system resources so as to minimize lagging on the computer running it. That's why Zoiper is probably the number one choice for older computers or netbooks with limited capabilities.
Features
Zoiper has many standard call features, such as conferencing, call forwarding, auto answering, do not disturb, mute, call recording, and voicemail support. The phone also has contacts integration through LDAP, Outlook, and CSV import. Zoiper is a great app for anyone who uses online faxing regularly. The phone interface allows you to make and receive faxes directly. This is welcome news for anybody who wants a PBX/faxing app combination.
BLF, presence, and IM are all included with Zoiper. These features, however, did not work well in our experience. Under our XMPP account, our contacts were not populated on the menu when we registered. But when we registered the account with Bria and Jitsi, two competing softphones, the contacts did show up. After manually adding our contacts to Zoiper, we found that none of them ever appeared online. However, we were still able to chat with them, even though the app said they were unavailable. This was a confusing and detrimental issue for our use case, and we hope Zoiper fixes these presence issues going forward.
Zoiper is notable for compatibility since it's supported by Mac, Linux, Windows, Android, and iOS. The app can run on virtually any operating system, which means it can serve those who are perhaps neglected by most commercial software, such as Linux users who operate on-premise PBXs.
However, since we used the Mac OS X version of Zoiper, video calling was not available to us. According to Zoiper, video calling only works on Windows. Despite that, a video call button is still available on the OS X version, but the button does not work. The button just initiates a standard audio call. This is just another loose end that caused us unnecessary confusion, and we hope Zoiper addresses it.
For all its strengths, Zoiper falls a little short of being a complete replacement for a desk phone, at least in the features department. That said, Zoiper does offer the essential functionality for a business phone. This lo-fi attitude plays into the bare-bones aesthetic the company is already trying to build.
Voice Quality
Zoiper had solid voice quality for every type of call we tested. SIP to SIP calls came through with clear HD voice, even through computer speakers. Calls to the PSTN were slightly less crystalline, but Zoiper ultimately had sturdy call quality that compared favorably to the best softphones on the market. The phone does well where it really matters, with fundamental features such as voice quality.
OnSIP Configuration
Step 1: Gather information for each user.
For each phone that you are configuring, obtain the following credentials. You can find this information in the user detail pages under the Users tab in the Phone Configuration section.
Step 2: Choose your account type.
Click on the "Settings" drop down menu. Select "Create a new account." Choose SIP under "Account type" and then press "Next."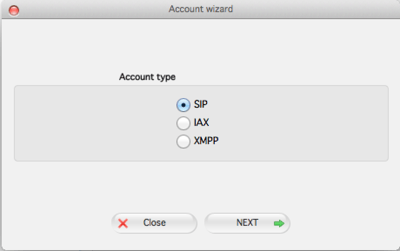 Step 3: Enter your user Information.
Enter the user information that you gained in Step 1 into the corresponding fields.
User: Address of Record
Password: SIP Password
Domain: sip.onsip.com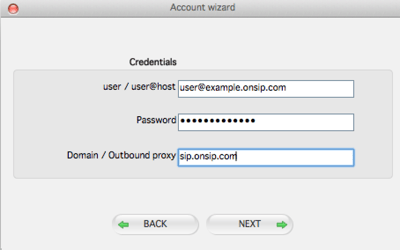 Step 4: Choose account name.
Fill in the remaining fields:
Account name: Any desired name you want
Skip auto-detection: Check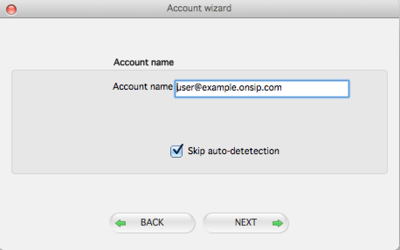 Step 5: Register the proxy.
Go to Settings -> Preferences -> Accounts. Select the user you wish to configure. Under "Outbound options," enter your SIP username in the "Auth. username" box. Then check off "Use outbound proxy." Enter "sip.onsip.com" in the "Outbound proxy" field.
Auth username: Auth Username
Use outbound proxy: Check
Outbound proxy: sip.onsip.com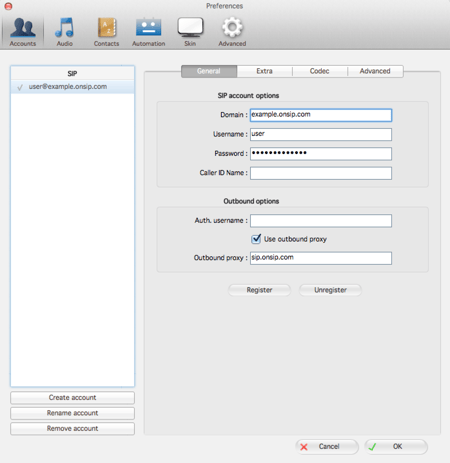 Step 6: Confirm that your phone is registered.
In the admin portal, click on the "Users" tab. You will see a green "online" notation next to each user with a registered phone.
Compatibility Testing
At OnSIP, we put each of the phones we use through a multi-step interoperability test in which we apply ~30 test cases. An example of a test case would be the following:
Test phone calls phone B


B picks up


B puts test phone on hold


B calls phone C


C picks up


B transfers test phone to C

Call must be transferred correctly to C. B must be released correctly after the transfer. When C picks up, audio must work both ways between test phone and C. When test phone is on hold, there is no audio between it and phone B.
Zoiper is fully compatible with OnSIP. All internal testing was successful except for video calling. (Zoiper for Mac does not have video calling.)
Final Thoughts
Zoiper makes sense for a certain kind of phone user. If your business runs on old hardware and aged PCs, then Zoiper is perfect for you. This lightweight softphone was designed to run with efficiency. The voice quality is solid. And if you fax a lot, the phone will certainly come in handy. Zoiper is a smart option for bare bones, all-in-one, on-the-go communication.
That being said, Zoiper has a handful of flaws that hinder the app for other users. For example, the problems we ran into with our contacts lists were frustrating. Also, video calls are only possible on Windows and yet our Mac OS X version displayed a video call button that simply didn't work. Zoiper needs to clean up these loose ends before it can enter the top-tier softphone market.
Despite these limitations, Zoiper can build off of the solid framework they already have. With a few tweaks here and there, this softphone can compete with the heavy hitters like Bria. But for now, we'd only recommend it to you if you're looking for a lightweight phone client or if you need a phone app that can also send faxes and IMs.